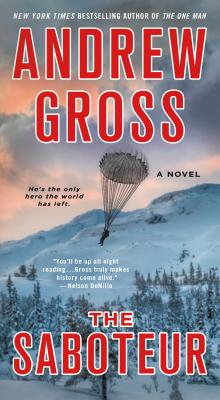 The Saboteur
A Novel
Paperback

* Individual store prices may vary.
Other Editions of This Title:
Digital Audiobook (8/21/2017)
Hardcover (8/22/2017)
CD-Audio (8/22/2017)
Library Binding, Large Print (10/1/2017)
Description
Based on the true story of Operation Gunnerside—the Britain-sponsored mission that sent Norwegian commandos into the Nazi-occupied Telemark region of their country to destroy the enemy's nuclear weapons program—New York Times bestselling author Andrew Gross's The Saboteur is a riveting World War II thriller of espionage and action.
February, 1943. Both the Allies and the Nazis are closing in on attempts to construct the decisive weapon of the war.
Kurt Nordstrum, an engineer in Oslo, puts his life aside to take up arms against the Germans as part of the Norwegian resistance. After the loss of his fiancée, and with his outfit whittled to shreds, he commandeers a coastal steamer and escapes to England to transmit secret evidence of the Nazis's progress towards an atomic bomb at an isolated factory in Norway. There, he joins a team of dedicated Norwegians in training in the Scottish Highlands for a mission to disrupt the Nazis' plans before they advance any further.
Parachuted onto the most unforgiving terrain in Europe, braving the fiercest of mountain storms, Nordstrum and his team attempt the most daring raid of the war, targeting the heavily-guarded factory built on a shelf of rock thought to be impregnable, a mission even they know they likely will not survive. Months later, Nordstrum is called upon again to do the impossible, opposed by both elite Nazi soldiers and a long-standing enemy who is now a local collaborator—one man against overwhelming odds, with the fate of the war in the balance, but the choice to act means putting the one person he has a chance to love in peril.
Praise For The Saboteur: A Novel…
"Andrew Gross has always been a great storyteller, and this one, THE SABOTEUR, is his best yet. The good news is that Gross has more than succeeded; the bad news is that you'll be up all night reading THE SABOTEUR. Gross truly makes history come alive with sharp dialogue and a deeply-felt evocation of time and place: It is 1943, Norway, and you are there."
--Nelson DeMille
"The Saboteur by Andrew Gross is the best, most exciting novel published this year. Action, suspense, heroism, sacrifice for a cause greater than the individual are themes that make this novel the prototype for a true thriller. No fan of action-adventure novels filled with accurate historical detain can fail to add The Saboteur to his must-read list."
--NY Journal of Books
"Tension permeates the pages even for readers who know the historical outcome. A terrific story filled with tension and surprises right to the end. That's two World War II winners in a row for Gross."
--Kirkus Reviews (starred review)
"From its opening pages, Gross's novel grips readers as they follow the tough-minded and persistent Nordstrum every step of the way. Highly recommended for thriller fans as well as lovers of historical fiction based on true events."
--Library Journal (starred review)
"Gross' tempestuous novel tells of the fierce loyalty of true patriots. The action builds tension for ultimate enjoyment."
--RT Book Reviews (4 stars)
"Gross takes readers back in time to a turbulent and terrifying era. Like his previous novel, The One Man, he immerses the reader in the 1940s with sympathetic characters while focusing on the lone wolf who faces impossible odds, but has no other choice. Healso uses real historical figures and events with some slight name changes, demonstrating that with a talented writer at the helm, the past can truly come alive. The Saboteur is a terrific thriller."
--Associated Press

"This spine-chilling historical novel is a tribute to ordinary European people who fought the Nazis and Fascists. Andrew Gross is a formidable storyteller who weaves history with heroism and writes an unforgettable story."
--The Washington Book Review

"At its core the book is an unusually potent mix of characters who mean something to us – we wonder what we might do in their positions – and steadily mounting suspense as very brave men try to pull off a most dangerous mission."
-- Connecticut Post

"This is truly a book that the reader will not be able to put down. Gross shows us the treasure trove of skills and courage these men possessed, and the task that was heaved onto their shoulders. It was literally impossible but, they did it anyway. This particular author brought the characters and the time in history to life, filling the pages with tension, thrills, and more than a few surprises along the way."
--Suspense Magazine
"World War II meets Mission Impossible in this gripping historical thriller."
--Library Journal "Best of 2017"
St. Martin's Paperbacks, 9781250079534, 464pp.
Publication Date: June 26, 2018
About the Author
ANDREW GROSS is the New York Times and internationally bestselling author of several novels, including No Way Back, Everything to Lose, and One Mile Under. He is also coauthor of five #1 New York Times bestsellers with James Patterson, including Judge & Jury and Lifeguard. His books have been translated into over 25 languages. He lives in Westchester County, New York, with his wife, Lynn. They have three children.