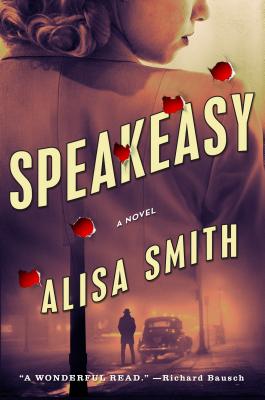 Speakeasy (Hardcover)
A Novel (Lena Stillman series #1)
Thomas Dunne Books, 9781250079558, 240pp.
Publication Date: April 10, 2018
* Individual store prices may vary.
Description
A WALTER SCOTT PRIZE ACADEMY RECOMMENDED BOOK OF 2018!

In this literate and action-packed historical thriller, set during World War II, a plucky code-breaker fights to keep a deadly secret as her Bonnie-and-Clyde past threatens to catch up with her.
Thirty-year-old Lena Stillman is living a perfectly respectable life when a shocking newspaper headline calls up her past: it concerns her former lover, charismatic bank robber Bill Bagley. A romantic and charming figure, Lena had tried to forget him by resuming her linguistic studies, which led to her recruitment as a Navy code-breaker intercepting Japanese messages during World War II.
But can Lena keep her own secrets? Threatening notes and the appearance of an old diary that recalls her gangster days are poised to upset her new life.
Whom can she really trust? Is there a spy among the code-breakers? And who is it that wants her dead?
"Alisa Smith's novel Speakeasy, set in the thirties and forties, is written with great authority. A wonderful read, and very convincing." —Richard Bausch, author of Something Is Out There and Peace
About the Author
ALISA SMITH is the bestselling co-author of Plenty: A Year of Eating Locally on the 100-Mile Diet (Crown). Her freelance writing has been published in Outside, Reader's Digest, Utne Reader, Ms. Magazine, Canadian Geographic, Elle Canada, the National Post, and many others, winning two National Magazine Awards. She served as a judge for a various literary awards and has lectured widely on writing. She is based in Vancouver.
Praise For Speakeasy: A Novel (Lena Stillman series #1)…
"Intriguing characters and an unusual setting lift this appealing debut novel...Their adventures are both upsetting and exhilarating."—Publishers Weekly
"The writing is crisp and the action moves along swiftly...it did not disappoint."—Mystery Scene

"Alisa Smith's novel Speakeasy, set in the thirties and forties, is written with great authority and from two different points of view, that of a man, and of a woman he loves from what turns out to be a necessary safe distance: she's the girlfriend of a gangster he travels with. She is also the other protagonist. It's a wonderful read, and very convincing." —Richard Bausch, author of Something is Out There and Peace
"A great achievement, and pure pleasure. Speakeasy drew me into its wild heart and didn't let go. The novel's two narrators give a stereoscopic take on a life of crime during the Great Depression, and one of them—a bold, brilliant, somewhat unscrupulous young woman—is later recruited to crack Japanese codes at a secret Allied base in the Pacific Northwest." —Ronald Wright, author of The Gold Eaters and A Short History of Progress
"In Alisa Smith's Speakeasy, the history of the Pacific Northwest comes alive like you've never seen before. This gripping tale of Prohibition gangsters and wartime code-breakers reveals an inner world of shifting loyalties and unrequited love. Smith has crafted a fascinating, thought-provoking narrative that dares you to look away." —Brian Payton, author of The Wind Is Not a River
"A sizzling tale of a one-time criminal now turned war hero--but what I like best is the all too rare telling of a World War II story through the eyes of a woman." —Colin Beavan, author of Operation Jedburgh: D-Day and America's First Shadow War
"Fascinating...[Lena] Stillman in particular is a well-drawn character, complex and thoughtful."—Historical Novel Society
"A fascinating tale of Lena's bank-robbing history weaved together with her mysterious war-time life. Speakeasy is great for anyone."—Books for Her
"Fantastic writing; passages of intricate detail that draw you in. Fans of 1930s bank heists and World War II history will enjoy."—Silver Petticoat Review