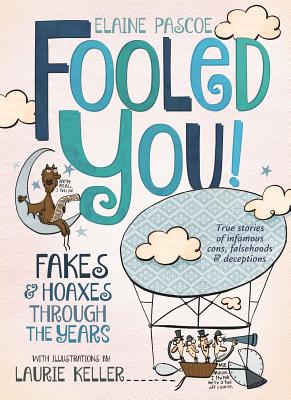 Fooled You! (Paperback)
Fakes and Hoaxes Through the Years
Square Fish, 9781250079909, 96pp.
Publication Date: March 15, 2016
* Individual store prices may vary.
Description
Hoaxes are meant to fool the world—and some people fall for them. Would you?
Crop circles. Aliens on earth. Fairies caught on film. Giant cats. What do these phenomena have in common? They are all hoaxes. Elaine Pascoe presents well-researched chapters on nearly a dozen infamous hoaxes—from the 1800s to the present—exploring the stories behind them (how they came to be as well as who instigated them) and pondering why people were so easily fooled. These tantalizing accounts hold tremendous appeal for all ages and are as much about the craftiness of perpetrators as about the gullibility of believers. Would you have been fooled? You'll just have to read Fooled You! to find out.
With fun illustrations but Laurie Keller, author and illustrator of Arnie, the Doughnut, Fooled You!: Fakes and Hoaxes Through the Years is a fun, funny nonfiction book for the chapter book set.
About the Author
Elaine Pascoe has written more than twenty nonfiction books for young readers and has worked as a newspaper reporter, magazine writer, and editor. She lives in Connecticut.
Laurie Keller
is the acclaimed author-illustrator of
Do Unto Otters
,
Arnie, the Doughnut
,
The Scrambled States of America
, and
Open Wide: Tooth School Inside
, among numerous others. She grew up in Muskegon, Michigan, and always loved to draw, paint and write stories. She earned a B.F.A. at Kendall College of Art and Design, then worked at Hallmark as a greeting card illustrator for seven-and-a-half years, until one night she got an idea for a children's book. She quit her job, moved to New York City, and soon had published her first book. She loved living in New York, but she has now returned to her home state, where she lives in a little cottage in the woods on the shore of Lake Michigan.
Praise For Fooled You!: Fakes and Hoaxes Through the Years…
"Entertainment that encourages healthy skepticism makes this title a winner." —School Library Journal
"Keller's loopy cartoons add comic inflections . . . naïve young readers will find both entertainment and food for thought here." —Kirkus Reviews