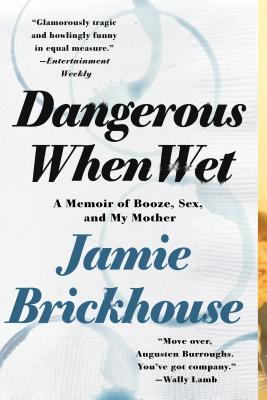 Dangerous When Wet (Paperback)
A Memoir of Booze, Sex, and My Mother
St. Martin's Griffin, 9781250080363, 288pp.
Publication Date: May 24, 2016
Other Editions of This Title:
Digital Audiobook (4/27/2015)
Hardcover (4/28/2015)
CD-Audio (6/23/2015)
* Individual store prices may vary.
Description
"A blisteringly funny, wrenching account of wrestling way too close to—and later loose from—booze, sex and drugs and his adorable, infuriating mother. Bravo!" —Mary Karr, New York Times bestselling author of The Liars' Club

"Whoever said you can't get sober for someone else never met my mother, Mama Jean. When I came to in a Manhattan emergency room after an overdose to the news that she was on her way from Texas, I panicked. She was the last person I wanted to see on that dark September morning, but the person I needed the most."
So begins this astonishing memoir—by turns both darkly comic and deeply poignant—about this native Texan's long struggle with alcohol, his complicated relationship with Mama Jean, and his sexuality and his sexuality, which is listed as "Required Reading" in Mary Karr's bestselling The Art of Memoir and was a Book Chase Top 10 Nonfiction Book of 2015.
From the age of five all Brickhouse wanted was to be at a party with a drink in one hand and a cigarette in the other and all Mama Jean wanted was to keep him at that age, her Jamie doll forever. A Texan Elizabeth Taylor with the split personality of Auntie Mame and Mama Rose, always camera-ready and flamboyantly outspoken, Mama Jean haunted him his whole life, no matter how far away he went or how deep in booze he swam.
Brickhouse's journey takes him from Texas to a high-profile career in book publishing amid New York's glamorous drinking life to his near-fatal descent into alcoholism. After Mama Jean ushers him into rehab and he ultimately begins to dig out of the hole he'd found himself in, he almost misses his chance to prove that he loves her as much as she loves him. Bitingly funny, raw, and insightful, Dangerous When Wet is the unforgettable story of a unique relationship between a son and his mother.
About the Author
Jamie Brickhouse has been published in the New York Times, the International Herald Tribune, Salon, Out, Lambda Literary Review, Publishers Weekly, Poz, Shelf Awareness, TheFix.com, Addiction/Recovery eBulletin, and the Latin American travel magazine, Travesía. He is also a guest blogger for the Huffington Post. Brickhouse spent over two decades in the publishing industry, most recently at two major houses as head of their publicity and lecture divisions. He is founder and CEO of redBrick Agency, a lecture bureau for authors. Dangerous When Wet is his first book and was named an Amazon Best Book of May 2015 and is "Required Reading" in Mary Karr's bestselling The Art of Memoir. Brickhouse is a Moth StorySLAM winner, has performed stand-up comedy and recorded voice-overs for the legendary cartoon TV show, Beavis and Butthead. A native of Beaumont, Texas, he is a graduate of Trinity University in San Antonio, Texas and the Radcliffe Publishing Course (now the Columbia Publishing Course). He spent his junior of college at Goldsmiths College, University of London. A native of Beaumont, Texas, Brickhouse lives in Manhattan with his common-law husband, Michael. He is at work on his next book, I Favor My Daddy, a memoir about his father Earl.
Praise For Dangerous When Wet: A Memoir of Booze, Sex, and My Mother…
"Jamie Brickhouse's Mama Jean must take her place in the hall of fame where infuriating and unforgettable American mothers wreak havoc, break hearts, but finally instill survival. Surely there is a pedestal available far from Harriet Nelson and Mrs. Brady, close to the rowdy regions where Mary Tyrone lifts a cocktail and Joan Crawford waves a hanger. I loved this book. It made me laugh more than anything in years. Jamie is an original, entertaining voice and a totally wonderful talent." —George Hodgman, New York Times bestselling author of Bettyville
"Glamorously tragic and howlingly funny in equal measure." —Entertainment Weekly
"There's never a shortage of drama — or humor — as Brickhouse chronicles his early years running behind his mother's (high) heels, his wild days in Manhattan and his struggle with addiction." —The Washington Post
"A chronicle of [Brickhouse's] often tumultuous but deeply loving relationship with his mother that's as multifaceted as Mama Jean herself." —Entertainment Weekly, A-
"Jamie Brickhouse plunges into his dark days of boozing in Dangerous When Wet." —Vanity Fair
"A poignant, hilarious, and sharply observed story of a gay man's exchange of self-destruction and self-loathing for wisdom and a mature understanding of love. Move over, Augusten Burroughs. You've got company." —Wally Lamb, New York Times bestselling author of We Are Water
"Compelling and funny. . . Dangerous When Wet, [is as] as tightly constructed as a well-crafted novel and as funny as an evening with Carrie Fisher." —Interview magazine
"Must-read: Dangerous When Wet. . . not every son can capture such a complex relationship with as much verve as Jamie Brickhouse in his memoir, Dangerous When Wet. . . Brickhouse's blunt account of addiction and recovery is laced with twisted humor, a testament to the long shadow his mama cast over his life. That same shadow will be following you around days after you finish this book."—Out

"A blisteringly funny, wrenching account of wrestling way too close to--and later loose from--booze, sex and drugs and his adorable, infuriating mother. . . . packed with many fine threads in a rich tapestry. Bravo." —Mary Karr, New York Times bestselling author of The Liars' Club
"A delicious and touching memoir. . . . In exploring family uproar, the Holly Golightly allure of Manhattan, and the free fall of alcoholism, Jamie creates a literary cocktail all his own: witty, blisteringly honest and wickedly intoxicating. " —Paul Rudnick, playwright, author, and New Yorker humorist
"The outrageously bold and bawdy Mama Jean teaches more about life in a single one-liner than a shelf full of self-help books. Brickhouse's memoir is as revealing as it is riotous . . . a dark journey studded with gems of hilarity." —Josh Kilmer-Purcell, co-star of The Fabulous Beekman Boys, and author of I Am Not Myself These Days
"Sensitive and thoughtful, tinged with hilarity and heartbreak, and as bubbly as a champagne flute of Asti Spumante. Drink it. " —Henry Alford, Humorist, author of Would It Kill You to Stop Doing That?, and columnist for The New York Times

"Laugh-out-loud read. . . It's about a rather outlandish gay man and his co-dependent relationship with his larger-than-life Texas mom. She's got big hair and a big personality. It's really funny, but also heart warming too." —John Searles, Weekend Today Show

"Dangerous When Wet is a fabulous new memoir… [at times] terribly sad, [it] is equally hysterical [and] well written. Dangerous When Wet shows us that with humor, hard work, support and hope, [addiction] can be conquered." —Lambda Literary Review

"Packed with laugh-out-loud humor and biting, rich pathos – reads like a novel. . ." —Huffington Post

"There's no shortage out there of addiction memoirs. . . but few include a mother figure as towering as Mama Jean. . ." —Texas Monthly

"Brickhouse is an energetic, witty narrator with a très gay eye for detail who keeps it fresh." —Poz

"At its big heart, Jamie Brickhouse's memoir Dangerous When Wet is about communication and relationships with loved ones across time. . . An overly mature and flamboyant redhead, Brickhouse lived under the protective wing of his mother, a larger-than-life character named Mama Jean, whose personality could easily carry a Broadway musical." —Houston Chronicle

"Campy yet touching memoir about [Brickhouse's] struggles with the bottle, his sexuality, and his mother, Mama Jean." —Gay & Lesbian Review

"Twirl your imaginary phone cord because you'll want to stay connected to Dangerous When Wet . . . In this dark but delightfully comic memoir… Brickhouse reveals all as he chronicles the ups and downs of recovery." —MetroSource

"Brickhouse has written an amusing but sad, over-the-top but understated, and wholly campy memoir. . . with a wry, knowing sensibility." —"Book Notes from the Underground," New York Public Library
"[Brickhouse] is freaking hilarious… [and] hits the mark. He manages to use his sense of humor to inject lightness into what would otherwise be a dark and harrowing story." —Baltimore Gay Life

"It's hard to do justice to Brickhouse's dance-, song-, and celebrity-filled prose, escapades, good-natured storytelling, & unflagging hope. A funny, sad, and fine first book." —Booklist

"Not only would Mama Jean always be 'a bigger star to [Brickhouse] than Joan Crawford or Elizabeth Taylor,' but he would never be able to outrun his attachment to her because it 'was love in its purest form.' Unabashedly campy but always candid." —Kirkus Reviews

"With blistering prose that contrasts with laugh-out-loud funny sections, Jamie pours out his story of coming out, going wild, getting even more out of control, and getting his life back on course. . .Ribald storytelling mixes with traditional familial themes, resulting in an entertaining, bittersweet and poignant debut." —BookReporter.com

"Dangerous When Wet is one wild-ass ride filled with lurid sex, drunken treks, late night phone calls to the rich and famous, and secret upon secret that no one has any business revealing. Jamie Brickhouse serves up a riotous, rollicking memoir that, ultimately, is as sweet as it is outrageous. " —Neil White, author of In the Sanctuary of Outcasts

"A no-holds-barred account of his fairy-tale life gone bad sets the pages of Dangerous When Wet on fire. Taking the reader on an alcohol, drug, and sex-fueled roller-coaster ride through the 1990s and early twenty-first-century New York City, Jamie spares us – and himself – nothing. Yet despite how much we might want to shake him into consciousness over the wreckage he leaves along the way, when he finally hits bottom after a suicide attempt, we wind up cheering him on as he struggles to find himself, sobriety, and redemption." —Eric Marcus, author of Why Suicide?
"Storytelling in the South has a distinct flavor, and one can spot Brickhouse's Deep South roots as he spins tales that hit as simultaneously outrageous and thoroughly authentic. Equal parts Steel Magnolias and an evening with David Sedaris." —The Rivard Report & Out in San Antonio

"Addiction is never a laughing matter. Unless it's described in detail by a really gifted writer. . . [A] brutally honest account of a life under the influence of mind-altering substances, as well as the impact of dementia, suicide and living with HIV. . . Ultimately it's a love story about the bond between an eccentric-yet-conservative mother and her precious son. Many gay men will relate to it. Possibly too much." —He Said Magazine

"At turns funny and harrowing, yet ultimately hopeful. . . Mama Jean proved to be a 'Mama Rose-ish' gayguy's dream, complete with the domineering aspects of a Beelzebub-or-Bust stage mother. . . Mama Jean would be so-o-o happy that she was so-o-o right about the writing. Jamie Brickhouse pulls the reader in completely. That sounds naughty, but good writing is on a par with bon amour. Really, it can be better, because good writing can be reliably re-experienced." —David Marshall James blogspot
"Riveting tale of a gay man's ups and downs and larger than life Mama Jean." —Fire Island Q News

"Jamie Brickhouse's Dangerous When Wet is absolutely amazing and staggering. He has a rare talent for fully confronting each part of his life with total honesty, sensitivity, cutting wit, and Falstaffian vigor. . . This is a deeply moving read. . . I for one cannot wait until Mr. Brickhouse writes a novel. Until then, I shall be preaching the gospel according to Jamie, and Mama Jean, for quite some time." —Maura Lynch, The Wiseacre blog
"It's incredibly easy to fall in love with the larger-than-life Mama Jean. . . the story keeps readers gripped from the firs page to the last." —Fire Island Chronicle

"Dangerous When Wet is very funny, even when dealing with some painful and difficult issues. . . Brickhouse offers a candid, poignant, and often hilarious portrait of his force-of-nature mother, Mama Jean; his spiral into and out of addiction; and the many ups and downs on his life's journey from Beaumont, Texas to New York City." —Fire Island Tide

"Funny, touching and serious at the same time." —Fire Island News

"What distinguishes Dangerous When Wet is both the charm of Brickhouse's voice… and the carefully woven narrative… His mother's decline is rendered with a restraint that makes it all the more powerful… courageous, well-crafted, and irresistibly charming." —Lone Star Literary Life
or
Not Currently Available for Direct Purchase