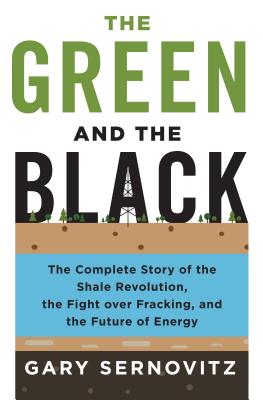 The Green and the Black (Hardcover)
The Complete Story of the Shale Revolution, the Fight over Fracking, and the Future of Energy
St. Martin's Press, 9781250080660, 288pp.
Publication Date: February 23, 2016
* Individual store prices may vary.
Description
Gary Sernovitz leads a double life. A typical New York liberal, he is also an oilman - a fact his left-leaning friends let slide until the word "fracking" entered popular parlance. "How can you frack?" they suddenly demanded, aghast. But for Sernovitz, the real question is, "What happens if we don't?"
Fracking has become a four-letter word to environmentalists. But most people don't know what it means. In his fast-paced, funny, and lively book, Sernovitz explains the reality of fracking: what it is, how it can be made safer, and how the oil business works.
He also tells the bigger story. Fracking was just one part of a shale revolution that shocked our assumptions about fueling America's future. The revolution has transformed the world with consequences for the oil industry, investors, environmentalists, political leaders, and anyone who lives in areas shaped by the shales, uses fossil fuels, or cares about the climate - in short, everyone. Thanks to American engineers' oilfield innovations, the United States is leading the world in reducing carbon emissions, has sparked a potential manufacturing renaissance, and may soon eliminate its dependence on foreign energy. Once again the largest oil and gas producer in the world, America has altered its balance of power with Russia and the Middle East.
Yet the shale revolution has also caused local disruptions and pollution. It has prolonged the world's use of fossil fuels. Is there any way to reconcile the costs with the benefits of fracking?
To do so, we must start by understanding fracking and the shale revolution in their totality. The Green and the Black bridges the gap in America's energy education. With an insider's firsthand knowledge and unprecedented clarity, Sernovitz introduces readers to the shales - a history-upturning "Internet of oil" - tells the stories of the shale revolution's essential characters, and addresses all the central controversies. To capture the economic, political, and environmental prizes, we need to adopt a balanced, informed perspective. We need to take the green with the black. Where we go from there is up to us.
About the Author
Gary Sernovitz is a managing director at Lime Rock, an oil- and gas-focused private equity firm. He began his career as an oil equity research analyst at Goldman Sachs. He has written two novels, Great American Plain(2001) and The Contrarians (2002), as well as essays and reviews for The New York Times, The Wall Street Journal, n +1, and Slate, among others. A native of Milwaukee, Wisconsin, he lives in New York City with his wife.
Praise For The Green and the Black: The Complete Story of the Shale Revolution, the Fight over Fracking, and the Future of Energy…
"[Sernovitz] brings a lively eye to the field of fracking" - The New York Times Book Review
"It is refreshing to have such contentious issues sieved through Mr. Sernovitz's inquisitive mind, balancing the most pessimistic and optimistic visions of change." – The Wall Street Journal
"The Green and the Black is well balanced, reporting accurately and entertainingly on the attitudes and beliefs of oilmen and environmentalist about fracking and the oil industry in general" - The New York Review of Books
"a worthy project—if anything, it is the project for ushering mankind into a sustainable future—and Sernovitz's attempt is thoughtful and entertaining." - The New Republic
"Sernovitz, who writes with flair, humor, and assurance, includes some recent history of the industry, some big personalities, a little technology and geology, arguments of environmentalists (the "Green" of the title) and of oilmen ("Black"), and a wealth of statistics....An insider's cheerful, energetic examination of an industry that has changed dramatically in the last decade." – Kirkus
"Sernovitz's deep insider's knowledge and scintillating prose make this one of the best treatments of this very contentious subject" - Publishers Weekly
"Sernovitz writes passionately, even lovingly of the industry... offers a necessary perspective" - Booklist
"an excellent, informative and well-written book about the shale revolution in North Dakota's Bakken formation as well as other shale formations in the U.S. The author writes with a sense of humor, which helps make this such a good read, one that is hard to put down." - Bismarck Tribune
"the most engaging book published so far on the subject" - H-Energy
"His book is like a mash-up of The Daily Show and a National Geographic special... If you want to dig into the intriguing issues powering the energy revolution, then you definitely should read The Green and the Black." - Urban Land
"Across the broad spectrum of American writers, there's simply no one else quite like Gary Sernovitz, at once a brilliant novelist, hilarious cultural critic, energy-industry insider, and self-described 'liberal oilman.' (Imagine Saul Bellow's giant ecstatic heart transplanted into T. Boone Pickens, and you're getting warm.) This has to be one of the most searching, literate, and funniest books about American energy ever written, and it will usefully complicate even one's most zealous certainties about fossil fuels." —Tom Bissell
"As a novelist-turned-oilman, Gary Sernovitz is uniquely equipped to introduce the general reader to the complexities of the oil industry. Erudite, conversational, and brimming with vivid descriptions and helpful analogies, The Green and the Black informs and expands the contemporary debate around fracking and fossil fuels." —Kate Bolick
"[The Green and the Black] provides a comprehensive, balanced view of the far-reaching impact of the U.S. shale revolution." - Mark Papa, Former Chairman and CEO, EOG Resources
"Gary Sernovitz has written a mini-masterpiece about an American-born technology that has the continuing potential to revolutionize the world of energy economics and bring about social and political challenges and opportunities for many decades. His style is intelligent, balanced with regard to highlighting competing views of each major topic, and technically and economically illuminating. Everyone in America should read Chapter 11. If you don't necessarily agree with every claim the author makes, you will nonetheless find the book incredibly informative, well-researched, and witty." - Jim Hackett, Former Chairman and CEO, Anadarko Petroleum
"Gary Sernovitz is a unique figure in American letters. A talented novelist (his The Contrarians should be read alongside Liar's Poker as an introduction to the world of the American investment bank), he is also a private equity investor, specializing in the oil sector. He is, finally, a person of conscience. His account here of the shale revolution of the past decade is funny, informed, and unsparing. You may not share his affection for natural gas, or accept his case for fracking, but if you are opposed to these technologies - and you should be - it's important to understand the other side." - Keith Gessen