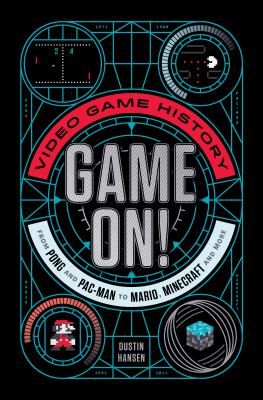 Game On! (Hardcover)
Video Game History from Pong and Pac-Man to Mario, Minecraft, and More
Feiwel & Friends, 9781250080950, 368pp.
Publication Date: November 22, 2016
Other Editions of This Title:
Paperback (2/19/2019)
* Individual store prices may vary.
Description
Find out about the fast and furious growth and evolution of video games (including how they are quickly taking over the world!) by looking at some of the most popular, innovative, and influential games ever, from Pong, the very first arcade game ever, to modern hits like Uncharted.
Learn about the creators and inspiration (Mario was named after Nintendo's landlord after he barged into a staff meeting demanding rent), discover historical trivia and Easter eggs (The developers of Halo 2 drank over 24,000 gallons of soda while making the game), and explore the innovations that make each game special (The ghosts in Pac-Man are the first example of AI in a video game).
Whether you consider yourself a hard-core gamer or are just curious to see what everyone is talking about, Game On! is the book for you!
About the Author
Dustin Hansen, author of Game On! and the Microsaurs series, was raised in rural Utah, where he spent many days hiking red rock canyons that once belonged to the dinosaurs. But even the beautiful mountains couldn't keep him away from his love of pixels and controllers. He has been writing and creating art for the video game industry for more than two decades. Dustin and his family live in rural Utah once again, where he is the current king of the family Mario Kart circuit.
Praise For Game On!: Video Game History from Pong and Pac-Man to Mario, Minecraft, and More…
"This zippy primer on video game development takes readers from the arcades of the 1970s to Minecraft and the future of gaming....The well-told origin tales are a fantastic mash-up of pop and gaming culture...This satisfyingly thorough and worthy addition to any collection is sure to please hard-core gamers and newbies alike."—School Library Journal
"This lengthy love letter comes from a self-professed video game addict. Thirty-nine breezy, irreverent chapters celebrate individual games...Unabashedly enthusiastic, author Hansen also provides tips on how to evaluate games for personal enjoyment....true gamers will be delighted." —Booklist
"This zippy, funny, enthusiastic volume offers snapshot looks at the key moments in video game history ... Hansen is a big gamer, and he wants the reader to be, or be willing to become, a gamer as well... and as all gamers are sure to hit their own favorite game or genre eventually in here, they'll share his gushing at some point." —BCCB