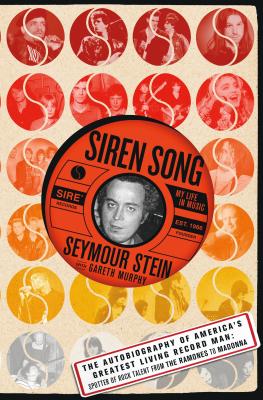 Siren Song (Hardcover)
My Life in Music
St. Martin's Press, 9781250081018, 352pp.
Publication Date: June 12, 2018
* Individual store prices may vary.
Description
The autobiography of America's greatest living record man: the founder of Sire Records and spotter of rock talent from the Ramones to Madonna.

Seymour Stein is America's greatest living record man. Not only has he signed and nurtured more important artists than anyone alive, now sixty years in the game, he's still the hippest label head, travelling the globe in search of the next big thing.

Since the late fifties, he's been wherever it's happening: Billboard, Tin Pan Alley, The British Invasion, CBGB, Studio 54, Danceteria, the Rock n Roll Hall of Fame, the CD crash. Along that winding path, he discovered and broke out a skyline full of stars: Madonna, The Ramones, Talking Heads, Depeche Mode, Madonna, The Smiths, The Cure, Ice-T, Lou Reed, Seal, and many others.

Brimming with hilarious scenes and character portraits, Siren Song's wider narrative is about modernity in motion, and the slow acceptance of diversity in America – thanks largely to daring pop music. Including both the high and low points in his life, Siren Song touches on everything from his discovery of Madonna to his wife Linda Stein's violent death.

Ask anyone in the music business, Seymour Stein is a legend. Sung from the heart, Siren Song will etch his story in stone.
About the Author
SEYMOUR STEIN is the co-founder and chairman of Sire Records, as well as a Vice President of Warner Bros. Records. Sire Records, which he founded in 1966, is known as the pioneer of New Wave music and discovery of such artists as Madonna to the Ramones in the 1970's. Stein was inducted into the Rock and Roll Hall of Fame in 2005 under the lifetime-achievement category.

GARETH MURPHY is the author of Cowboys and Indies: The Epic History of the Record Industry and was named Writer of the Year in the 2017 PPA Independent Publisher Awards (UK) for his work in journalism. He lives in Paris with his wife and son.
Praise For Siren Song: My Life in Music…
"Stein's anecdote-packed memoir tells of his life as a music executive, in what is an entertaining ride though music history.... Stein wonderfully captures his obsessive love for the bruising music business and introducing music-lovers to new bands—and not going deaf or broke in the process." —Publishers Weekly

"Intertwined with behind-the-scenes tales of mayhem and craziness of the 1970s and '80s, Stein weaves down-to-earth storytelling about his Jewish upbringing in 1950s Brooklyn and his childhood fascination with Coney Island and how it stoked his young imagination, leading to his future life in music. A sometimes-gritty, sometimes-charming memoir that pays tribute to the American recording industry." —Kirkus Reviews

"Stein, the entrepreneur who is generally credited as being the man who launched the punk/new wave movement (on his own label, Sire Records), recounts his life story in this entertainingly written, conversational book. This is a fun book, full of behind-the-music-scenes stories and personal anecdotes that capture the rockin' spirit of the 1970s, '80s, and beyond. Co-author Murphy is the author of Cowboys and Indies, a history of the record industry, making him a good choice to help tell Stein's captivating life story." —Booklist

"Stein's autobiography could easily serve as an inspiring guide to anyone simultaneously struggling to discover their own identity while pursuing a livelihood in a competitive field. However, if you remove all of the personal sentiment, it's still a case-study in hard-work and perseverance." —Forbes

"Hugely enjoyable" —Wall Street Journal

"[Siren Song] pulls no punches. It gives history. It tells how the business works. It illuminates a path to success. It's easily readable. You should buy it." —The Lefsetz Letter

"Irish writer Murphy skillfully escorts the music mogul through a never-boring series of fateful encounters, hard work and what Stein (who admits he has no formal musical skills) terms as having a knack for spotting creative nonconformists who had something exceptional to offer. A revealing assisted autobiography about a man who 'learned how to harness my mad, hungry dissatisfaction into rocket fuel'." —Irish Times

"Seymour is the man with the golden ears, who brings an encyclopedic knowledge of music, and an bohemian joie de vivre to his work finding exciting new talent in the most unlikely places." —k.d. lang

"In addition to being a world famous record man, Seymour Stein was wilder than most of the musicians he worked with. Thankfully, he has survived to tell his tale and what a tale it is! We are very pleased and grateful to have been part of his amazing story." —Chris Frantz and Tina Weymouth

"Seymour Stein told me 'I don't totally understand what you're doing (as far as Rap music) but I know it's important.' That's the day I realized "smart" people will know something is THERE even if they're not sure what it is. That vibe he felt launched my career." —Ice T

"It was an ambition of mine to sign The Smiths to Sire Records. We wanted to be like our heroes, but most of all it was about working with Seymour Stein. I'd heard about the things he'd done in music and I wanted us to be part of that legacy." —Johnny Marr, The Smiths

"Songs and artists are like blood and oxygen for Seymour Stein. He is like Indiana Jones in Raiders of the Lost Ark, but instead of the ark, he has been in search of that artist or song that would change our lives forever. He is a walking talking encyclopedia of our modern music history. A gift to all of us in the business. Seymour is someone I admire and am lucky to call a friend and much more. " —Lyor Cohen
Coverage from NPR