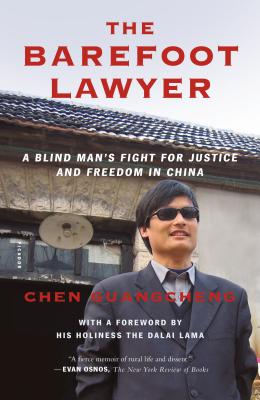 The Barefoot Lawyer
A Blind Man's Fight for Justice and Freedom in China
Paperback

* Individual store prices may vary.
Other Editions of This Title:
Digital Audiobook (3/9/2015)
CD-Audio (4/14/2015)
Hardcover (3/10/2015)
Description
"[Chen's] story is a reminder that the desire for basic human rights . . . arises from the deep well of the human spirit."—The New York Times Book Review

It was like a scene out of a thriller: One night in April 2012, China's most famous political activist—a blind, self-taught lawyer—climbed over the wall of his heavily guarded home and escaped. After he turned up at the American embassy in Beijing, high-level negotiations finally led to his release and a new life in the United States.

Chen Guangcheng is a unique figure on the world stage, but his story is even more remarkable than we knew. The son of a poor farmer in rural China, he was determined to educate himself and fight for the rights of his country's poor, despite his disability. Repeatedly harassed, beaten, and imprisoned by Chinese authorities, in the end Chen made the most dangerous choice of all: freedom.

Both a riveting memoir and a revealing portrait of modern China, The Barefoot Lawyer tells the story of a man who has never accepted limits and always believed in the power of the human spirit to overcome any obstacle.
Praise For The Barefoot Lawyer: A Blind Man's Fight for Justice and Freedom in China…
"A fierce memoir of rural life and dissent."—Evan Osnos, The New York Review of Books

"[Chen's] story is a reminder that the desire for basic human rights . . . arises from the deep well of the human spirit."—The New York Times Book Review

"How [Chen Guangcheng,] a blind man, escaped such a lockdown alone and on foot, navigating toward a neighboring village via smells and 'a kind of batlike echolocation,' is an amazing tale."—The Wall Street Journal

"Riveting . . . It is remarkable how Chen's lone voice was able to shake the state to its foundations. . . . Chen has lived most of his life in darkness but here casts a beacon of light into the shadows. . . . Poignant yet inspiring."—The Washington Post

"[A] riveting memoir … Chen has an excellent sense of pace and attention to detail, and he knows how to fill in the cultural gaps for those less familiar with China. The result is an eminently readable, albeit chilling memoir that will grip the attention of readers everywhere." —Publishers Weekly

"Tense and tightly written, [The Barefoot Lawyer] is a suspenseful window onto Chen's struggle, with disaster constantly on the horizon.… Richly layered and vibrant, Chen's stirring tale of bravery and perseverance in the face of oppression is a moving call to arms for the ideas of human dignity and the rule of law." —Kirkus Reviews

"An astonishing story of one man's fight to overcome personal odds for himself and for the cause of justice for the citizens of his nation." —Booklist

"Chen Guangcheng has a life story unlike any other you will ever read. His memoir--eloquent, accessible, and necessary--is not only about his improbable path to prominence as a human-rights activist in China. It is, above all, about the universal power of will." —Evan Osnos, author of Age of Ambition: Chasing Fortune, Truth, and Faith in the New China

"This exceptional book will join the ranks of classic accounts of individual bravery, principle, and vision in the face of cruelty and repression. Chen Guangcheng is known around the world for the daring of his escape from captivity; as The Barefoot Lawyer makes clear, his journey and the accomplishments before that were at least as remarkable. Anyone who wants to understand the struggle for China's future, being waged inside that country and by friends of China around the world, will want to read this book." —James Fallows, national correspondent for The Atlantic Monthly and author of China Airborne

"The life story of this blind, self-taught lawyer is a morality tale for our time. Chen Guangcheng's unflinching sense of moral purpose pitted him against the might of the Chinese state, and ended up exacting an extraordinarily high price on his entire family. In his tenacious search for justice, Chen became a pawn in high-level geopolitical maneuvering between the world's two superpowers. This gripping book provides a sobering vision of the brute power of a rising China." —Louisa Lim, author of The People's Republic of Amnesia: Tiananmen Revisited

"The Chinese government warns its citizens against 'universal values,' calling them a Western plot. But anyone who needs evidence that notions of truth and justice are inherent in human beings everywhere need look no further than Chen Guangcheng. Born to dirt-poor conditions in a small Chinese village, barred from grade school because he was blind, Chen has the gifts of tenacious intellect and a devotion to principle so unbending that, at the end of his saga, it proves stronger than those of U.S. diplomats who are schooled in human rights." —Perry Link, author of An Anatomy of Chinese: Rhythm, Metaphor, Politics and co-editor of The Tiananmen Papers

"Chen Guangcheng. The barefoot lawyer from rural China. Think Huckleberry Finn growing up to be Atticus Finch. In this brave and undaunted book, Guangcheng proves himself the very best kind of trouble-maker. He fights monsters. Monsters who hide behind officialdom and party uniforms. Monsters of lazy sadism who flaunt the rule of law and violently oppose any chance for human dignity. A gritty and insanely inspiring story of a man who has been through Hell and come out smiling, The Barefoot Lawyer represents the ultimate victory over cynicism and cruelty. Tyrants Beware!" —Christian Bale, actor
Picador, 9781250081599, 352pp.
Publication Date: March 1, 2016
About the Author
Chen Guangcheng, known to many as "the barefoot lawyer," was born in the village of Dongshigu in 1971. Blind since infancy, illiterate until his late teens, he nonetheless taught himself law and became a fiery advocate for tens of thousands of Chinese who had no voice. His escape from inhuman house arrest in China made international headlines, as did his flight to the American embassy in Beijing. In 2012 he became a student at New York University Law School; since 2013 he has been a senior research fellow at Catholic University, the Witherspoon Institute, and the Lantos Foundation. He now lives with his wife and two children in the Washington, D.C. area.