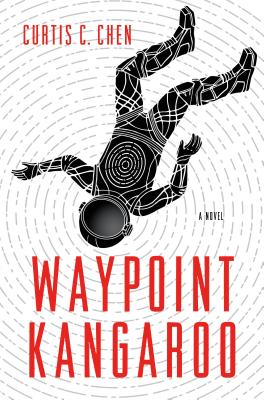 Waypoint Kangaroo (Hardcover)
A Novel (The Kangaroo Series #1)
Thomas Dunne Books, 9781250081780, 320pp.
Publication Date: June 21, 2016
Other Editions of This Title:
Digital Audiobook (7/4/2016)
* Individual store prices may vary.
Description
Kangaroo isn't your typical spy. Sure, he has extensive agency training, access to bleeding-edge technology, and a ready supply of clever (to him) quips and retorts. But what sets him apart is "the pocket." It's a portal that opens into an empty, seemingly infinite, parallel universe, and Kangaroo is the only person in the world who can use it. But he's pretty sure the agency only keeps him around to exploit his superpower.
After he bungles yet another mission, Kangaroo gets sent away on a mandatory "vacation:" an interplanetary cruise to Mars. While he tries to make the most of his exile, two passengers are found dead, and Kangaroo has to risk blowing his cover. It turns out he isn't the only spy on the ship–and he's just starting to unravel a massive conspiracy which threatens the entire Solar System.
Now, Kangaroo has to stop a disaster which would shatter the delicate peace that's existed between Earth and Mars ever since the brutal Martian Independence War. A new interplanetary conflict would be devastating for both sides. Millions of lives are at stake.
Weren't vacations supposed to be relaxing?
With Waypoint Kangaroo, Chen makes his debut with this outer space thriller. Chen has an extensive network of connections to prominent science fiction authors, and has studied under John Scalzi, James Patrick Kelly, and Ursula K. LeGuin.
About the Author
CURTIS C. CHEN graduated from Viable Paradise (instructors included New York Times bestseller John Scalzi) and attended Clarion West (instructors included World Fantasy Lifetime Achievement winner John Crowley and Hugo/Nebula winner James Patrick Kelly). His short fiction has appeared in "Daily Science Fiction" and SNAFU and will be featured in Baen's MISSION: TOMORROW. On top of all that, he's a former software engineer and once built a cat feeding robot. He lives in Vancouver, Washington.
Praise For Waypoint Kangaroo: A Novel (The Kangaroo Series #1)…
"Full of intrigue, action, laugh-out-loud humor, and some truly awesome tech, Chen's debut is a ripping great read. I loved it and can't wait for more!" - Jason M. Hough, New York Times bestselling author of Zero World
"If you like your adventure lightning-paced and set in space, this is the book for you. Waypoint Kangaroo is a high tech thriller set on a passenger liner headed for Mars, featuring a wisecracking secret agent with a super power that will blow your mind. New writer Curtis Chen delivers non-stop action that twists and turns and finally hurtles to a harrowing climax. Prepare for old-fashioned sense of wonder updated with cutting edge hardware in this deft first novel." - James Patrick Kelly, winner of the Hugo, Nebula and Locus awards
"This Kangaroo could just be your new favorite wisecracking interplanetary adventurer."
- Charlie Jane Anders, author of All the Birds in the Sky
"The pace never flags in this high-stakes thriller, the plot never stops twisting and turning, and our hero never loses his sense of humor. Debut novelist Chen has created an engaging character and a rich, believable world. Sci-fi fans will love this fun, high-tech adventure." - Kirkus
""In this rollicking splice of mystery and high-tech SF...Chen's debut keeps the plot twisting as the story builds to a powerful climax, leavening the suspense with Kangaroo's droll quips. This book is an auspicious start for its author and his wisecracking series." - PW
"Kangaroo's adventure is a great, fun read for anyone who loves a mystery or a spy story. The light narrative tone and funny side comments make the subject matter seem less serious, but the themes and comparisons to our current world are not lost on the reader." - Booklist
"Curtis C. Chen's first novel, "Waypoint Kangaroo," has a solid premise, a zippy plot, and some intriguing world-building. This is a promising debut. Chen writes with a breezy, cheeky style that reminds me of John Scalzi. Fans of Scalzi's "Old Man's War" Universe novels should seek this one out. There's lots of room in his Universe for more stories starring the Kangaroo." - The Missourian