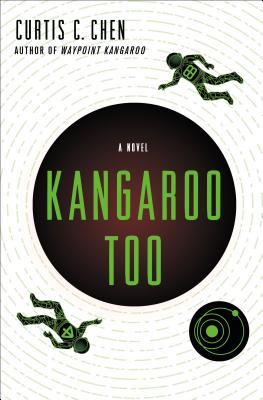 Kangaroo Too
A Novel (The Kangaroo Series #2)
Hardcover

* Individual store prices may vary.
Description
Set in the same world as Waypoint Kangaroo, Curtis C. Chen's Kangaroo Too is bursting with adrenaline and intrigue in this unique outer space adventure.

On the way home from his latest mission, secret agent Kangaroo's spacecraft is wrecked by a rogue mining robot. The agency tracks the bot back to the Moon, where a retired asteroid miner—code named "Clementine" —might have information about who's behind the sabotage.

Clementine will only deal with Jessica Chu, Kangaroo's personal physician and a former military doctor once deployed in the asteroid belt. Kangaroo accompanies Jessica as a courier, smuggling Clementine's payment of solid gold in the pocket universe that only he can use.

What should be a simple infiltration is hindered by the nearly one million tourists celebrating the anniversary of the first Moon landing. And before Kangaroo and Jessica can make contact, Lunar authorities arrest Jessica for the murder of a local worker.

Jessica won't explain why she met the victim in secret or erased security footage that could exonerate her. To make things worse, a sudden terror attack puts the whole Moon under lockdown. Now Kangaroo alone has to get Clementine to talk, clear Jessica's name, and stop a crooked scheme which threatens to ruin approximately one million vacations.

But old secrets are buried on the Moon, and digging up the past will make Kangaroo's future very complicated...
Praise For Kangaroo Too: A Novel (The Kangaroo Series #2)…
"Chen's sequel to Waypoint Kangaroo, as smart and sassy as its title character, forges mystery and hard science into a rousing tale of interplanetary intrigue.... Chen steers his well-wrought mystery into a succession of revelations that give it relentless momentum. Kangaroo is an affable antihero, and his relationships with the colleagues whom his antics exasperate provide solid ground for future adventures to build on." —Publishers Weekly (starred review)

"This is a caper novel reminiscent of Donald E. Westlake at his best: things start small, then escalate, then turn sideways and escalate again, and then the unexpected ambushes everybody. It's all about character and pacing and character: Chen is a master of both. If you like good old fashioned plot-driven SF, you will like this book; if you like slightly absurd humorous SF, you'll like it even more. I want to read more from Chen." —Locus Magazine on Kangaroo Too

"Kangaroo Too is an intelligent and fun space mystery with a maturing and cheeky central character. Fans of John Scalzi and Chen's Waypoint Kangaroo will enjoy this one." —The Missourian

"A wry, fast-paced spy thriller with a million twists and a good heart. Kangaroo's dry humor kept me turning pages well past my bedtime." —Tina Connolly, Nebula-nominated author of Ironskin on Kangaroo Too


Praise for Waypoint Kangaroo:

"A very entertaining SF mystery/thriller and an impressive first novel." —Locus Online

"Chen's debut keeps the plot twisting as the story builds to a powerful climax, leavening the suspense with Kangaroo's droll quips." —Publishers Weekly

"Kangaroo's adventure is a great, fun read for anyone who loves a mystery or a spy story." —Booklist

The pace never flags in this high-stakes thriller, the plot never stops twisting and turning, and our hero never loses his sense of humor. Debut novelist Chen has created an engaging character and a rich, believable world. Sci-fi fans will love this fun, high-tech adventure." — Kirkus

"Full of intrigue, action, laugh-out-loud humor, and some truly awesome tech, Chen's debut is a ripping great read. I loved it and can't wait for more!" - Jason M. Hough, New York Times bestselling author of Zero World
Thomas Dunne Books, 9781250081896, 320pp.
Publication Date: June 20, 2017
About the Author
CURTIS C. CHEN graduated from Viable Paradise (instructors included New York Times bestseller John Scalzi) and attended Clarion West (instructors included World Fantasy Lifetime Achievement winner John Crowley and Hugo/Nebula winner James Patrick Kelly). His short fiction has appeared in "Daily Science Fiction" and SNAFU and will be featured in Baen's MISSION: TOMORROW. On top of all that, he's a former software engineer and once built a cat feeding robot. He lives in Vancouver, Washington.
or
Not Currently Available for Direct Purchase