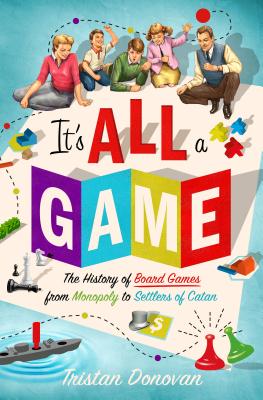 It's All a Game
The History of Board Games from Monopoly to Settlers of Catan
Hardcover

* Individual store prices may vary.
Description
"[A] timely book...It's All a Game provides a wonderfully entertaining trip around the board, through 4,000 years of game history." —The Wall Street Journal
Board games have been with us longer than even the written word. But what is it about this pastime that continues to captivate us well into the age of smartphones and instant gratification?
In It's All a Game, British journalist and renowned games expert Tristan Donovan opens the box on the incredible and often surprising history and psychology of board games. He traces the evolution of the game across cultures, time periods, and continents, from the paranoid Chicago toy genius behind classics like Operation and Mouse Trap, to the role of Monopoly in helping prisoners of war escape the Nazis, and even the scientific use of board games today to teach artificial intelligence how to reason and how to win. With these compelling stories and characters, Donovan ultimately reveals why board games have captured hearts and minds all over the world for generations.
Praise For It's All a Game: The History of Board Games from Monopoly to Settlers of Catan…
"[A] timely book...It's All a Game provides a wonderfully entertaining trip around the board, through 4,000 years of game history." —The Wall Street Journal
"[A] splendid new book...A quick and breezy read, it doesn't just tell the fascinating stories of the (often struggling) individuals who created our favorite games. It also manages to convey the entire sweep of boardgame history, from the earliest forms of Checkers to modern-day surprise hits like Settlers of Catan." —Mashable
"Throw away your preconceived notions and dive into this rich story that informs who we are by the games we play...Each chapter is a thematic essay that stands alone but also artfully weaves together culture, business, and ways games impact society... This history of games is perfect for the budding social scientist, the casual reader, or someone looking to impress party guests with trivia knowledge." —Booklist
"a fascinating and insightful discussion not only of games past, but the socioeconomic and historical factors that contributed to their popularity" —Chicago Review of Books

"There is both reason and rhyme for every one of Donovan's historical installments, and the biographical bits are intriguing, revealing the kind of person who invents a board game... What Donovan has done with It's All A Game is write a social history through board games." —Paste Magazine
"Offering more than a nostalgic trip through the attic, this book will appeal to readers interested in a comprehensive history of board games" —Library Journal
"Tristan Donovan takes what might seem like a dull topic and brings it to life. Turning a hobby into a fascinating history subject, It's All a Game manages to cover the entire realm of tabletop games in an easy-to-read yet fascinating tale. Think you know everything about board games? Read this to find otherwise!" —Tom Vasel, Host, The Dice Tower
Thomas Dunne Books, 9781250082725, 304pp.
Publication Date: May 30, 2017
About the Author
TRISTAN DONOVAN is a British author and journalist. His writing has appeared in numerous publications, including BBC News Online, The Atlantic, The Times of London, Stuff, Wired, The Guardian, Eurogamer, Kotaku,Community Care, and The Big Issue. He lives in the UK.