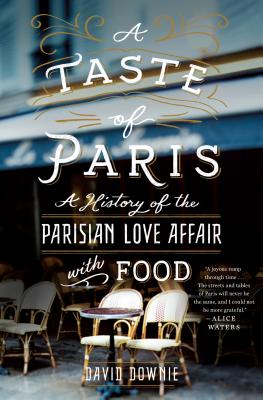 A Taste of Paris
A History of the Parisian Love Affair with Food
Hardcover

* Individual store prices may vary.
Description
A Taste of Paris is a delectable culinary history of the gastronomic capital of the world, written by David Downie, the critically acclaimed author of Paris, Paris and A Passion for Paris.

"A joyous romp through time . . . The streets and tables of Paris will never be the same and I could not be more grateful." —Alice Waters

In his trademark witty and informative style, David Downie embarks on a quest to discover "What is it about the history of Paris that has made it a food lover's paradise?" Long before Marie Antoinette said, "Let them eat cake!" (actually, it was brioche), the Romans of Paris devoured foie gras, and live oysters rushed in from the Atlantic; one Medieval cookbook describes a thirty-two part meal featuring hare stew, eel soup, and honeyed wine; during the last great banquet at Versailles a year before the Revolution the gourmand Louis XVI savored thirty-two main dishes and sixteen desserts; yet, in 1812, Grimod de la Reynière, the father of French gastronomy, regaled guests with fifty-two courses, fifteen wines, three types of coffee, and seventeen liqueurs.

Following the contours of history and the geography of the city, Downie sweeps readers on an insider's gourmet walking tour of Paris and its environs in A Taste of Paris, revealing the locations of Roman butcher shops, classic Belle Epoque bistros serving diners today and Marie Antoinette's exquisite vegetable garden that still supplies produce, no longer to the unfortunate queen, but to the legendary Alain Ducasse and his stylish restaurant inside the palace of Versailles. Along the way, readers learn why the rich culinary heritage of France still makes Paris the ultimate arbiter in the world of food.
Praise For A Taste of Paris: A History of the Parisian Love Affair with Food…
"Skillfully combines culinary history with reports from some of the city's most tasteful arrondissements, [Downie] adopts the conceit of a historian's walking tour, conflating the past with the present in gorgeous style" —The New York Times Book Review

"A joyous romp through time . . . The streets and tables of Paris will never bethe same and I could not be more grateful." —Alice Waters

"Truly epic, encompassing history, flavor,and passion. Bravo for a comprehensive look at eating and dining in Paris!" —David Lebovitz, author of My Paris Kitchen and The Sweet Life in Paris

"A delightful treat for your favorite Francophile foodie . . . an enchanting fluffy read with lots of hints and tips for lovers of Paris and French food." —Epicurious.com

"Downie tells many tales of fascinating episodes in French history. . . . A gastronomic jaunt through the city that tells how Paris distinguished itself as a world capital of eating." —Eleanor Beardsley, NPR's Paris Correspondent

"Given the French influence over the way we eat and cook (or aspire to do so), the historical details in Downie's book are fascinating (who knew that Charlemagne loved arugula?), even though it's unlikely that you'll be motivated to prepare the recipe of the famous 14th century chefTaillevent for roast peacock or swan." —AimeeLee Ball, Martha Stewart.com

"Downie blends exhaustive research and personal experience in this delightful history of one of the culinary capitals of the world...Readers don't have to be foodies to get the flavor of the French character in this delightful, thoroughly researched culinary history." —Publishers Weekly

"A great companion for any French adventurer as well as historians and food buffs" —Library Journal

"A zesty, entertaining romp through the landscape of French food." —Kirkus

"In recent years David Downie has become the go-to-guy for all matters Parisienne. In A Taste of Paris he combines his love of history, his affection for his adopted city, and his passion for Frenchgastronomy. Anyone who loves Paris (who doesn't?) and adores French cooking (who can resist it?) will cherish this authoritative book." —Paula Wolfert

"A must for anyone going to Paris and anyone with an interest in food and history." —Linda Pelaccio, Heritage Radio Network's A Taste of the Past

"With humor and wit, Downie delves into the city's culinary history, sharing fascinating anecdotes... A Taste of Paris is written in a fun, lively style, bringing to life thousands of years of history, while also elaborating on contemporary culinary trends… an indispensable guide to the past, present, and future in a city that's often deemed a global food capital." —Bonjour Paris

St. Martin's Press, 9781250082930, 304pp.
Publication Date: September 26, 2017
About the Author
DAVID DOWNIE, a native San Franciscan, lived in New York, Providence, Rome and Milan before moving to Paris in the mid-80s. He divides his time between France and Italy. His travel, food and arts features have appeared in leading print and on-line publications including Bon Appétit, Gourmet, Saveur, Epicurious.com, and Gault & Millau, the premier French food guide. He is the author of over a dozen nonfiction books, including the highly acclaimed Paris, Paris and A Passion for Paris.
Coverage from NPR