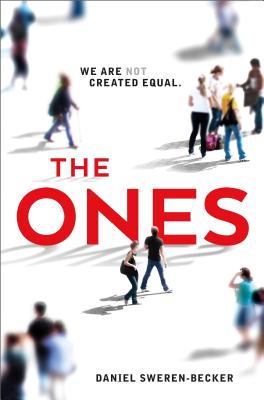 The Ones (Hardcover)
Imprint, 9781250083142, 304pp.
Publication Date: September 6, 2016
Other Editions of This Title:
Digital Audiobook (9/5/2016)
Paperback (9/12/2017)
Pre-Recorded Audio Player (9/6/2016)
CD-Audio (9/6/2016)
* Individual store prices may vary.
Description
We are not all created equal.
Seventeen-year-old Cody and her boyfriend, James, were two of the lucky ones randomly selected before birth to receive genetic engineering.
Known as the Ones, this one percent of the population is healthy, beautiful, and talented…and to some that's not fair. Mounting fear and jealousy of the Ones' success leads to the creation of the Equality Movement, which quickly gains enough political traction to demote Cody, James, and others like them to second-class citizens.
Cody knows even before the brick smashes through her window that it's going to be bad. As their school, the American government, and even family and friends turn against them, Cody begins to believe they have no other choice but to protect their own. She draws closer to a group of radical Ones led by the passionate and fevered Kai, and James begins to question just how far she is willing to go for the cause…
Themes of justice, discrimination and terrorism mix with actual science to create a frightening version of our near future in Daniel Sweren-Becker's pulse-pounding thriller.
An Imprint Book
About the Author
Daniel Sweren-Becker is an author, television writer, and playwright living in Los Angeles. His play Stress Positions premiered in New York City at the SoHo Playhouse. He grew up in Manhattan. He is the author of the novels The Ones and The Equals.
Praise For The Ones…
"Chilling and frighteningly real, The Ones leads us down a dark rabbit hole of scientific possibilities, fractured morality, and brutal consequences. It forces the question: If perfection becomes a liability, how far are we willing to go in the pursuit of it -- or to stop it?"—Kami Garcia, #1 New York Times bestselling coauthor of Beautiful Creatures and author ofThe Lovely Reckless
"Like watching your favorite TV show, The Ones is a thrill ride with a new shock at every turn. You won't believe what happens next, and yet, you should. Because this reality is all too possible." —Melissa de la Cruz, #1 New York Times bestselling author of Isle of the Lost and the forthcoming Something In Between
"A gripping and cautionary tale. A thrilling read." —Brendan Reichs, New York Times-bestselling coauthor of the Virals series.
"The basic premise for this captivating tale is much closer to practical concern than many might imagine. It is crucial that we visualize many possible scenarios like this one so that we can humanely respond to (or better yet anticipate) new technologies and the consequences for new babies. We hopefully will not punish the latter for the shortcomings of the former, and books like this will help us all engage with the key issues, technical and moral." —George Church, Professor of Genetics at Harvard Medical School and author of Regenesis: How Synthetic Biology Will Reinvent Nature and Ourselves
or
Not Currently Available for Direct Purchase