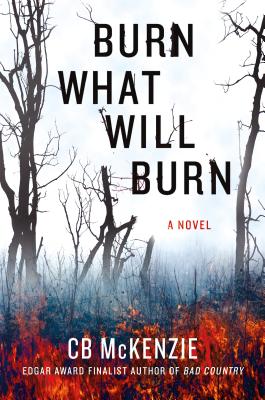 Burn What Will Burn (Hardcover)
A Novel
Minotaur Books, 9781250083371, 224pp.
Publication Date: June 21, 2016
* Individual store prices may vary.
Description
"Burn What Will Burn is a gritty, gripping mystery and an enthralling character study of its poet-protagonist, who is self-exiled and bedeviled by the locals, the summer Arkansas heat, and his own past. I was hooked by sentence one and burned right through the pages."—Michael Kardos, author of Before He Finds Her
Bob Reynolds doesn't recognize the body in the creek, but he does recognize the danger of it. He's a newcomer to town, not entirely welcome, and not entirely on good footing with the sheriff. So far he's kept his head down, mostly over the bar at the Crow's Nest. But he has interests other than drinking and spending his inheritance, including one that goes by the name Tammy Fay Smith and who may have caught the sheriff's eye as well.
Reynolds would rather pretend he never saw the body, but when it disappears, he begins to doubt what little he knew about this secretive town, a town that seems to become more unwelcoming by the day. Try as he might, he just can't forget the body, despite the advice he's been given to do so, and despite the evidence to suggest that he might be disappearing himself soon enough.
Following his acclaimed, award-winning debut, Burn What Will Burn confirms CB McKenzie as a one-of-a-kind crime novelist with an unforgettably original voice.
About the Author
A native Texan, CB MCKENZIE has through-hiked the Appalachian Trail and worked as a housepainter, haute couture model, farmhand, and professor in a wide variety of locales around the world, including New York and Vermont, Miami and Milan, Tokyo and Tucson. He earned both an M.F.A. and a Ph.D. from the University of Arizona. Though he currently lives in California, he still keeps his pickups in Tucson and Texas. Bad Country is his first novel.
Praise For Burn What Will Burn: A Novel…
"A suspenseful, hard-boiled crime novel filled with well-drawn, quirky characters and written in a tight, literary prose style." —Associated Press
"It's atmospheric to the nth degree, with prose that borders on poetry and a story that will put you off traveling south of the Mason-Dixon Line, perhaps forever." —Bookpage
"Every one of [McKenzie's] characters is tilted just a little to the left of normal. That, along with his poetic but gritty writing, will capture readers at first sentence." —Mystery Scene
"Evil comes in all shapes and sizes, and McKenzie gets the best out of that premise in this chilling portrayal of murder and mayhem. Careful development of each personality adds an outstanding facet to the story." —RT Book Review
Following the Edgar Award–nominated Bad Country, McKenzie takes another fascinating look at life in rural America. The lyrical writing balances out the bleakness of his ­protagonist's existence." —Library Journal
"Thematically very different than McKenzie's outstanding first novel (Bad Country, 2014). But the prose is just as pure and the story just as riveting." —Kirkus Reviews
"Burn What Will Burn is a natural successor to Bad Country, and it will scorch the literary landscape with perfectly structured sentences and blistering prose." —Matthew McBride, author of A Swollen Red Sun
"There's a tightness to life in a small town—part of it is fierce loyalty, part long memory. In Burn What Will Burn, small town life is rendered a snake-pit where self-interest and self-preservation inform every action. Our guide through the backwaters, diners, and abandoned cabins is Bob Reynolds, a fish-out-of-water weirdly suited to his search for truth in a verdant hollow of lies. CB McKenzie builds a world so compelling that the Little Piney Creek showed up in my dreams. I loved every page." —Christian Kiefer, author of The Animals
"Poe County has plenty to hide, but newcomer Bob Reynolds is interested only in drinking away his inheritance at the Crow's Nest. That is until he discovers a dead body afloat in nearby creek. And steals something from it. A bleary-eyed and sharp-tongued philosopher-poet, Reynolds proves the perfect guide to the hollers and dirt roads of Poe County, where a crisis greets him at every turn, and the secrets hang as thick as the shadows. I'm already looking forward to going back there." —Bill Loehfelm, author of Doing the Devil's Work
"Written in richly poetic language and infused with sly humor, CB McKenzie's brooding, gothic tale of eccentric characters set in backwoods Arkansas will appeal to readers of Daniel Woodrell and Joe Lansdale." —Terry Shames, author of The Necessary Murder of Nonie Blake
"Burn What Will Burn is a gritty, gripping mystery and an enthralling character study of its poet-protagonist, who is self-exiled and bedeviled by the locals, the summer Arkansas heat, and his own past. I was hooked by sentence one and burned right through the pages." —Michael Kardos, author of Before He Finds Her
or
Not Currently Available for Direct Purchase