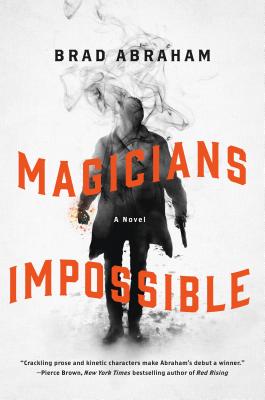 Magicians Impossible (Hardcover)
A Novel
Thomas Dunne Books, 9781250083524, 400pp.
Publication Date: September 12, 2017
Other Editions of This Title:
Library Binding, Large Print (1/3/2018)
Compact Disc (9/12/2017)
Compact Disc (9/12/2017)
MP3 CD (9/12/2017)
Pre-Recorded Audio Player (9/12/2017)
* Individual store prices may vary.
Description
Named one of the Best Debut Novels of 2017 by Suspense Magazine!
"Magicians Impossible is a mind-bending page-turner! A brilliant and unique mash-up of spells, myth and mayhem, once it got its claws in me I couldn't put it down. Like a veteran stage magician, Brad Abraham has created a hip thriller that turns convention on its ear with misdirection and mayhem. A must read for enthusiasts of edgy and extreme fiction." —Don Coscarelli, director of John Dies At The End

Twenty-something bartender Jason Bishop's world is shattered when his estranged father commits suicide, but the greater shock comes when he learns his father was a secret agent in the employ of the Invisible Hand; an ancient society of spies wielding magic in a centuries-spanning war. Now the Golden Dawn—the shadowy cabal of witches and warlocks responsible for Daniel Bishop's murder, and the death of Jason's mother years before—have Jason in their sights. His survival will depend on mastering his own dormant magic abilities; provided he makes it through the training.
From New York, to Paris, to worlds between worlds, Jason's journey through the realm of magic will be fraught with peril. But with enemies and allies on both sides of this war, whom can he trust? The Invisible Hand, who've been more of a family than his own family ever was? The Golden Dawn, who may know the secrets behind his mysterious lineage? For Jason Bishop, only one thing is for certain; the magic he has slowly been mastering is telling him not to trust anybody.
About the Author
Brad Abraham is a writer whose previous work includes the feature films Fresh Meat and Stonehenge Apocalypse, as well as the TV miniseries Robocop Prime Directives. He is creator of the acclaimed comic book series Mixtape, has written for such publications as Dreamwatch, Starburst, and Fangoria, and was a long-time contributor to Rue Morgue Magazine. A native of Ottawa, Canada, he lives in NYC. Magicians Impossible is his first novel.
Praise For Magicians Impossible: A Novel…
"Abraham writes with a certain wistful charm." —Publishers Weekly
"Jason fighting the forces of evil and learning about his powers is an amusing and captivating adventure." —Booklist Starred Review
"Crackling prose and kinetic characters make Abraham's debut a winner." —Pierce Brown, New York Times bestselling author of Red Rising
"Magicians Impossible is a mind-bending page-turner! A brilliant and unique mash-up of spells, myth and mayhem, once it got its claws in me I couldn't put it down. Like a veteran stage magician, Brad Abraham has created a hip thriller that turns convention on its ear with misdirection and mayhem. A must read for enthusiasts of edgy and extreme fiction." —Don Coscarelli, director of John Dies At The End, Phantasm, and Bubba Ho-Tep
"Part hard-boiled thriller, part magical mayhem, Magicians Impossible is a page-turning adventure where the stakes are high and the magic is mind-blowing. It's urban fantasy at its very best." —Lisa Maxwell, author of The Last Magician
"From its action-packed opening sequence, this is a cinematic, fast-paced debut." —Library Journal starred review
"An action-packed, thrilling fantasy with surprises around every corner and behind every door!" —Erika Lewis, Author of Game of Shadows
"Urban fantasy hasn't felt this fresh – or this compulsively readable – since Neil Gaiman's Neverwhere. Brad Abraham has conjured a pitch-perfect fever dream of myth, magic, intrigue, and pulse-pounding action, set in a vividly imagined underworld of dangerous cabals and supernatural espionage. It's a spell you won't want to break." –April Snellings, author, Food Chain
"From the first sentence, Brad Abraham pulls you in to a darkly magical, energetic world where anything can happen ... and pulls the rug out from under you when you least expect it." –Rodrigo Gudiño, Founder, Rue Morgue Magazine
"From the first page, Brad Abraham's Magicians Impossible is a high-wire act that doesn't let up the excitement for even a paragraph. Simply put, Magicians Impossible is a book I wish I'd written." –Libby Cudmore, Author of The Big Rewind
"Jason fighting the forces of evil and learning about his powers is an amusing and captivating adventure." —Emily Whitmore, Booklist
"Best described as Harry Potter meets James Bond, this series launch by a screenwriter features ages-old spy rings of magic-wielding secret agents" —Library Journal
"Just a thrilling debut novel that is a page-turner... I will look forward to more writings from Brad." —Red Carpet Crash
"Delectable fantasy elements, family drama, magical espionage, adrenaline-pumping fight sequences, and globetrotting adventure. I had a good time with this novel." —The Biblio Sanctum
"Any fantasy novel compared to "Harry Potter" is easy to booktalk. Brad Abraham's Magicians Impossible has the magic school, the whodunit mystery, and the murky family origins... Abraham is known for his "Mixtape" comics series, but this urban fantasy in the vein of Lev Grossman's The Magicians is his debut novel." —School Library Journal