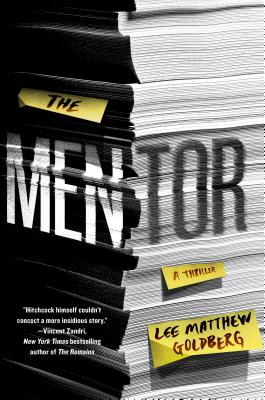 The Mentor (Hardcover)
A Thriller
Thomas Dunne Books, 9781250083548, 336pp.
Publication Date: June 13, 2017
* Individual store prices may vary.
Description
Kyle Broder has achieved his lifelong dream and is an editor at a major publishing house.
When Kyle is contacted by his favorite college professor, William Lansing, Kyle couldn't be happier. Kyle has his mentor over for dinner to catch up and introduce him to his girlfriend, Jamie, and the three have a great time. When William mentions that he's been writing a novel, Kyle is overjoyed. He would love to read the opus his mentor has toiled over.
Until the novel turns out to be not only horribly written, but the most depraved story Kyle has read.
After Kyle politely rejects the novel, William becomes obsessed, causing trouble between Kyle and Jamie, threatening Kyle's career, and even his life. As Kyle delves into more of this psychopath's work, it begins to resemble a cold case from his college town, when a girl went missing. William's work is looking increasingly like a true crime confession.
Lee Matthew Goldberg's The Mentor is a twisty, nail-biting thriller that explores how the love of words can lead to a deadly obsession with the fate of all those connected and hanging in the balance.
About the Author
LEE MATTHEW GOLDBERG's debut novel Slow Down is a neo-noir thriller. His TV pilot Join Us was a finalist in Script Pipeline's 2015 TV Writing Competition. After graduating with an MFA from the New School, his fiction has also appeared in The Montreal Review, The Adirondack Review, Essays & Fictions, The New Plains Review, Orion headless, Verdad Magazine, BlazeVOX, and others. He is the co-curator of The Guerrilla Lit Fiction Series. He lives in New York City.
Praise For The Mentor: A Thriller…
"(A) compelling plot" —Booklist
"A dark, whirling, and gripping book, The Mentor pulls you in from the very first page. Goldberg is a masterful storyteller and this tale of jealousy and ambition is one that will stay with you long after you're done." —Jennifer Close, New York Times bestselling author of Girls in White Dresses and The Smart One

"A dark, mysterious and sexy page-turner—The Mentor has it all. Never before have a professor and his newly successful protégée clashed in such a twisted and macabre manner. A compulsive read –you won't be able to put this one down." —Margot Berwin, author, Hothouse Flower and the Nine Plants of Desire, and Scent of Darkness

"The Mentor unfolds like an addictive voyeuristic experience. The conflict draws you in and keeps you riveted until the last page. Goldberg spins a powerful premise into a masterful literary thriller that has the feel of a breakout novel." —Michael Soussan, author of Backstabbing for Beginners, the film version starring Ben Kingsley and Theo James
"Another title for Lee Matthew Goldberg's newest literary thriller, The Mentor, could be 'Writer Beware.' Hitchcock himself couldn't concoct a more insidious story. Goldberg has created a riveting, funny, contemporary novel that deserves the description, page turner." —Vincent Zandri, New York Times and USA Today bestselling author of The Remains and When Shadows Come
"Readers who relish thrillers with brisk pacing and compelling characters will rank this as one of their all-time favorite books." —New York Journal of Books