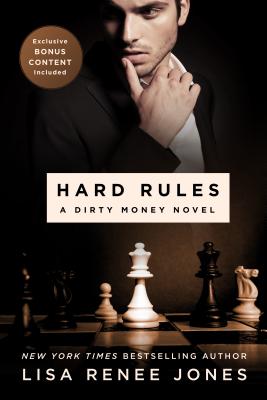 Hard Rules
A Dirty Money Novel
Paperback

* Individual store prices may vary.
Other Editions of This Title:
Digital Audiobook (9/5/2016)
Description
Wall Street meets the Sons of Anarchy in Hard Rules, the smoldering, scorching first novel in the explosively sexy new Dirty Money series from New York Times bestselling author Lisa Renee Jones.

How bad do you want it?

The only man within the Brandon empire with a moral compass, Shane Brandon is ready to take his family's business dealings legitimate. His reckless and ruthless brother, Derek wants to keep Brandon Enterprises cemented in lies, deceit, and corruption. But the harder Shane fights to pull the company back into the light, the darker he has to become. Then he meets Emily Stevens, a woman who not only stirs a voracious sexual need in him, but becomes the only thing anchoring him between good and evil.

Emily is consumed by Shane, pushed sexually in ways she never dreamed of, falling deeper into the all-encompassing passion that is this man. She trusts him. He trusts her, but therein lies the danger. Emily has a secret, the very thing that brought her to him in the first place, and that secret could destroy them both.

This is book ONE of FOUR in Shane and Emily's story.


Excerpt from Hard Rules (Dirty Money book #1)


His hand curls around mine and he drags it to his knee, and the way he's looking at me, like the rest of the room, no, the rest of the world, doesn't exist, steals my breath. I haven't allowed anyone to really look at me in a very long time.
"Emily," he says, doing whatever he does to turn my name into a sin that seduces rather than destroys me.
"Shane," I manage, but just barely.
"Did you say yes to dinner because you didn't want to be alone?"
I am not sure where he is going with this, if it's about reading me or if he needs validation that I am here for him, so I give him both. "I like being alone," I say, and on some level, it really is true. "I said yes to dinner because you are the one who asked." My lips curve. "Actually you barely asked. You mostly ordered."
"I couldn't let you say no."
"I'm actually really glad you didn't."
"And yet you say you like being alone?"
"It's simple and without complication."
"Spoken like someone who's lived the opposite side of the coin."
"Haven't we all?"
"Who burned you, Emily?"
I blanch but recover with a quick, "Who says anyone burned me?"
"I see it in your eyes."
"Back to my eyes," I say.
"Yes. Back to your eyes."
"Stop looking."
"I can't."
Those two words sizzle, matching the heat in his eyes, and my throat goes dry. "Then stop asking so many questions."
He reaches up, brushing hair behind my ear, his fingers grazing my cheek, and suddenly he is closer, his breath a tease on my cheek, his fingers settling on my jaw. "What if I want to know more about you?"
"What if I don't want to talk?"
"Are you suggesting I shut up and kiss you?"
Yes, I think. Please. But instead I say, "I don't know. I haven't interviewed you as you have me. I know nothing about you. I want to know if you—"
He leans in, and then his lips are on mine, a caress, a tease, that is there and gone, and yet I am rocked to the core, a wave of warmth sliding down my neck and over my breasts. He lingers, his breath fanning my lips, promising another touch I both need and want, as he asks, "You want to know if I what?"
Everything. "Nothing."
Praise For Hard Rules: A Dirty Money Novel…
"Lisa Renee Jones excels at creating powerful men and women who are determined to live life on their own terms, and fans will be immediately drawn to the dangerous world of Brandon Enterprises." - RT Book Reviews

"High-octane romance set above the glittering lights of Denver is enhanced by the dominance of a powerful man and the cunning sweetness of a woman who isn't cowed or swayed by his wealth." - Publishers Weekly

"Sure to leave readers desperate for the next installment.: - Kirkus Reviews

"Edgy, brilliant and all-consuming, Dirty Money is THE series of the year! Lies, danger, secrets,and a hero you will fall HARD for. A must read!" - New York Times bestselling author Katy Evans on Hard Rules

"Get ready for a nail-biting, panty-melting, head-scratching, eyebrow-raising roller coaster ride that will have you anxious for more as soon as it's over. The line forms here..." - Rosa from iScream for Books on Hard Rules

"...her impressive ability to captivate the reader by revealing only the slightest hint of the bombshell buried under the layers of her intricate story. I can't recommend this book enough." - Author A.D. Justice on Hard Rules

"The author has deliciously woven an intricate plot with many threads, giving us lots of angst, sexual tension and suspense, the writing style sexy and seductive, drawing the reader in from page one." - Zita, Goodreads Reviewer on Hard Rules
St. Martin's Griffin, 9781250083821, 304pp.
Publication Date: August 9, 2016
About the Author
New York Times and USA Today bestselling author Lisa Renee Jones is the author of the highly acclaimed Inside Out series. In addition, both her Tall, Dark and Deadly series and The Secret Life of Amy Bensen series spent several months on a combination of the New York Times and USA Today lists.

Since beginning her publishing career in 2007, Lisa has published more than 40 books that have been translated around the world. Booklist says that Jones's suspense truly sizzles with an energy similar to FBI tales with a paranormal twist by Julie Garwood or Suzanne Brockmann.

Prior to publishing, Lisa owned a multi-state staffing agency that was recognized many times by The Austin Business Journal and also praised by Dallas Women Magazine. In 1998 LRJ was listed as the #7 growing women owned business in Entrepreneur Magazine.
or
Not Currently Available for Direct Purchase