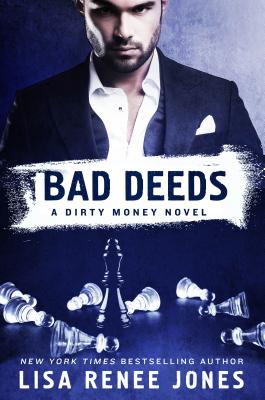 Bad Deeds (Paperback)
A Dirty Money Novel
St. Martin's Griffin, 9781250083845, 304pp.
Publication Date: August 8, 2017
Other Editions of This Title:
Digital Audiobook (8/7/2017)
* Individual store prices may vary.
Description
Wall Street meets the Sons of Anarchy in Bad Deeds, the smoldering, scorching next novel in the explosively sexy Dirty Money series from New York Times bestselling author Lisa Renee Jones.
Would you bleed for the one you love?
To save his family empire from the grip of the drug cartel, Shane is pushed to the edge of darkness, forced to make choices he might never make. His father is dying. His brother is desperate to rule the empire and this means war and all gloves are off. His brother only thought he knew what dirty meant. Shane is about to give it new meaning. There is another war brewing though, and that one, is inside him, his battle between right and wrong, light and dark, and in the heat of the night, it is Emily he turns to for escape. Driving her to new limits, pushing her to accept a part of him that even he cannot.
In every one of Shane's seductive demands, Emily can taste and feel, his torment, his struggle to save his family and not lose himself. But he is losing himself, and that is a problem just as dangerous as her secret, that still lurk in the shadows, a threat to the Brandon Family waiting to erupt. No matter where she and Shane have traveled, or will travel in the future, she can't just sit back and watch him become everything he hates, everything he never wanted to become, everything she tried to save him from when she tried to run. It could be their undoing, the end. His end.
This is war, blood will spill, and someone in the heart of the Brandon family will not survive....
Wall Street meets the Sons of Anarchy in Damage Control, the smoldering, scorching next novel in the explosively sexy Dirty Money series from New York Times bestselling author Lisa Renee Jones.
The only thing more dangerous than a dark secret is a damaged heart…
Shane Brandon has been pushed to the brink, torn between his corrupt family and his explosive, all-consuming desire for Emily Stevens, who he now knows is not who, and what, she seems. Has he trusted the wrong person? Will she, not his brother Derek, be the ultimate destruction of his family Empire.
Emily tries to run from Shane, but he will stop her, confront her, force her to reveal all – one hot touch and kiss, at a time, under every intimate detail of who this woman is, and what she wants, is exposed. But as he tears away the dangers of the unknowns with the woman in his bed, and in his heart, The Martina Cartel, has set their sites on his company, his family, and the one piece of leverage they believe he won't gamble with: Emily.
This is book THREE of FOUR in Shane and Emily's story.
About the Author
New York Times and USA Today bestselling author Lisa Renee Jones is the author of the highly acclaimed Inside Out series. In addition, both her Tall, Dark and Deadly series and The Secret Life of Amy Bensen series spent several months on a combination of the New York Times and USA Today lists.
Since beginning her publishing career in 2007, Lisa has published more than 40 books that have been translated around the world. Booklist says that Jones's suspense truly sizzles with an energy similar to FBI tales with a paranormal twist by Julie Garwood or Suzanne Brockmann.
Prior to publishing, Lisa owned a multi-state staffing agency that was recognized many times by The Austin Business Journal and also praised by Dallas Women Magazine. In 1998 LRJ was listed as the #7 growing women owned business in Entrepreneur Magazine.
Praise For Bad Deeds: A Dirty Money Novel…
"[A] sizzling hot ride." - Booklist on Bad Deeds
"Lisa Renee Jones excels at creating powerful men and women who are determined to live life on their own terms, and fans will be immediately drawn to the dangerous world of Brandon Enterprises." - RT Book Reviews
"High-octane romance set above the glittering lights of Denver is enhanced by the dominance of a powerful man and the cunning sweetness of a woman who isn't cowed or swayed by his wealth." - Publishers Weekly
"Sure to leave readers desperate for the next installment.: - Kirkus Reviews
"Edgy, brilliant and all-consuming, Dirty Money is THE series of the year! Lies, danger, secrets,and a hero you will fall HARD for. A must read!" - New York Times bestselling author Katy Evans on Hard Rules
"...her impressive ability to captivate the reader by revealing only the slightest hint of the bombshell buried under the layers of her intricate story. I can't recommend this book enough." - Author A.D. Justice on Hard Rules