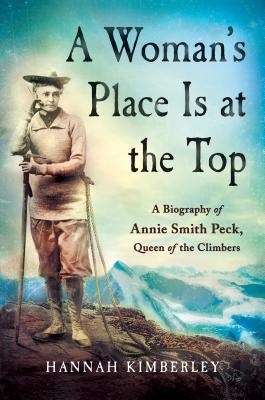 A Woman's Place Is at the Top
A Biography of Annie Smith Peck, Queen of the Climbers
Hardcover

* Individual store prices may vary.
Description
Annie Smith Peck is one of the most accomplished women of the twentieth century that you have never heard of. Peck was a scholar, educator, writer, lecturer, mountain climber, suffragist, and political activist. She was a feminist and an independent thinker who refused to let gender stereotypes stand in her way. Peck gained fame in 1895 when she first climbed the Matterhorn at the age of forty-five – not for her daring alpine feat, but because she climbed wearing pants. Fifteen years later, she was the first climber ever to conquer Mount Huascarán (21,831 feet) in Peru. In 1911, just before her sixtieth birthday, she entered a race with Hiram Bingham (the model for Indiana Jones) to climb Mount Coropuna.

A Woman's Place Is at the Top: The Biography of Annie Smith Peck is the first full length work about this incredible woman who single-handedly carved her place on the map of mountain climbing and international relations. Peck marched in suffrage parades and became a political speaker and writer before women had the right to vote. She was a propagandist, an expert on North-South American relations, and an author and lecturer contracted to speak as an authority on multinational industry and commerce before anyone had ever thought to appoint a woman as a diplomat. With unprecedented access to Peck's original letters, artifacts, and ephemera, Hannah Kimberley brings Peck's entire life to the page for the first time, giving Peck her rightful place in history.
Praise For A Woman's Place Is at the Top: A Biography of Annie Smith Peck, Queen of the Climbers…
"An artful narrative of Peck's life, offering the reader both a sense of Peck's personality and the epoch within which she lived in addition to lively accounts of her adventures...With precise language and robust descriptions, Kimberly pulls this slight, wily woman out of the vaults of history and inserts Annie Smith Peck in her rightful place among our country's most accomplished mountaineers and social leaders."—Sierra Magazine

"A Woman's Place is at the Top brings to life a now little known figure, who at the turn of the 20th century had gained worldwide renown as a pioneer of women's mountain climbing. This vivid account of Annie Smith Peck achievements — at one point in her fifties she climbed higher that almost any man in her era — captures the indomitable spirit and will of a women determined to make a place in a male-dominated world. Fearless, vain, ferociously competitive and ambitious, Peck burst out of her strict, proper New England childhood driven to succeed. And succeed she did, packing more lives into one lifetime than seems imaginable: lecturer, scholar, archaeologist, author, political campaigner — particularly for women's right to vote — and an international expert in South America where she achieved her most daring climbs in the Andean Mountains, with some of the highest and most difficult and dangerous mountain peaks on earth."
—William Carlsen, author of Jungle of Stone

"Hannah Kimberley's fine new biography of pioneering woman climber Annie Peck draws on a treasure trove of previously unavailable correspondence and other sources. Her book is affectionate and informative, though by no means hagiographic. Kimberley clearly admires Peck, for her genuine achievements as a mountaineer, for her shining intelligence, sturdy independence, and her staunch support of women's rights. But the reader also learns about a woman whose ego, ambition, and fierce competitiveness could on occasion lead her into dubious exaggerations about the summits she reached, as well as a disregard for the well-being and contributions of others on her adventures in the Peruvian Andes. Kimberley's Annie Peck is a complicated and fascinating historical actor."—Maurice Isserman, author of Continental Divide: A History of American Mountaineering, and co-author of Fallen Giants: A History of Himalayan Mountaineering from the Age of Empire to the Age of Extremes.

"Kimberley does an excellent job of situating Peck in her time and place, late 19th- and early 20th-century America. Readers of adventure stories, women's history, and biographies will enjoy this well-researched book."—Library Journal

"Thoroughly researched and comprehensive, including, as a delightful introduction with Nancy Drew overtones, [the author's] own story of discovering Peck. Peck was a dynamic and compelling woman, and her story will be hard to resist for armchair travelers and fans of hidden history."—Booklist

Kimberley...she has shaped an enormous mass of material into a well-organized and lively story in which her subject's voice dominates."—Shelf Awareness
St. Martin's Press, 9781250084002, 368pp.
Publication Date: August 1, 2017
About the Author
HANNAH KIMBERLEY is an academic who has made Annie Smith Peck the focus of her scholarship, resulting in her book A Woman's Place Is at the Top. She is considered the authority on Peck and her work is referenced for numerous publications such as American National Biography and National Geographic, anthologies on women explorers and works of history such as A World of Her Own: 24 Amazing Women Explorers and Adventurers, and publications by the Rhode Island Historical Society.