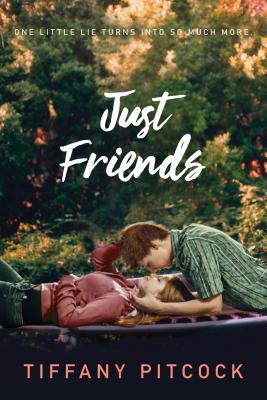 Just Friends (Paperback)
Swoon Reads, 9781250084057, 320pp.
Publication Date: August 1, 2017
* Individual store prices may vary.
Description
A new spin on the classic smart-girl-and-bad-boy setup, this witty contemporary romance shows how easily a friendship – even one built on an elaborate lie – can become so much more.
Jenny meets Chance for the very first time when she is assigned as his partner in their Junior Oral Communications class. But after they rescue a doomed assignment with one clever lie, the whole school is suddenly convinced that Little-Miss-Really-Likes-Having-A's and the most scandalous heartbreaker in school have been best friends forever. It's amazing how quickly a lie can grow—especially when you really, really want it to be the truth.
With Jenny, Chance can live the normal life he's always kind of wanted. And with Chance, Jenny can have the exciting teen experiences that TV shows and movies have always promised. Through it all, they hold on to the fact that they are "just friends." But that might be the biggest lie of all.
Debut author Tiffany Pitcock delivers a spot-on depiction of first love and the high school rumor mill in Just Friends, chosen by readers like you for Macmillan's young adult imprint Swoon Reads.
Praise for Just Friends:
"Hits the right notes. . . . a solid, mostly lighthearted offering for fans of the genre." —School Library Journal
"The dialogue was snappy, witty, and most importantly, believable." —C. Thomas, reader on SwoonReads.com
"This book had me feeling every single emotion and I just could not get it enough of it! I wanted more, and more, AND MORE!!" —Twila James, reader on SwoonReads.com
About the Author
Tiffany Pitcock is a young writer from Benton, Arkansas. She studied English at Henderson State University, but has been writing stories for as long as she can remember. She is a fan of reading, cats, staying indoors, and TV dramas. Being published is a dream come true for the girl who spent her high school nights scribbling out plot ideas wherever she could. Just Friends is her debut novel.
Praise For Just Friends…
"Hits the right notes. . . . a solid, mostly lighthearted offering for fans of the genre." —School Library Journal
"The story is great. It caught my attention and kept it. In fact, I stayed up all night to finish it!" —KFox, reader on SwoonReads.com
"I really loved this book. The characters were lovable and I found myself attached to them almost instantly. The dialogue was snappy, witty, and most importantly, believable." —C. Thomas, reader on SwoonReads.com
"What truly in my opinion sets this apart from other best friends turn to lovers plots is that their entire relationship started with a lie and made it work through high school. Definitely something I will read, and read again." —Xanthia Strohl, reader on SwoonReads.com
"OMG, I read this book from start to finish non stop! I fell absolutely in love with Chance and Jenny. This book had me feeling every single emotion and I just could not get it enough of it! I wanted more, and more, AND MORE!!" —Twila James, reader on SwoonReads.com