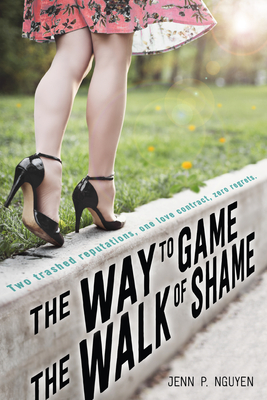 The Way to Game the Walk of Shame (Paperback)
Swoon Reads, 9781250084071, 336pp.
Publication Date: June 7, 2016
* Individual store prices may vary.
Description
A 2017 Quick Pick for Reluctant Young Adult Readers, this witty and entertaining contemporary debut deftly combines high school drama with pitch-perfect flirty banter.
Taylor Simmons is screwed. Things were hard enough when her dedication to her studies earned her the title of Ice Queen, but after she got drunk at a party and woke up next to bad boy surfer Evan McKinley, the entire school seems intent on tearing Taylor down with mockery and gossip. Desperate to salvage her reputation, Taylor persuades Evan to pretend they're in a serious romantic relationship. After all, it's better to be the girl who tames the wild surfer than just another notch on his surfboard.
Readers will be ready to sign their own love contract after reading The Way to Game the Walk of Shame, a fun and addicting contemporary YA romance by Jenn P. Nguyen and chosen by readers like you for Macmillan's young adult imprint Swoon Reads.
Praise for The Way to Game the Walk of Shame:
"The Way to Game the Walk of Shame is the cutest heart-swelling romance to hit the shelves in ages." —Pooled Ink
"A feel good romance with tons of laughs and flirty banter." —Young Adult Book Madness
"I love that it's so funny, yet at the same time the characters have a lot of depth and emotional growth." —Ashley Maker, reader on SwoonReads.com
About the Author
Jenn P. Nguyen fell in love with books in third grade and spent the rest of her school years reading through lunchtime and giving up recess to organize the school library. She has a degree in business administration from the University of New Orleans and still lives in the city with her husband. Jenn spends her days reading, dreaming up YA romances, and binge watching Korean dramas all in the name of 'research'.
Praise For The Way to Game the Walk of Shame…
"The Way to Game the Walk of Shame is the cutest heart-swelling romance to hit the shelves in ages. Full of depth, fun, sincerity, and the typical quagmire of high school, this book will tease out a goofy grin and a burst of laughter from your lips. Not too heavy, not too shallow, this story strikes a fantastic winning balance and ultimately captures the glow of young love." —Pooled Ink
"A feel good romance with tons of laughs and flirty banter. The comedy got me from the very first page, but the chemistry kept me engaged." —Young Adult Book Madness
"I absolutely LOVE this book! I love that it's so funny, yet at the same time the characters have a lot of depth and emotional growth. Would love to have this on my book shelf one day with other YA contemporary favorites." —Ashley Maker, Swoon Reader
"I couldn't put my tablet down!! I LOVED it!!! Wanted it to go on for longer!!!" —Emily Cook, Swoon Reader