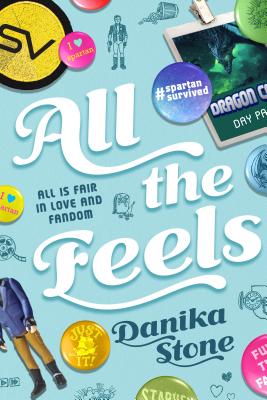 All the Feels: All Is Fair in Love and Fandom (Paperback)
All Is Fair in Love and Fandom
Swoon Reads, 9781250084095, 336pp.
Publication Date: June 7, 2016
Description
College freshman Liv is more than just a fangirl: The "Starveil "movies are her life...and her last tangible connection to her deceased father. Thus, when her favorite character, Captain Matt Spartan, is killed off at the end of the last movie, Liv Just. Can't. Deal.
Tired of sitting in her room sobbing, Liv decides to launch an online campaign to bring her beloved hero back to life. With the help of her best friend, Xander, actor and steampunk cosplayer extraordinaire, she creates #SpartanSurvived, a call that ignites the fandom. But as her online life succeeds beyond her wildest dreams, Liv is forced to balance that with the pressures of school, her (mostly nonexistent and entirely traumatic) romantic life, and her disapproving mother's new boyfriend. A trip to DragonCon with Xander might be exactly what she needs to get away from it all... and figure out what (and who ) she really wants, in this geeky romance by Danika Stone.
About the Author
Danika Stone is an author, artist, and educator who discovered a passion for writing fiction while in the throes of her Masters thesis. A self-declared bibliophile, Danika now writes novels for both adults (The Intaglio Series andCtrl Z) and teens (All the Feels). When not writing, Danika can be found hiking in the Rockies, planning grand adventures, and spending far too much time online. She lives with her husband, three sons, and a houseful of imaginary characters in a windy corner of Alberta, Canada.
Advertisement