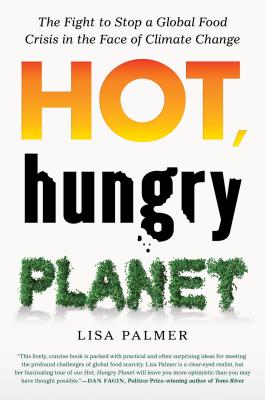 Hot, Hungry Planet
The Fight to Stop a Global Food Crisis in the Face of Climate Change
Hardcover

* Individual store prices may vary.
Description
Earth will have more than 9.6 billion people by 2050 according to U.N. predictions. With resources already scarce, how will we feed them all? Journalist Lisa Palmer has traveled the world for years documenting the cutting-edge innovations of people and organizations on the front lines of fighting the food gap. Here, she shares the story of the epic journey to solve the imperfect relationship between two of our planet's greatest challenges: climate change and global hunger.

Hot, Hungry Planet focuses on three key concepts that support food security and resilience in a changing world: social, educational, and agricultural advances; land use and technical actions by farmers; and policy nudges that have the greatest potential for reducing adverse environmental impacts of agriculture while providing more food. Palmer breaks down this difficult subject though seven concise and easily-digestible case studies over the globe and presents the stories of individuals in six key regions—India, sub-Saharan Africa, the United States, Latin America, the Middle East, and Indonesia—painting a hopeful picture of both the world we want to live in and the great leaps it will take to get there.
Praise For Hot, Hungry Planet: The Fight to Stop a Global Food Crisis in the Face of Climate Change…
"This lively, concise book is packed with practical and often surprising ideas for meeting the profound challenges of global food scarcity. Lisa Palmer is a clear-eyed realist, but her fascinating tour of our Hot Hungry Planet will leave you more optimistic than you may have thought possible."—Dan Fagin, Pulitzer-prize-winning author of Toms River:A Story of Science and Salvation

"A penetrating and sensitive analysis of the urgent need for a sustainable global food system despite widespread socioeconomic inequality, swelling population, and ominous climate change."— Richard C. J. Somerville, Ph.D., climate scientist

"The global food crisis is a critical issue. Producing more food is key but insufficient by itself. Palmer speaks in no uncertain terms about the peril we find ourselves in. But she also manages to find the bright spots—areas of hope that those of us in the environmental, business, and policy communities can address to cope with and even reverse some of the most alarming trends."—Jason Clay, Senior Vice President, Food & Markets, World Wildlife Fund

"The time to talk about diet for the health of people without addressing the health of the planet is past. With inspiring examples of sustainable agriculture, thoughtful attention to matters as disparate as biodiversity and family planning, and precautionary tales from around the globe, Hot, Hungry Planet gives us a clear-eyed view of the perils we face, and the promise of overcoming them by truly understanding them."—David Katz, M.D. President of the American College of Lifestyle Medicine and author of Disease-Proof, The Way to Eat, and The Flavor Point Diet

"A deep dive into the realities of some of the Sustainable Development Goals. Through moving personal stories Palmer shows how increased food security and addressing climate change are mutually reinforcing. We can and we must do both at the same time."—Christiana Figueres, diplomat and executive secretary of the United Nations Framework Convention on Climate Change (UNFCCC), 2010-2016

"Hot, Hungry Planet is a sober analysis of the challenges and opportunities that lie ahead in feeding a changing and growing world. Palmer takes her readers on a journey from Vermont through Colombia, India, and the shores of Lake Victoria, examining innovations for sustainable and climate-resilient agriculture all along the way. Her work trumpets the benefits of smaller, more varied systems of food production that increase yields without the ecological harms of monoculture. Above all else, Palmer pens a passionate plea for the inclusion of women in all levels of food production through education and smart investments that forge a path toward a planet that can feed itself in a hotter, more crowded future."—Shenggen Fan, director general of the International Food Policy Research Institute

"The reporting delivers welcome hope that humans may avoid famine in the face of climate change."—Library Journal

"Palmer illuminates the cruel choices food crises force upon women, ... explains the dire consequences of a growing global middle class, ... [and] sees hope in new and diverse economic opportunities based on restoring and nurturing the environment."—Booklist

St. Martin's Press, 9781250084200, 256pp.
Publication Date: May 9, 2017
About the Author
LISA PALMER is an independent journalist and public policy scholar who has documented the science, environment, and social challenges of a changing global environment for over 15 years. Palmer is presently a resident public policy scholar at The Woodrow Wilson International Center for Scholars, and is one of the few journalists globally to achieve this prestigious distinction. She lives in Maryland.
or
Not Currently Available for Direct Purchase