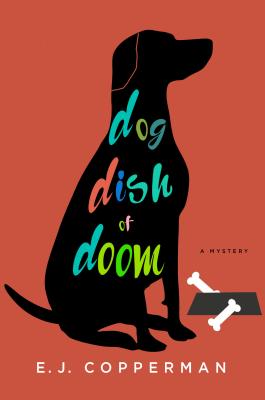 Dog Dish of Doom (Hardcover)
An Agent to the Paws Mystery
Minotaur Books, 9781250084279, 304pp.
Publication Date: August 15, 2017
Other Editions of This Title:
Paperback, Large Print (8/16/2018)
MP3 CD (3/20/2018)
* Individual store prices may vary.
Description
Cozy fans and animal lovers alike won't be able to keep their paws off Dog Dish of Doom. Laugh-out-loud funny, E.J. Copperman's series debut is "lots of fun" (Library Journal, starred).
Kay Powell wants to find that break-out client who will become a star. And she thinks she's found him: His name is Bruno, and he has to be walked three times a day.
Kay is the Agent to the Paws, representing showbiz clients who aren't exactly people. In fact: they're dogs. Bruno's humans, Trent and Louise, are pains in the you-know-what, and Les McMaster, the famous director mounting a revival of Annie, might not hire Bruno just because he can't stand them.
This becomes less of an issue when Trent is discovered face down in Bruno's water dish, with a kitchen knife in his back. Kay's perfectly fine to let the NYPD handle the murder, but when the whole plot seems to center on Bruno, her protective instincts come into play. You can kill any people you want, but you'd better leave Kay's clients alone.
About the Author
A New Jersey native, E.J. has written for such publications as The New York Times, Entertainment Weekly, American Baby and USA Weekend. Night of the Living Deed is the first E.J. Copperman novel.
E.J., having worked as a newspaper reporter, teacher, magazine editor, and screenwriter, writes stories that combine humor and mystery with just the right amount of spooky supernatural happenings and a large doses of Jersey attitude.
The fact is, E.J. Copperman is the pseudonym of a crime fiction writer who likes to specialize in making people laugh while delivering the suspects, clues, red herrings and plot twists that keep the pages turning.
Praise For Dog Dish of Doom: An Agent to the Paws Mystery…
Praise for Dog Dish of Doom:
Named a Best Book of 2017 by King's River Life magazine
2018 Reader's Choice Nominee for Salt Lake County Library
"Admirers of old comedy sketches and anyone looking for a laugh-out-loud mystery should pick up this series launch by Copperman."—Library Journal (starred)
"Readers will root for Kay to be more than pals with Sam Gibson, proprietor of Cool Beans coffee house—and, of course, to keep Bruno as more than a client. [Filled with] resilient, warm, funny supporting players."—Publishers Weekly
"The wry, feisty heroine is a welcome addition to Copperman's troupe."—Kirkus Review
"Well-drawn characters, including a heroine who talks directly to the reader, and effectively framed with details of the theater enhance this humorous cozy."—Booklist
"E.J. Copperman is one of the best cozy writers working at the moment. Great first in a series."—Aunt Agatha's Reviews
Praise for E.J Copperman:
"Some Like It Hot Buttered has garnered Copperman comparisons to Janet Evanovich." —Oline Cogdill, Sun-Sentinel Off the Page

"Copperman develops his lively characters almost as effortlessly as he delivers the jokes—and the occasional guffaw—and manages to sneak in some suspenseful twists besides." —Publishers Weekly

"The writing is terrific...at least a smile on my face or laughing out loud." —Gloria Feit, Spinetinger Magazine
"Yes, this book is that good… brings to mind the renowned M.C. Beaton's Agatha Raisin." —My Shelf.com (Laura Hinds)

"Copperman sets up an intriguing premise. Lots of fun." —Library Journal (starred review)
"'The Dave Barry of the New Jersey Turnpike'...a first-rate comedic mystery writer." —Jeff VanderMeer
"Lots of laughs, some nice red herrings, and a perfect way to spend a summer afternoon." —Book Bitch

"Fans of Charlaine Harris and Sarah Graves will relish this." —Julia Spencer-Fleming
"Night of the Living Deed could be the world's first screwball mystery. You'll die laughing and then come back a very happy ghost." —Chris Grabenstein, Anthony and Agatha award winning author
"Cleverly written and humorous… A fun book." —Crimespree Magazine
"The Thrill of the Haunt is an easy and enjoyable read. It contains a bunch of ghosts and some good characters with the right amount of tension and suspense." —Seattle News

"Delightfully fresh and witty… Pure heaven." —Chosen as a top pick of 2014, Mystery Scene Magazine
"Another crime solving hero shines in this novel." —Foreword Reviews
"Absolutely charming, totally enjoyable...an almost perfect novel...sparkles with Cohen's light touch and sure hand. Bravo. —Aunt Agatha's (Ann Arbor, MI) Newsletter Chosen as one of the Top 5 Mysteries of 2014!
"Shows why he is a wonderful mystery author with his humorous yet action-packed investigative tale." —Harriet Klausner
"A twisty mystery with lots of laughs and lots of heart." —BookBitch.com

"The mystery is top-notch, with some great twists and turns. Cohen's voice is fresh, the dialogue snappy." —RT Bookclub

"An engaging detective story that keeps you guessing… I love this mystery." —Fresh Fiction
"Captivating…Readers will look forward to the next adventure." —Publishers Weekly (Starred review)