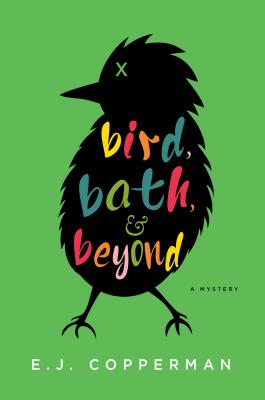 Bird, Bath, and Beyond (Hardcover)
An Agent to the Paws Mystery
Minotaur Books, 9781250084293, 304pp.
Publication Date: October 9, 2018
Other Editions of This Title:
Paperback, Large Print (3/13/2019)
MP3 CD (8/6/2019)
* Individual store prices may vary.
Description
The second in this hilarious cozy mystery series features a woman who is a talent agent for show biz animals and discovers that she has a talent herself: solving crimes.

"Admirers of old comedy sketches and anyone looking for a laugh-out-loud mystery should pick up this series launch by Copperman." —Library Journal (starred) on Dog Dish of Doom

"Readers will root for Kay to be more than pals with Sam Gibson, proprietor of Cool Beans coffee house—and, of course, to keep Bruno as more than a client. [Filled with] resilient, warm, funny supporting players." —Publishers Weekly on Dog Dish of Doom
"The wry, feisty heroine is a welcome addition to Copperman's troupe." —Kirkus Reviews on Dog Dish of Doom
Kay Powell, theatrical agent to non-human animals, is babysitting—that is, birdsitting—her client, a parrot named Barney, on the set of his new TV show, Dead City. When the show's charismatic star is shot in his trailer between scenes, the only eyewitness to the crime is—you guessed it—Barney. And even though Kay keeps explaining that even a "talking" parrot doesn't actually converse with people, the investigators insist on interrogating the bird for information he clearly can't communicate.
Suspects accumulate like birdseed, and before long it's clear the killer believes Barney might actually be able to supply useful evidence. Even Barney can't fly away from this one.
About the Author
A New Jersey native, E.J. has written for such publications as The New York Times, Entertainment Weekly, American Baby and USA Weekend. Night of the Living Deed is the first E.J. Copperman novel.
E.J., having worked as a newspaper reporter, teacher, magazine editor, and screenwriter, writes stories that combine humor and mystery with just the right amount of spooky supernatural happenings and a large doses of Jersey attitude.
The fact is, E.J. Copperman is the pseudonym of a crime fiction writer who likes to specialize in making people laugh while delivering the suspects, clues, red herrings and plot twists that keep the pages turning.
Praise For Bird, Bath, and Beyond: An Agent to the Paws Mystery…
"A second sharp outing for Copperman's pitch-perfect heroine."—Kirkus Reviews
"Charming...animal lovers and cozy readers should savor this romp through the world of animal acting and television production."—Publishers Weekly
"Funny cozy mystery with a cover I'm in love with."—Book Riot
Praise for Dog Dish of Doom:
"Admirers of old comedy sketches and anyone looking for a laugh-out-loud mystery should pick up this series launch by Copperman."—Library Journal (starred)
"Readers will root for Kay to be more than pals with Sam Gibson, proprietor of Cool Beans coffee house—and, of course, to keep Bruno as more than a client. [Filled with] resilient, warm, funny supporting players."—Publishers Weekly
"The wry, feisty heroine is a welcome addition to Copperman's troupe."—Kirkus Review

"Well-drawn characters, including a heroine who talks directly to the reader, and effectively framed with details of the theater enhance this humorous cozy."—Booklist
"E.J. Copperman – I've said this before, and I'll say it again – is one of the best cozy writers working at the moment… Great first in a series, and I'm looking forward to more."—Aunt Agatha's
"The author gives Kay a voice that is a believable mixture of exasperation and vulnerability, and her attitude towards show business is equal parts fondness and despair… Copperman has the makings of a successful series, one that could break out and find a wider audience than just "cozy" readers."—Criminal Element
"Kay's narrative voice is very good, and her parents are delightful (El has a great response early on when Kay says "Mom, I don't think you're getting exactly what I'm risking here;"Jay is constantly playing a part). This is probably going to get tagged as a "cozy," and maybe it is. But it's also pretty tough underneath. I think you'll enjoy this installment; I know I'm already looking forward to #2."—Words & Music
"Readers can always count on getting a good mystery, great characters, and a lot of laughs as they turn the pages. The only disappointment is in finding out how it ends, is that you're at the end of the book. Get them all and binge read. It will improve any bad day and make good days even better."—Kings River Life Magazine