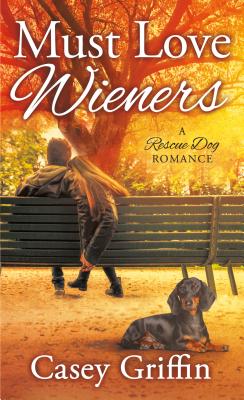 Must Love Wieners (Mass Market)
A Rescue Dog Romance
St. Martin's Paperbacks, 9781250084675, 368pp.
Publication Date: August 2, 2016
* Individual store prices may vary.
Description
LOVE—UNLEASHED. . .
First in a wickedly funny new series brimming with mystery and romance!
Piper Summers works like a dog juggling three jobs to put herself through veterinary school—driving taxis, delivering pizzas, and singing telegrams. Thankfully, Piper has her devoted dachshund Colin to help her keep things in line. That is, until she gets fired...and someone throws her a bone that is too good to resist.
Aiden Caldwell is an Armani ad come to life—a billionaire CEO who's just adopted a dachshund from the rescue center where Piper volunteers. He's hot on Piper's tail to be his personal dog walker...but he may be after more than a walker for his wiener. The gorgeous, spirited Piper is everything he's ever wanted from a woman—and more. But can Piper ever love, and trust, a man who has never learned to open his heart—or has she bitten off more than she can chew?
Must Love Wieners is the first book in Casey Griffin's Rescue Dog Romance series!
About the Author
A true geek at heart, Casey Griffin can often be found at Star Trek expos and comic conventions on her days off from her day job, driving 400 ton dump trucks in Northern Alberta, Canada. As a jack of all trades with a resume boasting registered nurse, English teacher and photographer, books are her true passion. Casey is a 2012 Amazon Breakthrough Novel finalist and is currently busy writing every moment she can.
Praise For Must Love Wieners: A Rescue Dog Romance…
"Paws down, one of the funniest books I've read in a long time. A lively romantic mystery with a quirky and relatable heroine, a sexy leading man, and adorable dachshunds. No bones about it, this book is a real treat!" --bestselling author Diane Kelly
"Debut author Griffin gives the reader a satisfying blend of romance and mystery... Add the appropriate amount of playful banter and dog shenanigans, and you've got the makings of a promising start to a new series. A delightfully adorable mystery-romance with a well-planned plot. And dogs!" --Kirkus Reviews
"A fun and charming series...Must Love Wieners combines humor and romance with a dash of mystery, all while showcasing the author's determined heroine fighting for her dream. Settle in and enjoy, and keep the puppy treats handy!" — RT Book Reviews
"Griffin's spirited, wholesome love story escalates into a deeper mystery offering playful comic relief en route to a revealing whodunit." — Shelf Awareness
"Who doesn't love a story with cute dogs, hot billionaires, quirky heroines, and a sweet HEA. I cannot wait for the next book in what is the start of a wonderful series to come." —Harlequin Junkie (Top Pick!)
"Great characters and a lively and captivating plot make this a terrific read." —Romance Reviews Today
"Griffin's debut and first in her new rescue dog romance series is definitely barking up the right tree. Perfect for the dog days of summer read." —The Reading Frenzy
"Get your silly on and enjoy a doggone-crazy, happy-ever-after with pooches and people who work hard for their well-deserved yap of joy." —The Zest Quest
or
Not Currently Available for Direct Purchase