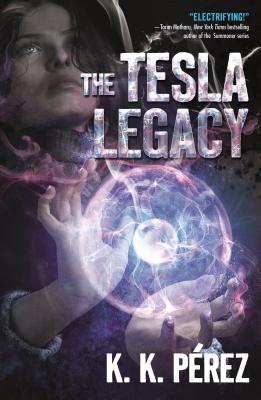 The Tesla Legacy (Hardcover)
Tor Teen, 9781250084897, 368pp.
Publication Date: March 12, 2019
Other Editions of This Title:
Compact Disc (3/12/2019)
MP3 CD (3/12/2019)
* Individual store prices may vary.
Description
An action-packed, young adult coming-of-age adventure, K. K. Perez's The Tesla Legacy follows a precocious young scientist named Lucy Phelps whose fateful encounter in the Tesla Suite of the New Yorker Hotel unlocks her dormant electrical powers. As Lucy struggles to understand her new abilities through scientific experimentation, she is thrust into a centuries old battle between rival alchemical societies.
One side wants her help and the other wants her dead, but both believe she is the next step in human evolution. Unfortunately, carriers of the genetic mutation—including Nikola Tesla—have a greatly reduced life expectancy. Even if Lucy can outrun her enemies, she can't outrun herself.
About the Author
K. K. Pérez is a half-Argentine/half-Norwegian native New Yorker who has spent the past two decades living in Europe and Asia. She holds a PhD in medieval literature from the University of Cambridge and has taught at the National University of Singapore and the University of Hong Kong.
As a journalist, she's written for many international news outlets including the Wall Street Journal Asia, Condé Nast Traveler, and CNN. Her first nonfiction adult title, The Myth of Morgan la Fey, was published by Palgrave Macmillan in 2014. Sweet Black Waves is her debut fiction novel.
Praise For The Tesla Legacy…
"Starring a girl interested in all things science and tired of her parents treating her like something breakable. When she discovers a secret about Tesla, everything changes. Smart and clever!" —Laura Lam, author of Shattered Minds
"The Tesla Legacy is an electrifying S.T.E.M. adventure, and Lucinda Minerva Phelps is just the sort of strong, smart young woman we can all root for when she finds herself embroiled in the perils of high school romance and high stakes mystery." —Royce Buckingham, international bestselling author of Demonkeeper
"Electrifying." —Taran Matharu, NYT Bestselling author of the Summoner series
"A smart thriller with plenty of jolts, The Tesla Legacy will keep you turning pages to the shocking end." —Stacey Lee, author of Under a Painted Sky
"The Tesla Legacy is full of mystery and surprise, told by a determined female lead who has an intriguing talent for lighting up a page—literally." —Julie Cross, international bestselling author
"The Tesla Legacy is a STEM-filled adventure of a book, with a smart, relentlessly ambitious protagonist and a fascinating historical mystery at its core. " —Rachel Lynn Solomon, author of You'll Miss Me When I'm Gone

"Packed with mystery, intrigue, and nail-biting action, The Tesla Legacy kept me guessing to the very last moment."—Carlie Sorosiak, author If Birds Fly Back and Wild Blue Wonder

"Brimming with electricity and intrigue, The Tesla Legacy is an exciting, vivid thriller that fans of superhero movies will adore." —Sangu Mandanna, author of The Lost Girl and A Spark of White Fire

"Legacy packs a powerful punch guaranteed to grab teens and their teachers too." —McCall Hoyle, High School English Teacher and Award-Winning Author of The Thing with Feathers
"Perez delivers a whip-smart YA fantasy / sci fi crossover. Perfect for anyone who likes to take their magic with a good dose of science." —Daniel Godfrey, author of New Pompeii