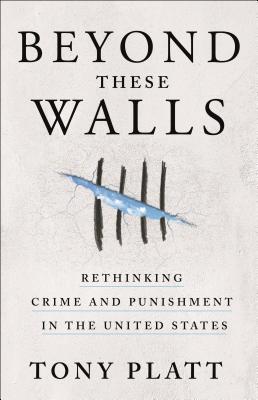 Beyond These Walls
Rethinking Crime and Punishment in the United States
Hardcover

* Individual store prices may vary.
Other Editions of This Title:
MP3 CD (1/8/2019)
Compact Disc (1/8/2019)
Description
"You should definitely read this book… What really struck me in reading Beyond These Walls was that Tony Platt had very seriously and carefully considered the contributions of social movements—feminist, queer, disability, and labor." —Angela Davis

Beyond These Walls is an ambitious and far-ranging exploration that tracks the legacy of crime and imprisonment in the United States, from the historical roots of the American criminal justice system to our modern state of over-incarceration, and offers a bold vision for a new future. Author Tony Platt, a recognized authority in the field of criminal justice, challenges the way we think about how and why millions of people are tracked, arrested, incarcerated, catalogued, and regulated in the United States.

Beyond These Walls traces the disturbing history of punishment and social control, revealing how the criminal justice system attempts to enforce and justify inequalities associated with class, race, gender, and sexuality. Prisons and police departments are central to this process, but other institutions – from immigration and welfare to educational and public health agencies – are equally complicit.

Platt argues that international and national politics shape perceptions of danger and determine the policies of local criminal justice agencies, while private policing and global corporations are deeply and undemocratically involved in the business of homeland security.

Finally, Beyond These Walls demonstrates why efforts to reform criminal justice agencies have often expanded rather than contracted the net of social control. Drawing upon a long tradition of popular resistance, Platt concludes with a strategic vision of what it will take to achieve justice for all in this era of authoritarian disorder.
Praise For Beyond These Walls: Rethinking Crime and Punishment in the United States…
"Tony Platt, a professor at University of California Berkeley's Center for the Study of Law & Society, takes a deep dive into the state of incarceration in our country, looking at the historic barriers to criminal justice and prison reform and correlating them to today." —Seth Ferranti, Vice

"Beyond These Walls is a vital contribution to current discourse regarding our criminal injustice system. Tony Platt documents the innumerable ways in which the system extends far beyond prison walls with devastating consequences for millions, and highlights the dangers of reform efforts that, despite their promises, wind up expanding and entrenching systems of control rather than liberating the individuals and communities perpetually trapped within them." —Michelle Alexander, author of The New Jim Crow

"In a brilliant resumption of his earlier engagement with institutions of state violence, Tony Platt offers us expansive and historically-rich ways of understanding policing and incarceration that also acknowledge and incorporate insights associated with feminism, queer movements, labor history, and anti-racism in their broadest formulations. He urges us to recognize why most efforts to reform these institutions have inevitably strengthened them and have rendered their repressive dimensions even more permanent."
—Angela Y. Davis, Distinguished Professor Emerita, University of California, Santa Cruz

"The American criminal justice system is an international scandal, both in its scale and its brutality. While these crimes have escalated since Reagan, they are rooted in a much broader range of 'social control institutions,' matters investigated with penetrating insight and historical depth in this powerful study, which does not limit itself to critical analysis but proceeds on to consideration of serious remedies." — Noam Chomsky, Professor Emeritus, MIT; author of more than 100 books; and recipient of Sean McBride Peace Prize (2017)

"Warning: this is a book that will tug at your conscience long after you put it down. Platt, a renowned criminologist, has spent a lifetime fighting against the cruelty and injustice that hides behind black robes and police badges. Superbly written, this is the most accurate and up-to-date overview of 'carceral' America. He argues that while rates of incarceration may have peaked, the criminalization of poverty, race and sexual difference has accelerated since the election of Donald Trump opened the doors of hell."—Mike Davis, MacArthur Fellow (1998), recipient of Lannan Literary Foundation award for non-fiction (2007), author of more than twenty books

"For anyone seeking to understand this nation's staggeringly inhumane apparatus of policing, caging, and control, Tony Platt's Beyond These Walls is a sobering must read. Platt remains one of our country's most important voices on crime and punishment. His new book is vital as we reckon with the depth of our current carceral crisis and begin building a very different and more just future."

—Heather Ann Thompson, Pulitzer Prize winning author of Blood In The Water: The Attica Prison Uprising of 1971 and its Legacy

"With strong emphasis on supporting statistics and studies, Platt amasses a wealth of sobering and illuminating details to reach an understanding of how past cultural attitudes influence contemporary incarceration methods. If changes are to be made regarding how America thinks about its justice system, Platt's inquiry will be an essential tool." — Booklist

"A sobering review of the ills of the American criminal justice system and a few prescriptions for reform. A thoroughly leftist, intermittently applicable look at the state of American criminal justice." — Kirkus Reviews

"A well-sourced critique of American criminal justice institutions." — Publishers Weekly

"Tony Platt, I don't want to exaggerate, but I think you've been the most important progressive voice dealing with the criminalization of a large part of the American population." —Robert Scheer, Truthdig, March 30, 2019
St. Martin's Press, 9781250085115, 384pp.
Publication Date: January 8, 2019
About the Author
TONY PLATT is a Distinguished Affiliated Scholar at the Center for the Study of Law & Society, University of California, Berkeley. The author of numerous books dealing with issues of criminal justice, race, inequality, and social justice in American history, including Beyond These Walls: Rethinking Crime and Punishment in the United States, he previously taught at the University of Chicago, Berkeley, and California state universities. Platt's experience as a political activist and public intellectual informs his research and publications. He lives in Berkeley, CA.
or
Not Currently Available for Direct Purchase