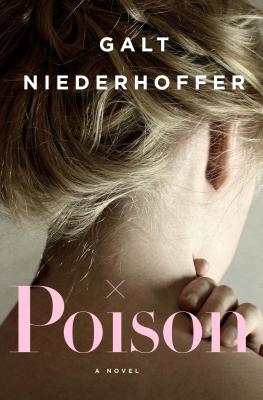 Poison
A Novel
Hardcover

* Individual store prices may vary.
Other Editions of This Title:
Digital Audiobook (11/20/2017)
CD-Audio (11/21/2017)
Description
Cass and Ryan Connor have achieved family nirvana. With three kids between them, a cat and a yard, a home they built and feathered, they seem to have the Modern Family dream. Their family, including Cass' two children from previous relationships, has recently moved to Portland —a new start for their new lives. Cass and Ryan have stable, successful careers, and they are happy. But trouble begins almost imperceptibly. First with small omissions and white lies that happen daily in any marital bedroom. They seem insignificant, but they are quickly followed by a series of denials and feints that mushroom and then cyclone in menace.

With life-or-death stakes and irreversible consequences, Poison is a chilling and irresistible reminder that the closest bond designed to protect and provide for each other and for children can change in a minute.
Praise For Poison: A Novel…
"This gripping, insightful work dissects a marriage in which Cass, a wife and mother of three, believes she is under attack from her perfect-to-the-outside-world husband. Throughout the novel, Cass' racing thoughts, tormenting self-doubt, and fear for her family's safety lay bare the torture of being gaslighted by a lying narcissist. Readers will be gripped by the did-he, didn't-he plot: the mental gymnastics portrayed on the page are so spot-on that it is difficult to imagine that the novel isn't autobiographical." – Booklist

"[A] twisty, juicy domestic thriller...[an] edgy page-turner [with] class and depth." - Elle

"A fast-paced, sophisticated thriller" - The New York Post

"The novel is ominous from Page 1, and with its slow-burn peril—both psychological and physical—building nicely, the suspense is sustained until the very end." – Kirkus

"[E]ngrossing…this is a chilling and entertaining novel." – Publishers Weekly

"Niederhoffer's latest...is a can't-put-down, intense literary psychological thriller. With a fast-paced, articulate and sophisticated third-person narrative, she expertly dispenses her traumatic tale of horrific betrayal, evil misdeeds and conspiracy theories while her amazingly vivid descriptions give readers a fly-on-the-wall viewpoint of this painful yet fascinating story." – RT Book Reviews

"This thriller has a slow and menacing pace, perfectly suited to the plot of suspected, sophisticated gaslighting." – LitHub

"It will grab you…unsettle you…make you question the things you hold dear – family, marriage, and sanity. And it won't let go until the very end." – Ivy Pochoda, author of Visitation Street

"With gripping, nuanced style, Galt Niederhoffer has written a novel – think of Gone Girl – that delivers an unbelievable reality, with twisty, turn-y, modern-day noir panache. Poison is both entertainment and a warning – and that is saying a lot." – Sheila Weller, author of Girls Like Us

"Haunting." – Lucinda Rosenfeld, author of Class
St. Martin's Press, 9781250085290, 304pp.
Publication Date: November 21, 2017
About the Author
GALT NIEDERHOFFER is a writer and producer. She is the author of The Romantics and Love and Happiness, and has produced over thirty indie films, twelve of which were selections and award-winners at the Sundance Film Festival. She has produced films that won the Audience Award, Screenwriting Award, Directors Award and Cinematography Award at Sundance. Niederhoffer has also been published in Vogue, New York Magazine and Harper's Bazaar. She lives in New York City.
1. Identify a moment in the book where you thought Cass might be paranoid, and another where you thought she was in mortal danger.  How does the author craft a book that is open to multiple interpretations?  How does this create tension?  How does this implicate the reader in the bias that is Cass's greatest antagonist? How does Niederhoffer's treatment of Cass' perceptions create tension in the book?
2. What kind of a father is Ryan? Is it an open-and-shut question because of what he does to Cass, or is father a very different role for him than husband?  Can fatherhood justify its own moral code?
3. Niederhoffer writes specifically from Cass's point of view?  How does this closely aligned narrator affect your experience of the story?  Does it contribute to the confusion surrounding her perceptions?  Is Cass the ultimate unreliable narrator or the most accurate reporter?  Somewhere in between?
or
Not Currently Available for Direct Purchase