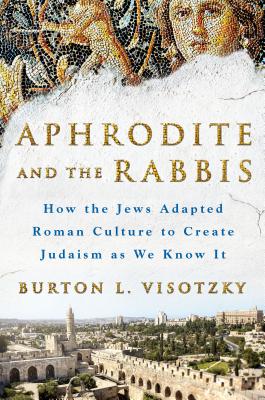 Aphrodite and the Rabbis
How the Jews Adapted Roman Culture to Create Judaism as We Know It
Hardcover

* Individual store prices may vary.
Description
Hard to believe but true:

- The Passover Seder is a Greco-Roman symposium banquet
- The Talmud rabbis presented themselves as Stoic philosophers
- Synagogue buildings were Roman basilicas
- Hellenistic rhetoric professors educated sons of well-to-do Jews
- Zeus-Helios is depicted in synagogue mosaics across ancient Israel
- The Jewish courts were named after the Roman political institution, the Sanhedrin
- In Israel there were synagogues where the prayers were recited in Greek.

Historians have long debated the (re)birth of Judaism in the wake of the destruction of Jerusalem and the Temple cult by the Romans in 70 CE. What replaced that sacrificial cult was at once something new–indebted to the very culture of the Roman overlords–even as it also sought to preserve what little it could of the old Israelite religion. The Greco-Roman culture in which rabbinic Judaism grew in the first five centuries of the Common Era nurtured the development of Judaism as we still know and celebrate it today.

Arguing that its transformation from a Jerusalem-centered cult to a world religion was made possible by the Roman Empire, Rabbi Burton Visotzky presents Judaism as a distinctly Roman religion. Full of fascinating detail from the daily life and culture of Jewish communities across the Hellenistic world, Aphrodite and the Rabbis will appeal to anyone interested in the development of Judaism, religion, history, art and architecture.
Praise For Aphrodite and the Rabbis: How the Jews Adapted Roman Culture to Create Judaism as We Know It…
"Visotzky offers us a gift in his animated and multi-dimensional study of the interface of Jewish and Greco-Roman cultures. He highlights how Jews creatively engaged with another civilization, creating a Jewish culture that was, and is, fluid, innovative, and diverse." —The Common Reader

"Visotzky's witty narrative takes the reader on a tour of rabbinic legends, discussion of values, art and architecture (illustrated with photographs from archaeological finds) in its attempt to claim that Judaism is a thoroughly western religion." —Congregational Libraries Today

"An excellent introduction for those eager to learn more about the development of Judaism during the rabbinic period." —The Reporter

"In his highly accessible Aphrodite and the Rabbis, Visotzky...tells a story of the deep influence of Roman culture on the Judaism of Talmudic times." —Commentary

"A book that teaches of the Judaism of the past, but encourages us to be proud and hopeful of it in the present—an important message from a book that is a scholarly, lively, and worthwhile read." —Jewish Book Council

"Burton Visotzky's Aphrodite and the Rabbis [shows] full command of the evidence down to the smallest details. In a clear, accessible, even conversational and story-telling style, Aphrodite and the Rabbismakes sense of Jewish culture in Late Antiquity and throws light on modern-day Jewish life. Aphrodite is a beautiful book - a great achievement." —Dr. Günter Stemberger, University Professor Emeritus, University of Vienna

"Enables the general reader to understand the meaning of many passages of law and of legend, of archeological finds and of ancient culture, of newly discovered art and of long misunderstood texts by locating them within the larger cultural context within which they first came into being." —South Florida Jewish Journal

"[Visotzky's] warm and personal style makes Aphrodite and the Rabbis feel like an intimate guided tour of ancient Judaism. For anyone interested in the birth of Judeo-Christian culture, this history is worth a look." —Shelf Awareness

"Witty and insightful." —Publishers Weekly

"An erudite, pertinently illustrated, and accessible work of religious history." —Booklist

"Argues that much of Judaism as known today is an adaptation of life in Roman culture." —Southern Jewish Life

"APHRODITE AND THE RABBIS is a masterpiece of Jewish thought. Rabbi Burt Visotzky shows us how Roman culture flows through Judaism in ways most of us never imagined. Your Passover Seder will never be the same! This stunning work will bless you and inspire you." —Rabbi Naomi Levy, author of To Begin Again and Hope Will Find You

"Right from the start of Aphrodite and the Rabbis, the lively writing hooked me. I was fascinated with the mix of history, archaeology, and sociological interpretation. Zeus depicted in a synagogue mosaic? The conflict – sure – but the accommodation between the old Judaism and Greco-Roman culture? Who knew? Well, Rabbi Burton L. Visotzky! His combination of scholarship and charm makes Aphrodite and the Rabbis: How the Jews Adapted Roman Culture to Create Judaism as We Know It a pleasure to read." —Susan Isaacs

"Understanding how Rome shaped the Rabbis, with Burt Visotzky as tour guide, is a fascinating, funny and enlightening journey. Here is a history that teaches not only about who we were, but has deep lessons about who we are and who we might become." —Rabbi David Wolpe, Max Webb Senior Rabbi of Sinai Temple and
author, David: The Divided Heart

"An intriguing [...] look at two worlds colliding and coexisiting." —Kirkus Reviews

"From the opening pages of Aphrodite and the Rabbis, you know you're in the hands of the rarest kind of guide—charming, self-effacing, and deeply knowledgeable. Burt Visotzky brings to life one of the least known eras of Jewish life and make the compelling case that it continues to shape our lives today. A must-read for any student of Judaism." —Bruce Feiler, bestselling author of Walking the Bible and Abraham

"A super-smart, comprehensive, wittily-written admixture of history, legend, archaeology, art, stories, and text analysis. In graceful, colloquial prose, Visotzky leads modern readers through the ancient world to illuminate the debt that rabbinic Judaism owes to Greco-Roman culture. Rarely has a book by a towering Jewish scholar been this much fun to read." —Letty Cottin Pogrebin, author of Deborah, Golda, and Me: Being Female and Jewish in America

"Burt Visotzky has written a marvelous new book full of insight and humor, yet resting on a lifetime of scholarship and faithfulness. Don't miss it." —Thomas Cahill, author of The Gifts of the Jews
St. Martin's Press, 9781250085764, 256pp.
Publication Date: September 13, 2016
About the Author
BURTON L. VISOTZKY is Appleman Professor of Midrash and Interreligious Studies at the Jewish Theological Seminary. He worked with Bill Moyers and more recently with Christiane Amanpour on "Back to the Beginning," aired annually at Christmas time. The author of 10 books, including Sage Tales: Wisdom and Wonder from the Rabbis of the Talmud, he has been named to "The Forward 50" and repeatedly to the Newsweek/Daily Beast list of the "The 50 Most Influential Jews in America." He lives in Manhattan.
or
Not Currently Available for Direct Purchase