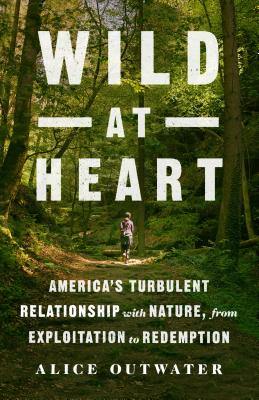 Wild at Heart (Hardcover)
America's Turbulent Relationship with Nature, from Exploitation to Redemption
St. Martin's Press, 9781250085788, 352pp.
Publication Date: April 2, 2019
Other Editions of This Title:
MP3 CD (4/2/2019)
Compact Disc (4/2/2019)
* Individual store prices may vary.
Description
"Alice Outwater's infectiously readable Wild at Heart captures the essence of ecology: Everything is connected, and every connection leads to ourselves." —Alan Weisman, author, The World Without Us and Countdown
"A wonderful book. Information rich to say the least, and the indigenous human connections and portrait of the deep connectivity of nature, are both strong elements." —Jim McClintock, author of A Naturalist Goes Fishing
Nature on the brink? Maybe not. With so much bad news in the world, we forget how much environmental progress has been made. In a narrative that reaches from Native American tribal practices to public health and commercial hunting, Wild at Heart shows how western attitudes towards nature have changed dramatically in the last five hundred years.
The Chinook gave thanks for King Salmon's gifts. The Puritans saw Nature as a frightening wilderness, full of "uncooked meat." With the industrial revolution, nature was despoiled and simultaneously celebrated as a source of the sublime. With little forethought and great greed, Americans killed the last passenger pigeon, wiped out the old growth forests, and dumped so much oil in the rivers that they burst into flame. But in the span of a few decades, our relationship with nature has evolved to a more sophisticated sense of interdependence that brings us full circle. Across the US, people are taking individual action, planting native species and fighting for projects like dam removal and wolf restoration. Cities are embracing nature, too.
Humans can learn from the past, and our choices today will determine whether nature survives. Like the First Nations, all nations must come to deep agreement that nature needs protection. This compelling book reveals both how we got here and our own and nature's astonishing ability to mutually regenerate.
About the Author
Alice Outwater grew up on Lake Champlain, Vermont, and studied engineering at the University of Vermont and at MIT. She is the author of Water: A Natural History and consults in water quality. She has lived on a farm since 1991 in Vermont, Hawaii and finally Colorado.
Praise For Wild at Heart: America's Turbulent Relationship with Nature, from Exploitation to Redemption…
"Outwater ends on a hopeful note as Americans are, again, embracing the natural world." —Booklist
"A cheering assessment of the future of the planet." —Kirkus Reviews

"This fascinating book reveals the extent of our nation's heedless treatment of the environment since Europeans settled here—a perspective that highlights where progress has been made." —Judith D. Schwartz, author of Water In Plain Sight and Cows Save the Planet

"Wild at Heart is a concise portrait of nothing less than America's relationship with nature. In twelve eloquent chapters Alice Outwater escorts us from the 18th century's still-intact tribes, through the trials and errors of colonialism and westward expansion, the debacles of our increasingly short-sighted industrialism, the conservation victories of the 1960's and '70s, and the tenuous balance achieved. With admirable calm she then depicts the depredations by today's Corporate Person as the unconscionable aberration it must be seen to be if we are to survive as a nation, an economy, or a species. A vital work by an exceptionally level-headed, Earth-aware writer." —David James Duncan, author of The Brothers K and The River Why

"Through a narrative that roams in unexpected directions through surprising details and history, then periodically grounds itself by looping back to her own family before it soars off again, Alice Outwater's infectiously readable Wild at Heart captures the essence of ecology: Everything is connected, and every connection leads to ourselves." —Alan Weisman, author, The World Without Us and Countdown