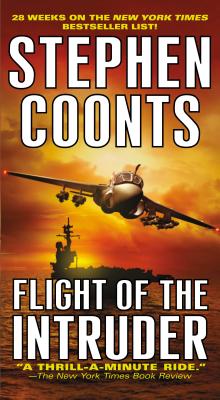 Flight of the Intruder
A Jake Grafton Novel (Jake Grafton Novels #1)
Mass Market

* Individual store prices may vary.
Other Editions of This Title:
Mass Market Paperbound (6/27/2006)
Compact Disc (12/29/2015)
Paperback (6/27/2006)
Compact Disc (6/3/2014)
MP3 CD (6/3/2014)
MP3 CD (6/4/2013)
MP3 CD (6/4/2013)
Compact Disc (6/4/2013)
Compact Disc (6/4/2013)
MP3 CD (3/1/2008)
Description
A smash bestseller that spent over six months on the New York Times bestseller list, Flight of the Intruder became an instant classic. No one before or since ever captured the world of Navy carrier pilots with the gripping realism of Vietnam veteran Stephen Coonts, who lived the life he wrote about. More than a flying story, Flight of the Intruder is also one of the best novels ever written about the Vietnam experience. It's all here—the flying, the dying, the blood and bombs and bullets, and the sheer joy—and terror—of life at full throttle.

"Gripping ...Smashing."- The Wall Street Journal
Grazing the Vietnam treetops at night at just under the speed of sound, A-6 Intruder pilot Jake "Cool Hand" Grafton knows exactly how precarious life is. Landing on a heaving aircraft carrier, dodging missiles locked on his fighter, flying through clouds of flak-he knows each flight could be his last. Yet he straps himself into a cockpit every day.

"Extraordinary!"-Tom Clancy
Then a bullet kills his bombardier while they're hitting another 'suspected' truck depot. Jake wonders what his friend died for-and why? Hitting pointless targets selected by men piloting desks just doesn't make sense. Maybe it's time to do something worthwhile. Something that will make a difference...

"Superbly written."- Washington Times
Jake and his new bombardier, ice-cold Tiger Cole, are going to pick their own target and hit the enemy where it hurts. But to get there and back in one piece is going to take a lot of nerve, even more skill, and an incredible amount of raw courage. Before it's over, they're going to fly into hell.

This edition of the book is the deluxe, tall rack mass market paperback.
Praise For Flight of the Intruder: A Jake Grafton Novel (Jake Grafton Novels #1)…
"[Coonts's] gripping, first-person narration of aerial combat is the best I've ever read. Once begun, this book cannot be laid aside." —The Wall Street Journal

"Coont's pilots are the real McCoy and his compassion for them sustains his story from first page to last . . . a sometimes exhilarating, often nightmarish tale." —Kirkus Reviews

"A winner." —Philadelphia Inquirer

"Kept me strapped in the cockpit of the author's imagination for a down-and-dirty novel." —St. Louis Post-Dispatch

"Extraordinary! Once you start reading, you won't want to stop!" —Tom Clancy

"Packed with action, emotion, suspense, and tragedy." —Clive Cussler

"Coonts makes us see, smell, hear, taste, and feel battle." —Cleveland PlainDealer
St. Martin's Paperbacks, 9781250085825, 512pp.
Publication Date: December 29, 2015
About the Author
STEPHEN COONTS is the New York Times bestselling author of more than thirty novels that have been translated and published around the world. His books include The Disciple, The Assassin, and the Deep Black and Saucers series, among many other bestsellers. A former naval aviator and Vietnam combat veteran, he is a graduate of West Virginia University and the University of Colorado School of Law. He lives in Colorado.