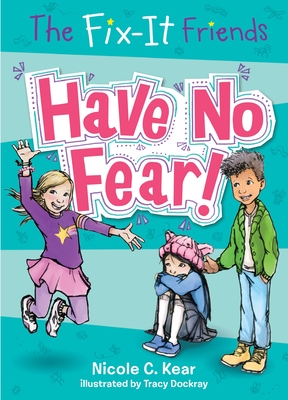 The Fix-It Friends (Paperback)
Have No Fear!
Imprint, 9781250085849, 144pp.
Publication Date: May 16, 2017
Other Editions of This Title:
Hardcover (5/16/2017)
Prebound (5/16/2017)
* Individual store prices may vary.
Description
Because being scared stinks!
Seven-year-old Veronica Conti knows a thing or two. She knows that recess is the best part of the day. And if someone, like Maya, doesn't play at recess because she's too afraid of bugs, well, that's a HUGE problem! And it has to be fixed, pronto!
But when Veronica's big ideas to help Maya backfire, she learns that sometimes, to help others, you need a little help yourself.
Before you can say "bugging out," Veronica forms a team supreme with her best friend Cora, total tech whiz Ezra, and Mr. Know-It-All, her bossy big brother, Jude. Together, they can tackle Maya's problem, and every problem! Together, they are the Fix-It Friends!
This is the first adventure in The Fix-It Friends chapter book series. Author Nicole C. Kear anchors humor with lots of heart, as the group learns to deal with fears and worries.
Includes a toolbox of expert advice on how to face your fears!
Don't miss the other Fix-It Friends adventures:
The Fix-It Friends: Sticks and Stones
The Fix-It Friends: The Show Must Go On
The Fix-It Friends: Wish You Were Here
The Fix-It Friends: Eyes on the Prize
The Fix-It Friends: Three's a Crowd
An Imprint Book
"Fears are scary! But don't worry: the Fix-It Friends are here with step-by-step help —and humor too."—Fran Manushkin, author of the Katie Woo series
"Full of heart and more than a little spunk"
—Kathleen Lane, author of The Best Worst Thing
An empowering resource for kids — and they're just plain fun to read."
—Lauren Knickerbocker, Ph.D., Co-Director, Early Childhood Service, NYU Child Study Center
"Hooray for these young friends who work together; this diverse crew will have readers looking forward to more." —Kirkus Reviews
"The humor is spot-on, and the stories pull kids in, teaching without preaching, encouraging children to be active problem-solvers in their own lives." —Dr. Dawn Huebner, Ph. D., child psychologist and creator of the What-to-Do Guides for Kids series
About the Author
Nicole C. Kear is a parenting writer who contributes essays and articles to Parents, American Baby, Babble and Salon, among others. A native of New York, she received a BA from Yale, a MA from Columbia, and a red nose from the San Francisco School of Circus Arts. She lives in Brooklyn with her husband, three children and a morbidly obese goldfish. Now I See You is her debut work.

Tracy Dockray illustrated the paperback cover of Lois Lowry's Stay, a dog's tale about his life, and a picture book, Izzy & Oscar (Sourcebooks, 2015) a story about a more unusual kind of pet. Tracy has illustrated numerous other picture books such as The Tushy Book and the prize winning Lost and Found Pony, as well as an edition of Beverly Cleary's Ramona series, Ralph the Mouse series and Henry Huggins series.
Praise For The Fix-It Friends: Have No Fear!…
"Fears are scary! But don't worry: the Fix-It Friends are here with step-by-step help —and humor too."—Fran Manushkin, author of the Katie Woo series
"Full of heart and more than a little spunk"
—Kathleen Lane, author of The Best Worst Thing
An empowering resource for kids — and they're just plain fun to read."
—Lauren Knickerbocker, Ph.D., Co-Director, Early Childhood Service, NYU Child Study Center
"Hooray for these young friends who work together; this diverse crew will have readers looking forward to more." —Kirkus Reviews
"The humor is spot-on, and the stories pull kids in, teaching without preaching, encouraging children to be active problem-solvers in their own lives." —Dr. Dawn Huebner, Ph. D., child psychologist and creator of the What-to-Do Guides for Kids series