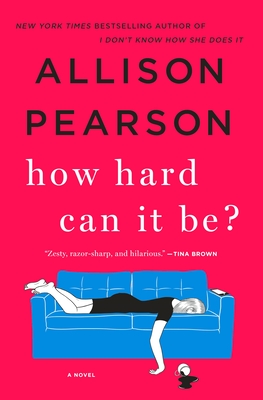 How Hard Can It Be?
A Novel
Hardcover

* Individual store prices may vary.
Other Editions of This Title:
Digital Audiobook (6/4/2018)
Paperback (8/6/2019)
Paperback, Large Print (9/4/2019)
CD-Audio (6/5/2018)
Library Binding, Large Print (6/27/2018)
Description
Look, I was doing OK. I got through the oil spill on the road that is turning forty. Lost a little control, but I drove into the skid just like the driving instructors tell you to and afterwards things were fine again, no, really, they were better than fine.

Kate Reddy had it all: a nice home, two adorable kids, a good husband. Then her kids became teenagers (read: monsters). Richard, her husband, quit his job, taking up bicycling and therapeutic counseling: drinking green potions, dressing head to toe in Lycra, and spending his time—and their money—on his own therapy. Since Richard no longer sees a regular income as part of the path to enlightenment, it's left to Kate to go back to work.

Companies aren't necessarily keen on hiring 49-year-old mothers, so Kate does what she must: knocks a few years off her age, hires a trainer, joins a Women Returners group, and prepares a new resume that has a shot at a literary prize for experimental fiction.

When Kate manages to secure a job at the very hedge fund she founded, she finds herself in an impossible juggling act: proving herself (again) at work, dealing with teen drama, and trying to look after increasingly frail parents as the clock keeps ticking toward her 50th birthday. Then, of course, an old flame shows up out of the blue, and Kate finds herself facing off with everyone from Russian mobsters to a literal stallion.

Surely it will all work out in the end. After all, how hard can it be?

Hilarious and poignant, How Hard Can It Be? brings us the new adventures of Kate Reddy, the beleaguered heroine of Allison Pearson's groundbreaking New York Times bestseller I Don't Know How She Does It.
Praise For How Hard Can It Be?: A Novel…
People Magazine Best Summer Books

USA Today 10 Hot Books for Summer Reading

New York Magazine Best Summer Books

Featured in The New York Times Summer Reading Preview

New York Post 20 Best Reads for Your Summer Break — #1

Lit Hub Best Reviewed Books of the Week

Buzzfeed's Most Heartwarming Mother's Day Books

PopSugar's Best Summer Books

Entertainment Tonight's Summer Reading Preview

"Fiercely funny and keenly observant....couldn't be more timely or delightful....Allison Pearson can induce gales of uncontrollable laughter." —USA Today

"Filled with smart insights...Kate makes good company. You can't help rooting for her." —The New York Times Book Review

"With laugh-out-loud zingers on nearly every page...How Hard Can It Be? is witty, current and a good reminder that age can be a trump card, even if you need reading glasses to see the deck." —The Washington Post

"Hugely entertaining." —Time

"Ms. Pearson writes with great wit and verve." —Wall Street Journal

"Brilliant, funny, and tender....Tackling sexism, growing older, and understanding one's needs when catering to those of so many others, Pearson writes realism with all the fun of escapism." —Booklist (starred review)

"The winning follow-up to Pearson's bestselling I Don't Know How She Does It is anchored by heroine Kate Reddy's authentic, intelligent, and consistently funny British voice....Pearson maintains a humorous tone throughout, wresting laughs from her lead's lowest moments and greatest triumphs. Pearson also hits the right notes in conveying the cluelessness and powerlessness parents feel raising teens obsessed by gaming and social media." —Publishers Weekly (starred review)

"In this side-splitting follow-up to I Don't Know How She Does It...the electricity is positively sparkling....Laugh-out-loud yet all too realistic....Spot on." —Library Journal (starred review)

"Pearson has found a way to explore pressing questions—the delaying of marriage and childbearing, the dangers of social media, the growing anxiety of teenagers and their trouble gaining independence as young adults, the crushing pressures on people caring for both their kids and their parents—without sacrificing story for sermon." —The Weekly Standard

"Allison Pearson's penetrating observations of what it's like to be the filling in this midlife sandwich are satisfyingly astute—she just gets it and hits the nail on the head again and again. Some of her observations are wildly funny, others bittersweet, but above all a comfort to know that there are others out there in the same boat. She describes a comprehensive list of menopausal symptoms with aplomb and hilarity and every page has the reader either laughing out loud or nodding in earnest agreement." —Buzzfeed

"Laugh-out-loud funny and entirely relatable—you'll fall in love with Kate all over again." —Popsugar

"Filled with humor and wit, readers will cheer on Kate as she navigates this frenzied life and struggles to hold everything—and everyone—together." —Shereads.com

"Few sequels beat the original, but How Hard Can It Be? does so hands down. Kate Reddy's comeback as a pushing-50 "Returner," re-entering the workforce after a spell on the mommy track, is zesty, razor-sharp, and hilarious. With a robust absence of self-pity, she has defined the humiliating onset of "invisibility" that coincides with the onrushing pressures of parents, teenage kids, and a marriage gone flat, all while attempting to reinstate her perilous professional worth. It's full of such quotable casual profundity on the female condition I couldn't read it without a pencil to underline the abundance of great lines. Get ready for Kate!" —Tina Brown

"Written with Allison's trademark wit and lacerating insight, How Hard Can It Be? is an honest, hilarious look at being a woman of a certain age. Anyone who, like me, adored Kate Reddy in "I Don't Know How She Does It," will be delighted to revisit her fierce and honest take on the figurative and literal bumpy bits of middle age. This book is smart and sharp and funny, funny, funny." —Aline Brosh McKenna, screenwriter of The Devil Wears Prada and co-creator of Crazy Ex-Girlfriend

"The funniest and most feminist writing of the year…How Hard Can It Be? is that rare thing: a sequel that matches and even surpasses the original…Every line is meticulous; every reflection on parenthood hilarious, or else so true it's heartbreaking." —The Telegraph (UK)

"Funny and unflinching."—Elizabeth Day, author of The Party

"Perceptive and funny....Allison Pearson has a gift for comedy, but the best bits of How Hard Can It Be? are her sharp asides about modern life." —The Times (U.K.)

"Sparkling, funny and poignant." —Express
St. Martin's Press, 9781250086082, 384pp.
Publication Date: June 5, 2018
About the Author
Allison Pearson is the author of the hugely bestselling I Don't Know How She Does It, now a major motion picture starring Sarah Jessica Parker, and I Think I Love You. Pearson was named Newcomer of the Year at the British Book Awards in 2002 for her first book. She has written for The Daily Telegraph, The Times (UK), The Daily Mail, Time, The New York Times, The New Yorker, The Observer and countless other publications. Pearson has won many awards including Columnist of the Year, Critic of the Year and Interviewer of the Year.
1. What does Kate mean when she refers to herself as a "Sandwich Woman?" Is this a position you have found yourself in? What particular challenges does it present?
2. To what extent does technology play a role in Kate's children's problems at school and at home? Are their struggles specific to the modern day, or eternal?
3. Kate is forced to lie about how old she is in order to get a job, but are there ways in which her age and experience actually serves as an asset? How?
or
Not Currently Available for Direct Purchase