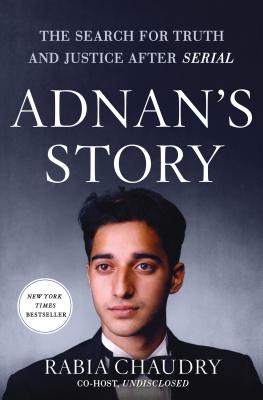 Adnan's Story
The Search for Truth and Justice After Serial
Hardcover

* Individual store prices may vary.
Other Editions of This Title:
Digital Audiobook (8/8/2016)
Paperback (3/12/2019)
CD-Audio (8/9/2016)
Description
Now a New York Times bestseller and a major docuseries
The 2017 American Book Award Winner from the Before Columbus Foundation
A Washington Post notable nonfiction book for 2016
A Goodreads Best of 2016 Nonfiction Finalist
A Kobo Best Book of 2016

Includes an update from Rabia on Adnan's vacated murder conviction in summer 2016

Serial only told part of the story…
In early 2000, Adnan Syed was convicted and sentenced to life plus thirty years for the murder of his ex-girlfriend Hae Min Lee, a high school senior in Baltimore, Maryland. Syed has maintained his innocence, and Rabia Chaudry, a family friend, has always believed him. By 2013, after almost all appeals had been exhausted, Rabia contacted Sarah Koenig, a producer at This American Life, in hopes of finding a journalist who could shed light on Adnan's story. In 2014, Koenig's investigation turned into Serial, a Peabody Award-winning podcast with more than 500 million international listeners
But Serial did not tell the whole story. In this compelling narrative, Rabia Chaudry presents new key evidence that she maintains dismantles the State's case: a potential new suspect, forensics indicating Hae was killed and kept somewhere for almost half a day, and documentation withheld by the State that destroys the cell phone evidence -- among many other points -- and she shows how fans of Serial joined a crowd-sourced investigation into a case riddled with errors and strange twists. Adnan's Story also shares Adnan's life in prison, and weaves in his personal reflections, including never-before-seen letters. Chaudry, who is committed to exonerating Adnan, makes it clear that justice is yet to be achieved in this much examined case.
Praise For Adnan's Story: The Search for Truth and Justice After Serial…
"If you're looking to revisit the story of Adnan Syed that enthralled millions of listeners for the first season of "Serial," look no further than this book from Rabia Chaudry, a friend of the Syed family who first brought the case to "Serial" host Sarah Koenig's attention." —RedEye
"True crime enthusiasts and anyone willing to delve into the unsettling world of guilt versus innocence will find Adnan's Story an enjoyable, but heart-wrenching ride. Chaudry has an impressive command of style–using the perfect balance of compassion and investigation to open Syed's case to the world." —The Lineup
"Rabia put her heart and soul [into this]. This isSerial come to life. If you liked the podcast, you will love this book." —Daisy Khan, WISE
"Chaudry's book is essential reading for anyone who wants to understand how media — particularly social media — came to play such a powerful role in this case . . . Chaudry's passion clearly drives Adnan's Story: The Search for Truth and Justice After 'Serial.' But it's the mix of media skills and legal education that makes her book such an illuminating firsthand report from the front lines of social media change." —Baltimore Sun
"Chaudry's clear, vivid and highly readable account of the case will bring the story to life for readers unfamiliar with the podcast, and even the most devoted 'Serial' fans will find fresh insight and a vast amount of new material. Chaudry's legal training serves her well as she marshals her defense, but so too does the Pakistani heritage and Muslim faith she shares with Syed." —Washington Post
"Crisp, powerful prose...Chaudry's description of the PCR hearing in Adnan's Story is utterly riveting—high stakes, a breakneck pace, brilliant expert witnesses." —Entertainment Weekly
"Any 'Serial' fan should eat up this heavily researched book." —New York Post
"Rabia Chaudry is a woman on a mission . . . It was easy to forget, listening to 'Serial,' that it was a true story about real people. Adnan's Story adds context and humanizes it in a way that could change how you think about the case, and about 'Serial' itself." —Los Angeles Times
"Adnan's Story should satisfy those who can't get enough of this perplexing case."—Newsday
"You'll find yourself tearing through the book as quickly as you binged on episodes of the podcasts." —Bustle
"Lays out new details that [Chaudry] believes exonerate Syed...[they] already have produced results." —People
"As stories of wrongful convictions go, Adnan's Story is hands down a certain winner." —New York Journal of Books
"Chaudry is uniquely qualified to tell this story." —Elle.com
"A skillfully written account of injustice that will have wide appeal to fans of Serial and readers of human interest stories, and is especially timely as Syed's conviction was vacated in July 2016 and a new trial granted." —Library Journal
"Readers new to the story will have no trouble following—the narrative is outlined extensively from the beginning—and podcast listeners will find plenty of previously undisclosed material...She strongly makes the case for cultural and religious bias in the investigation and conviction and presents damaging evidence of police misconduct, including tampering with evidence and a witness. She also examines other suspects and their possible motives and alibis." —Publisher's Weekly, starred review
"A page-turner...[Chaudry's] writing is clear, eloquent, and engaging, and her case is convincing." —Kirkus, Starred review
"Chaudry includes a great deal of important information that was never dealt with in either podcast, Serial or Undisclosed...The rich information provided elegantly by Chaudry helps the reader construct the world in which Adnan Syed, his family and friends live." —TAPinto
St. Martin's Press, 9781250087102, 416pp.
Publication Date: August 9, 2016
About the Author
RABIA CHAUDRY is an attorney and partner at Chaudry & Anwer Immigration Law, a recent Jennings Randolph Fellow at the U.S. Institute of Peace, an International Security Fellow at the New America think tank, and a Fellow of the Shalom Hartman Institute. She is the co-host of Undisclosed, one of the top-ranked podcasts in the iTunes store with nearly 250 million downloads, and The 45th, with over four million downloads. She is a member of the National Muslim-Jewish Advisory Council and the Aspen Institute Vanguard Board. She is a frequent public speaker, and her writing has appeared in numerous outlets including Time.com, The Huffington Post, and the Chicago Sun-Times.
or
Not Currently Available for Direct Purchase