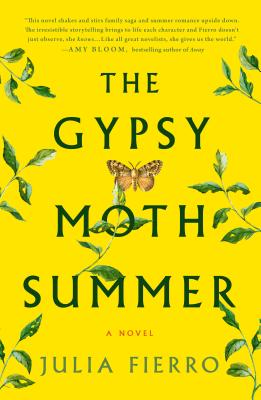 The Gypsy Moth Summer
A Novel
Hardcover

* Individual store prices may vary.
Other Editions of This Title:
Digital Audiobook (9/19/2017)
Paperback (6/5/2018)
MP3 CD (9/20/2017)
Compact Disc (9/20/2017)
Description
"Fierro doesn't just observe, she knows. Like all great novelists, she gives us the world." - Amy Bloom, bestselling author of Away and Lucky Us
It is the summer of 1992 and a gypsy moth invasion blankets Avalon Island. Ravenous caterpillars disrupt early summer serenity on Avalon, an islet off the coast of Long Island--dropping onto novels left open on picnic blankets, crawling across the T-shirts of children playing games of tag and capture the flag in the island's leafy woods. The caterpillars become a relentless topic of island conversation and the inescapable soundtrack of the season.
It is also the summer Leslie Day Marshall—only daughter of Avalon's most prominent family—returns with her husband, a botanist, and their children to live in "The Castle," the island's grandest estate. Leslie's husband Jules is African-American, and their children bi-racial, and islanders from both sides of the tracks form fast and dangerous opinions about the new arrivals.
Maddie Pencott LaRosa straddles those tracks: a teen queen with roots in the tony precincts of East Avalon and the crowded working class corner of West Avalon, home to Grudder Aviation factory, the island's bread-and-butter and birthplace of generations of bombers and war machines. Maddie falls in love with Brooks, Leslie's and Jules' son, and that love feels as urgent to Maddie as the questions about the new and deadly cancers showing up across the island. Could Grudder Aviation, the pride of the island—and its patriarch, the Colonel—be to blame?
As the gypsy moths burst from cocoons in flocks that seem to eclipse the sun, Maddie's and Brooks' passion for each other grows and she begins planning a life for them off Avalon Island.
Vivid with young lovers, gangs of anxious outsiders; a plotting aged matriarch and her husband, a demented military patriarch; and a troubled young boy, each seeking his or her own refuge, escape and revenge, The Gypsy Moth Summer is about love, gaps in understanding, and the struggle to connect: within families; among friends; between neighbors and entire generations.
Praise For The Gypsy Moth Summer: A Novel…
ONE OF THE MOST ANTICIPATED BOOKS OF 2017
The Huffington Post: 2017 Book Preview: 33 Titles To Add To Your Shelf
The Week: 28 books to read in 2017
The Millions: The Great 2017 Book Preview
Nylon Magazine: 50 Books We Can't Wait To Read In 2017
Read It Forward: 17 Books We're Excited to Read in 2017
"The Gypsy Moth Summer plunges the reader into a hazy, hot daydream of hidden truth, scandal, and racial prejudice. With bold strokes, Julia Fierro creates a vivid world where privilege and class are merely a veneer to distract from the cracks beneath the surface." -- Jodi Picoult, New York Times bestselling author of Leaving Time
"This novel shakes and stirs family saga and summer romance upside down. The irresistible story-telling brings to life each character and Fierro doesn't just observe, she knows. She gives us a particular and narrow neighborhood, and like all great novelists, she gives us the world." - Amy Bloom, bestselling author of Away
"In her hugely engaging novel, The Gypsy Moth Summer, Julia Fierro brings a light touch to bear on the most important subjects: social class, race, family, generational conflict, anger and forgiveness. It is a sterling example of how fiction can entertain us and at the same time inspire us to think about the things we urgently need to consider, now more than ever." - Francine Prose, author of Mister Monkey
"This novel shakes and stirs family saga and summer romance upside down. The irresistible story-telling brings to life each character and Fierro doesn't just observe, she knows. She gives us a particular and narrow neighborhood, and like all great novelists, she gives us the world." - Amy Bloom, bestselling author of Away
Julia Fierro's The Gypsy Moth Summer is a deeply satisfying tale of family, first love, and home. The world of Avalon Island is lush, inviting, and deeply complicated, full of the same contradictions that we grapple with day to day. It's a meditation on what makes a community and a reminder that the past is never past and home is a place that is both beautiful and heartbreaking. - Kaitlyn Greenidge, author of We Love You, Charlie Freeman
"Julia Fierro weaves a riveting, tragic novel of place from an Island's unspoken past. Vividly drawn characters and startling scenes of joy, confrontation and regret are set against the surreal background of Gypsy Moths devouring trees, Clinton-era racial tensions, a deeply ingrained military industrial complex, and the conflicted societal and familial need to belong at all costs. Fierro's masterful second novel draws us close, makes us its confidante, and then delivers hard and violent truths about the Island's legacy of denial." - Scott Blackwood, author of See How Small
"Julia Fierro's marvelous The Gypsy Moth Summer is a novel to slowly savor, settling in with her characters as you would old friends, cherishing every sentence, every turn of plot. Rarely does one encounter a novel this entertaining, which also speaks to the complicated truths about race and class at the heart of our country's tangled history." - Joanna Rakoff, author of My Salinger Year
"Julia Fierro's second book is a luminous, urgent novel about the forces that shape us all: where we grow up; whether we are loved by our parents or understood by our peers; how class, power, and money may cast our fates. With gathering awe, I found in Avalon Island's richly depicted society a microcosm of our own. I rooted for the lovers at the thrumming heart of The Gypsy Moth Summer with the hungry turn of every page." - Sophie McManus, author of The Unfortunates

"The Gypsy Moth Summer gathers all of life in its wonderfully confident reach: the buzzing energy of youth, the fraught hope of adulthood, the remorseless clarity of old age. Fierro's thoroughly entertaining storytelling doesn't prevent her from taking on weighty subjects like race and class in America or delivering a rebuke of the lives of privilege that she chronicles with such anthropological accuracy. We are deeply invested in these characters around whom an air of tragic destiny hangs, and the pages fly by as the book hurtles toward its devastating conclusion." —Matthew Thomas, New York Times bestselling author of We Are Not Ourselves
"What kind of brilliant writer can go from Cutting Teeth, a bitingly funny and inventive debut about modern day NYC parents to a 1992 island world that is so real and so alive, that you can feel the brush of gypsy moth wings and the longing, and simmering danger of a multiracial family disrupting a white conservative island? Masterpiece is often a word that is casually tossed around, but it fits Fierro's work, which is so richly alive, so poetic, it is truly Shakespearean tragedy. I had a sense of wonder that someone could craft a novel as perfect as this one, but then I remembered this is a Julia Fierro novel, so the only answer to that wonder is of course, of course, of course, she could—and she did." - Caroline Leavitt, author of the New York Times Bestsellers Pictures of You and Is This Tomorrow, and Cruel Beautiful World
St. Martin's Press, 9781250087515, 400pp.
Publication Date: June 6, 2017
About the Author
JULIA FIERRO is the author of the novels The Gypsy Moth Summer and Cutting Teeth. Her work has been published in The Millions, Poets & Writers, Buzzfeed, Glamour, and other publications, and she has been profiled in The Observer and The Economist. A graduate of the Iowa Writer's Workshop, Julia founded The Sackett Street Writers' Workshop in 2002, a creative home to more than 3,500 writers in NYC, Los Angeles and Online. SSWW was named "Best Writing Classes" by The Village Voice, Time Out NY, and "Best MFA-Alternative" by Poets & Writers. Julia lives in Brooklyn and Los Angeles.