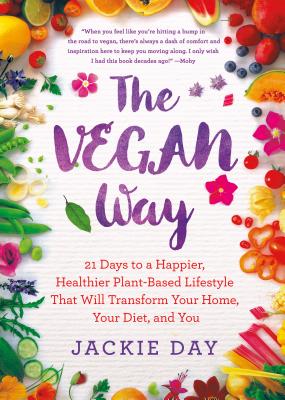 The Vegan Way (Paperback)
21 Days to a Happier, Healthier Plant-Based Lifestyle That Will Transform Your Home, Your Diet, and You
St. Martin's Griffin, 9781250087713, 320pp.
Publication Date: October 25, 2016
* Individual store prices may vary.
Description
"Writing in a playful and upbeat fashion, Day guides her readers through a day-by-day approach to living vegan… For those interested in becoming acquainted with "the vegan way," this book marvelously succeeds."
– Publishers Weekly
"I only wish I had had this book decades ago!" - Moby
"This goes well beyond diet ... This book is a comprehensive guide to anyone looking to switch to a plant-based life." - Booklist
"The Vegan Way is like having a friendly non-judgmental vegan friend by your side to help you every step of the way as you blossom into a happier, healthier being. So inspiring!" - Pamela Anderson
The Vegan Way is a book filled with everything Jackie Day has learned as a happy vegan, a health educator, and author of the popular vegan blog, My Vegan Journal. A lifestyle guide that's a real game-changer, The Vegan Way is for those who are intimidated by going vegan overnight, but don't want the transition to stretch out for months or even years. In a 21 day plan that emphasizes three core reasons for going vegan—being as healthy as you can be, being compassionate to animals, and respecting our planet—Jackie provides inspiration along with a specific goal to achieve with all of the support you need to accomplish it. It might be something as simple as switching out your coffee creamer for vanilla almond milk or kicking the cheese habit. Readers will learn where to dine and what to order when eating out, the most vegan-friendly places to visit, how to avoid clothing made from animals, and how to decipher those pesky ingredients lists. And throughout, Jackie will be providing glimpses into the finer points of vegan living, giving readers something to aspire to as they get past Vegan 101. Readers will also find a handful of easy and delicious recipes sprinkled throughout. The Vegan Way is a road map that puts positive thoughts about health, the environment, and animals into action, transforming your life into a vibrant, healthy, and compassionate one.
About the Author
Jacqueline Day began her career as a High School Health teacher in Los Angeles, where she was honored by the Los Angeles County Department of Education and the National Education Association. She went on to head PETA's Education Department where she fought for the rights of humans and non-human animals alike and served as a Health Policy Consultant for the Kaiser funded Healthy Eating Active Living (HEAL) program. In 2010 Jackie began her influential blog My Vegan Journal, a healthy lifestyle and animal rights resource that Dr. Oz has endorsed as one of the "Healthiest Facebook Page in America", and Jackie has appeared on CNN, The CBS Evening News, NPR and many more outlets. The Vegan Way is her first book. She lives in Northern California.
Praise For The Vegan Way: 21 Days to a Happier, Healthier Plant-Based Lifestyle That Will Transform Your Home, Your Diet, and You…
"Playful and upbeat... this book marvelously succeeds."
– Publishers Weekly
"This goes well beyond diet ... This book is a comprehensive guide to anyone looking to switch to a plant-based life."
– Booklist (American Library Association)
"The Vegan Way is like having a friendly non-judgmental vegan friend by your side to help you every step of the way as you blossom into a happier, healthier being. So inspiring!" – Pamela Anderson
"When you feel like you're hitting a bump in the road to vegan, there's always a dash of comfort and inspiration here to keep you moving along. I only wish I had this book decades ago!" – Moby
"Day hit the nail on the head with this comprehensive vegan guide, perfect for the veg-curious to the seasoned vegan. Her writing is accessible and the layout of the book makes this a go-to for anyone who wants to step up their game when it comes to veganism."
– Jasmin Singer, Senior Editor, VegNews Magazine
"As the health benefits of a whole foods, plant-based diet become increasingly apparent in medical literature, many Americans may be wondering where they should begin to get on the path to long-lasting health and wellness. Jackie Day's book provides a perfect starting point, with recipes, research, inspirational quotes, and daily goals as resources. Through her step-by-step approach in The Vegan Way, readers can experiment in the kitchen, learn about the limitations of our current food system, and be inspired to improve the health of their families, and the planet. It is a wonderful book that illustrates how positively life-changing a transition to a plant-based way of eating can be."
– Neal Barnard, MD, President of Physicians Committee for Responsible Medicine
"We love The Vegan Way! It should be on everyone's bookshelf!"
– People for the Ethical Treatment of Animals
"A great book about going vegan!"
– Mayim Bialik, Big Bang Theory
Jackie Day's The Vegan Way is a thoughtful and compelling step-by-step guide to going vegan. It's essential reading for those who are veg-curious, with plenty to enjoy for seasoned vegans, too. If you want to help the animals, the environment or your own health, read The Vegan Way. It's wonderful, but not surprising, to see so many people going vegan after reading this book!
– Gene Baur, Cofounder and President, Farm Sanctuary
"The Vegan Way gives readers easy steps - and incentive - to protect the environment and improve their own wellness, through the food they eat, and the products they buy. It's empowering! We love this book!"
– Academy Award-winning director James Cameron and Suzy Amis-Cameron