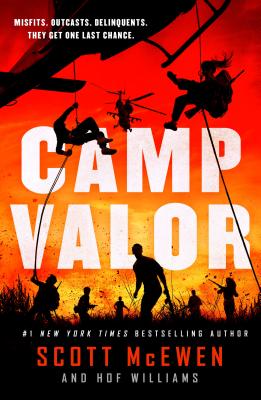 Camp Valor (The Camp Valor Series #1)
Hardcover

* Individual store prices may vary.
Description
A young adult thriller from Scott McEwan, the #1 New York Times bestselling co-author of American Sniper, and Hof Williams.

Valor: great courage in the face of danger

When Wyatt gets framed for a friend's crime, he thinks his life is over. But then a mysterious stranger visits him in jail with an unusual proposal: spend three months in a secret government camp and have a ten-year prison sentence wiped clean.

Wyatt agrees, and finds himself in a world beyond his wildest dreams, with teenagers like him flying drones, defusing bombs, and jumping out of helicopters. This is no ordinary camp. Camp Valor is a secret training ground for teenage government agents, filled with juvenile offenders—badasses who don't play by the rules—who desperately need a second chance. If they can prove themselves over their three month stay and survive Hell Week, they will enter the ranks of the most esteemed soldiers in the United States military.

But some enemies of the United States have gotten wind of Camp Valor, and they will do everything in their power to find out its secrets. Suddenly, Wyatt and his friends have to put their training into practice, and find the bravery to protect their country.
Praise For Camp Valor (The Camp Valor Series #1)…
"This pro-America book could buck the left-wing YA trend." —New York Post

"Reluctant readers will doubtlessly enjoy this fast-paced action-adventure book and look forward to the inevitable sequel." —Booklist

"Wyatt's on his way to becoming the next huge literary hero for the 18-and-under set....Will have readers white-knuckling through." —The Florida Times-Union

"A lurid, unvarnished crossover by the co-author of the bestselling American Sniper (2012), with clear potential for both sales and sequels." —Kirkus Reviews

"Like nothing else. Exciting and genre smashing, the book feels destined to inspire a generation. McEwen and Williams execute what we all want in a thriller: imagination that soars and a gritty realism that is so close to what we see daily it's frightening. If Camp Valor existed when I was a kid, I would have tried to sign up."
—Doug Stanton, New York Times bestselling author of Horse Soldiers (soon to be the major motion picture 12 STRONG) and In Harm's Way

"Camp Valor nails today's dangerous Dark net World on so many levels. Teaching our kids a defensive skill set to live in today's threat environment is not only smart, it may well be crucial to their very survival. Gritty, real, and raw, McEwen once again takes his characters to places others are unwilling or unable to venture. Read it, then give it to your kids to read it!" —Rob O'Neill, Former Senior Chief, US Navy SEAL; New York Times Bestselling Author of The Operator: Firing The Shots That Killed Osama bin Laden and My Years As A SEAL Team Warrior

"I couldn't put it down. CAMP VALOR is a powerful story makes you want to run outside and take on the world's mysteries, just like great books have always done." –Frank Miniter, New York Times bestselling author of The Ultimate Man's Survival Guide
St. Martin's Griffin, 9781250088246, 336pp.
Publication Date: July 10, 2018
About the Author
SCOTT MCEWEN is the author of many books and the co-author of #1 New York Times bestseller American Sniper, which has sold more than one million copies and has been translated into over twenty languages. American Sniper, the movie, starring Bradley Cooper, and directed by Clint Eastwood, was the number one movie in the United States for that year, and was nominated for six Academy Awards, winning one. He lives in San Diego, California, where he began writing while practicing law.

HOF WILLIAMS lives in Westport, Connecticut and has collaborated with Scott McEwen on the young adult novel, Camp Valor.