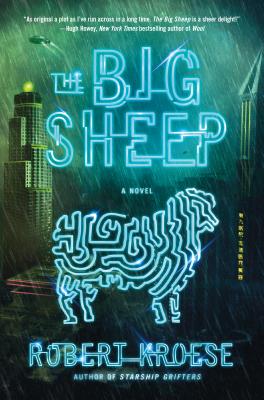 The Big Sheep (Hardcover)
A Novel
Thomas Dunne Books, 9781250088444, 320pp.
Publication Date: June 28, 2016
Other Editions of This Title:
Digital Audiobook (6/27/2016)
* Individual store prices may vary.
Description
Los Angeles of 2039 is a baffling and bifurcated place. After the Collapse of 2028, a vast section of LA, the Disincorporated Zone, was disowned by the civil authorities, and became essentially a third world country within the borders of the city. Navigating the boundaries between DZ and LA proper is a tricky task, and there's no one better suited than eccentric private investigator Erasmus Keane. When a valuable genetically altered sheep mysteriously goes missing from Esper Corporation's labs, Keane is the one they call.
But while the erratic Keane and his more grounded partner, Blake Fowler, are on the trail of the lost sheep, they land an even bigger case. Beautiful television star Priya Mistry suspects that someone is trying to kill her - and she wants Keane to find out who. When Priya vanishes and then reappears with no memory of having hired them, Keane and Fowler realize something very strange is going on. As they unravel the threads of the mystery, it soon becomes clear that the two cases are connected - and both point to a sinister conspiracy involving the most powerful people in the city. Saving Priya and the sheep will take all of Keane's wits and Fowler's skills, but in the end, they may discover that some secrets are better left hidden.
Kroese's The Big Sheep is perfect for fans of Philip Dick's Do Androids Dream of Electric Sheep, Terry Pratchett's Guards! Guards!, and Scalzi's Old Man's War.
About the Author
ROBERT KROESE honed his sense of irony growing up in Grand Rapids, Michigan. After barely graduating from Calvin College, he stumbled into software development. In 2009, he called upon his extensive knowledge of useless information and love of explosions to write his first novel, Mercury Falls. He has written three more books in the Mercury series and a humorous epic fantasy, Disenchanted. The Big Sheep is probably something like Kroese's eleventh book, but there's no way to know for certain.
Praise For The Big Sheep: A Novel…
"As original a plot as I've run across in a long time. The Big Sheep is a sheer delight!" - Hugh Howey, NYT Bestselling author of Wool
"Fun, fast, and addictive. Kroese gives us a sci-fi /noir detective story that manages to catch the reader off guard again and again." - Peter Clines, author of The Fold, 14, and the Ex-Heroes series
"An enthralling blend of sci-fi and noir, The Big Sheep left me salivating for a second helping of Erasmus Keane's adventures."
-- Rick Gualtieri, author of The Tome of Bill series
"Maybe Rob Kroese's latest sci-fi novel, The Big Sheep, isn't co-authored by Phillip Dick, but it does the late great author some serious homage. At the same time…and this is remarkable… Kroese has conjured up a thoroughly original, stunningly intelligent plot that both thrilled and delighted me. It also made me laugh. A riveting, hallucinatory joy-ride into a dangerous future by a terrific author writing at the top of his game."
--Vincent Zandri, New York Times and USA Today bestselling author of The Remains and When Shadows Come
"Kroese demonstrates his creative imaginative worldbuilding in this sci-fi mystery series debut set in 2039 Los Angeles." - PW