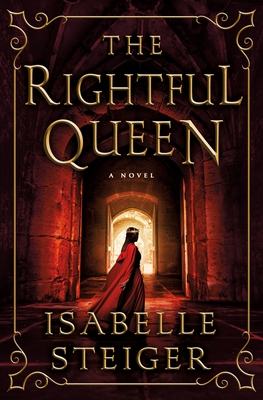 The Rightful Queen
A Novel (Paths of Lantistyne #2)
Hardcover

* Individual store prices may vary.
Other Editions of This Title:
Digital Audiobook (7/20/2020)
Description
The second book in Isabelle Steiger's epic fantasy series, which weaves together the lives of the haves and the have-nots—both desperately fighting to reassemble the remains of a fallen empire.

The Rightful Queen returns readers to the territories of Lantistyne. Imperator Elgar has brought war to the continent once again, and the rogues of the Dragon's Head, once forced into his service, are scattered to the winds, wracked by tragedy and struggling to reunite.

While a cornered King Kelken grows increasingly desperate, Arianrod Margraine, the brilliant but outmanned marquise of Esthrades, devises a plan to stretch Elgar's forces thin and turn the tide of battle in their favor. But when the sheltered queen of Issamira is driven from her throne by a long-simmering plot and the use of forbidden magic, Arianrod faces an even more pressing crisis.

Adora Avestri is more than the rightful queen of Issamira, more even than the key to defeating Elgar on the field—she has drawn the attention of beings older than Lantistyne itself, who possess hidden knowledge Arianrod has long desired. But if the queen and the marquise hope to survive long enough to learn it, Adora must find the strength to claim her birthright once and for all, and Arianrod must match wits and magic with a foe she has never before encountered: an equal.

The Rightful Queen is another example of Isabelle Steiger's powerful writing, full of intricate characters and complex world-building.
Praise For The Rightful Queen: A Novel (Paths of Lantistyne #2)…
"Fans who miss the political intrigue of Game of Thrones or the complex worldbuilding of Mercedes Lackey will find plenty here to hold them over." —Publishers Weekly

"In The Empire's Ghost, Steiger has succeeded in crafting a fantasy novel at once familiar and refreshing in its refusal to adhere to any one trope of the genre. Female characters are more than mere pawns to be married to other nations; friendships and loyalties lie in a grey area, open to contextual interpretation; politics are at once a driving force of the plot yet far removed from the day-to-day life of citizens. Most impressively, Steiger succeeds in managing a multitude of characters and complexities in a way that, though overwhelming at times, is never sloppy or confusing."—Shelf Awareness

"If you're looking for a slow building, but incredibly intricate world, this book is the one for you." —Books, Cats, and Coffee Blog

"The more I think about this book, the more I love it... The best part of this book, in my opinion, is the sheer depth of history of the world and the character backgrounds that are presented. The attention to detail made this book so real and I could not draw myself away from it. Steiger has also proven herself to be incredibly deft at carefully writing in twists and elements that impressed me immensely." —Forever Lost in Literature Blog

"The Empire's Ghost is epic on so many levels.... The story can be dark at times, but this is not a brutal and gritty story. It is epic with ups and downs, and definitely death and blood.... Without a doubt, I plan to read the next one. I need to find out what happens next." —Tenacious Reader Blog
St. Martin's Press, 9781250088505, 544pp.
Publication Date: July 21, 2020
About the Author
ISABELLE STEIGER was born in the city and grew up in the woods. She received her first notebook when she was eight, and she's been filling them up ever since. She lives in New York, though her erstwhile companion, a very moody gray cat, has since retired and moved to Florida. The Empire's Ghost is her first novel.
or
Not Currently Available for Direct Purchase