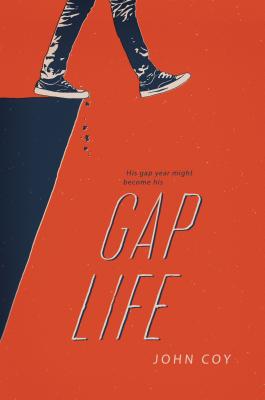 Gap Life
Hardcover

* Individual store prices may vary.
Description
Cray got into the same college his father attended and is expected to go. And to go pre-med. And to get started right away. His parents are paying the tuition. It should be an easy decision.

But it's not.

All Cray knows is that what's expected of him doesn't feel right. The pressure to make a decision—from his family, his friends—is huge. Until he meets Rayne, a girl who is taking a gap year, and who helps him find his first real job, at a home of four adults with developmental disabilities. What he learns about himself and others will turn out to be more than any university could teach him—and twice as difficult.
Praise For Gap Life…
"Highly recommended. This is a wonderful story that captivates you from the very beginning."--School Library Connection, starred review

"Teens who don't know what they want to do with their lives will relate well to the protagonist of this fast-paced realistic novel. Cray Franklin is a 17-year-old high school graduate whose parents have mapped out his life—attend St. Luke's College and become a doctor. Those ambitions do not coincide with Cray's own. He doesn't know what he wants to be or what he wants to do after graduation. Enter Rayne, a wise, worldly fellow high school graduate who helps Cray get a job at a group home for adults with disabilities. ...Cray's ways of dealing with the conflicts among his parents, sibling, friends, employer, and love interest are painfully authentic. The author ... provides opportunities for discussion questions that elicit greater reflection about how Cray's obstacles might mirror students' own challenges. "--School Library Journal


"There comes a time in virtually every young adult's life when the decision is made to step away from one's parents to become independent. For Cray Franklin, that decision comes on the heels of high school graduation as he sidesteps the path his parents have set for him—namely a premed track at the all-male Catholic college his father and grandfather attended—and begins a tumultuous journey into adulthood. Along the way, he meets and falls for free-spirited Rayne, who embodies the freedom he's searching for, but who already has a boyfriend. With just a touch of romance, Coy's narrative focuses on Cray's thoughts and feelings as he takes a job in a group home, working with adults with developmental disabilities. ... Coy captures the uncomfortable and even cringe-inducing actions and decisions of a teen trying to find his way, while also creating thoughtful parallels between Cray's journey toward independence and the lives of four residents in the group home."--Publishers Weekly

"Coy's well-written novel movingly explores the difference between freedom and security, and the capacity each individual has to grow. Teens contemplating their next steps after high school will appreciate Coy's sensitive story."--Booklist
Feiwel & Friends, 9781250088956, 224pp.
Publication Date: November 22, 2016
About the Author
John Coy has written several books for children, including Top of the Order and Love of the Game. He spends much of his time as a writer-in-residence at elementary schools. He lives in St. Paul, Minnesota.