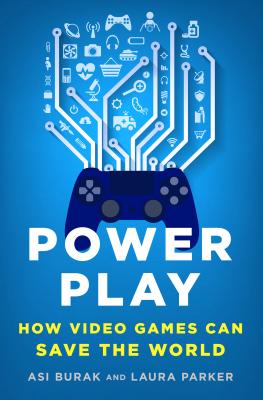 Power Play (Hardcover)
How Video Games Can Save the World
St. Martin's Press, 9781250089335, 272pp.
Publication Date: January 31, 2017
* Individual store prices may vary.
Description
The phenomenal growth of gaming has inspired plenty of hand-wringing since its inception--from the press, politicians, parents, and everyone else concerned with its effect on our brains, bodies, and hearts. But what if games could be good, not only for individuals but for the world? In Power Play, Asi Burak and Laura Parker explore how video games are now pioneering innovative social change around the world.
As the former executive director and now chairman of Games for Change, Asi Burak has spent the last ten years supporting and promoting the use of video games for social good, in collaboration with leading organizations like the White House, NASA, World Bank, and The United Nations. The games for change movement has introduced millions of players to meaningful experiences around everything from the Israeli-Palestinian conflict to the US Constitution.
Power Play looks to the future of games as a global movement. Asi Burak and Laura Parker profile the luminaries behind some of the movement's most iconic games, including former Supreme Court judge Sandra Day O'Connor and Pulitzer-Prize winning authors Nicholas Kristof and Sheryl WuDunn. They also explore the promise of virtual reality to address social and political issues with unprecedented immersion, and see what the next generation of game makers have in store for the future.
About the Author
ASI BURAK
was named one of the "Digital 25: Leaders in Emerging Entertainment" by the Producers Guild of America (PGA) and
Variety Magazine
for his work with Games for Change. He co-founded and led Impact Games, the creators of the acclaimed
PeaceMaker
and
Play the News.
LAURA PARKER is a journalist who writes about video games and technology for publications including The New York Times, The New Yorker, and Vanity Fair. She is coauthor with Asi Burak of Power Play.

Praise For Power Play: How Video Games Can Save the World…
"Highlights a range of 'games for change'—like Re-Mission,...Or the iCivics platform, a game from former Supreme Court Justice Sandra Day O'Connor that lets players make the same decision as lawmakers, judges and Presidents." —How Video Games Can Save the World, Sarah Begley, TIME
"Practical and inspiring, providing blueprints for success and stories that excite the imagination." —Library Journal
"This fascinating book shows how much games have to teach not only our children, but our society as a whole. Here's hoping that the pioneers profiled here inspire a new generation to engage and participate in our political process."--The Honorable Sandra Day O'Connor, Retired Supreme Court Justice
"Meticulously researched and deeply compelling, Power Play chronicles the fascinating journey of video games as agents for social change. This is a powerful narrative that will redefine our understanding of games and their role in society."-- Jane McGonigal, New York Times bestselling author of Reality is Broken and SuperBetter
"Games will change the world - and this fantastic book will help you understand how."--Morgan Spurlock, filmmaker and TV Producer, Academy Award-nominated director of Super Size Me
"Power Play is the definitive report on the growing success of the movement to make games for change, written by people who helped make it all happen. It is a must read for anyone even remotely interested in games and their power for good."--Dr. James Paul Gee, author of What Video Games Have To Teach Us About Learning and Literacy
"A rejoinder to the anti-technological and a solid piece of pop-culture/business journalism."--Kirkus
"We already know the extraordinary power of games to entertain. Burak and Parker prove beyond doubt the even greater power of games to move people to action. And through deep engagement, that games can bring insight into, and help answer, the central questions of our time."--Bruce Hack, former Vice Chairman at Activision-Blizzard
or
Not Currently Available for Direct Purchase