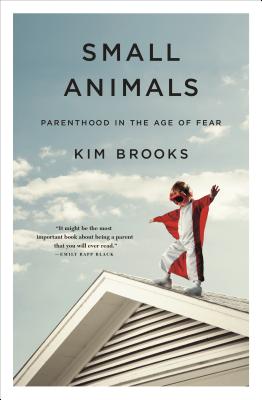 Small Animals
Parenthood in the Age of Fear
Hardcover

* Individual store prices may vary.
Other Editions of This Title:
Digital Audiobook (8/20/2018)
Paperback (8/20/2019)
Description
"It might be the most important book about being a parent that you will ever read." —Emily Rapp Black, New York Times bestselling author of The Still Point of the Turning World

"Brooks's own personal experience provides the narrative thrust for the book — she writes unflinchingly about her own experience.... Readers who want to know what happened to Brooks will keep reading to learn how the case against her proceeds, but it's Brooks's questions about why mothers are so judgmental and competitive that give the book its heft." —NPR

One morning, Kim Brooks made a split-second decision to leave her four-year old son in the car while she ran into a store. What happened would consume the next several years of her life and spur her to investigate the broader role America's culture of fear plays in parenthood. In Small Animals, Brooks asks, Of all the emotions inherent in parenting, is there any more universal or profound than fear? Why have our notions of what it means to be a good parent changed so radically? In what ways do these changes impact the lives of parents, children, and the structure of society at large? And what, in the end, does the rise of fearful parenting tell us about ourselves?

Fueled by urgency and the emotional intensity of Brooks's own story, Small Animals is a riveting examination of the ways our culture of competitive, anxious, and judgmental parenting has profoundly altered the experiences of parents and children. In her signature style—by turns funny, penetrating, and always illuminating—which has dazzled millions of fans and been called "striking" by New York Times Book Review and "beautiful" by the National Book Critics Circle, Brooks offers a provocative, compelling portrait of parenthood in America and calls us to examine what we most value in our relationships with our children and one another.
Praise For Small Animals: Parenthood in the Age of Fear…
An NPR Best Book of the Year 2018

"Small Animals is a perfect book-club read for parents: It's well-researched, divisive and enjoyable from start to finish." —BookPage (Editor's Picks)

"Often funny and always observant, Small Animals is a poignant look at what it means to raise children in modern America." —Bustle

"Brooks's own personal experience provides the narrative thrust for the book — she writes unflinchingly about her own experience.... Readers who want to know what happened to Brooks will keep reading to learn how the case against her proceeds, but it's Brooks's questions about why mothers are so judgmental and competitive that give the book its heft." —NPR

"Small Animals interrogates how we weigh risk as parents, how we judge one another's parenting and what the costs might be--not just to parents, but to children, too--of a culture of constant surveillance." —New York Times Book Review

"Engaging, enraging, terrific..." —New York Post

"Small Animals attempts to assess how modern American parenthood has become synonymous with fear and has 'made people worse, or at least, worse to each other.' Brooks arrives at many possible answers." —TIME

"[Small Animals] is a funny, smart, and terrifying study of how irrational fear motivates so many cynical, small, and closed-minded actions in today's America. But it's also hopeful that, through reason and empathy, parents and non-parents alike can work to reduce this fearfulness and live in communities driven by compassion and a shared belief in the common good." —LA Review of Books

"What [Brooks] can do, and has done beautifully in Small Animals, is ask her readers to give mothers the right to be rational, and change the language from one of criminalizing and shaming to one of supporting and cooperating." —Book Reporter

"A memoir that will captivate parents and non-parents alike." —Paste

"Once you pick up Small Animals, you won't want to put it down: Great storytelling. Fascinating content. Disturbing findings....Perhaps books like Small Animals will help restore some rational thought to a pervasive problem." —Wicked Local

"Brooks dissects our existence and exposes the animal of parenting for everything that it is. It's what makes this book genius." —The Coachella Review

"An impassioned, smart work of social criticism and a call for support and empathy."—The National Book Review

"Small Animals is more than a memoir: It is a call to action for all of us to quit the judgmental parenting Olympics." —BookPage

"Small Animals by Kim Brooks, came at me like a giant exhalation, a release of so much of the stress I've carried around since become a mother. I forced my advance copy on someone within an hour of finishing it, telling her it would change her life. It's already changed mine." —Rebecca Makkai, author of The Great Believers

"A disturbingly, ultimately affirming look at why parenting in the contemporary United States is defined by fear." —Publishers Weekly

"Parents will flock to read the first nonfiction book from Brooks...Her engaging account of life as a modern-day parent blends memoir and her research from interviews with other parents, psychiatrists, and parenting experts to provide a deeper understanding of the ways fear and judgment affect the limits and freedoms we give ourselves and our children." —Booklist (starred review)

"This is a surprisingly moving account of what is a fairly common experience, delivering readers much food for thought on the multilayered issues of how much control parents should have over their children's lives and how much input parents should offer other parents....An engaging, enlightening story that reveals the potential harm parents and society can do to children when they don't allow them any freedoms at all." —Kirkus

"This thoughtful, thought-provoking book is part memoir, part examination about our modern American parenting culture, which is often fueled by anxiety and judgment. While I am not a particularly anxious parent, I did find Kim's personal story moving, and her research enlightening. I want to talk about it with every parent I know." —Edan Lepucki, New York Times bestselling author of California

"Small Animals is one of the most important parenting books of our generation--and a gripping read besides. At the book's heart is a harrowing story, beautifully told. But Kim Brooks goes beyond her own experience, weaving together reporting, social criticism, and personal narrative to create a troubling portrait of a nation driven mad with worry."
—Claire Dederer, New York Times bestselling author of Poser: My Life in Twenty-Three Yoga Poses and Love and Trouble: A Reckoning

"This exceptionally insightful work is an act of service to humanity." —Sarah Manguso, author of 300 Arguments

"Everyone tells you parenthood will change you for the better. But few parents describe how the current, high-strung culture of parenting can erode your confidence, feed your worst impulses, and force you back into some regressive, second-guessing state you haven't experienced since you were a preteen. Kim Brooks offers an engrossing, insightful examination of the countless absurdities, identity crises, and obnoxious obstacles that come with raising children at a time when wisdom and perspective are the rarest qualities around. Small Animals is a beautifully told, harrowing story with a clear moral that all parents should take to heart: This job is very hard. Forgive yourself."
– Heather Havrilesky, Ask Polly columnist for New York Magazine and author of How to Be a Person in the World

"One otherwise ordinary day, Kim Brooks found herself accused, by virtue of a parking-lot stranger's cell-phone surveillance, of being a criminally negligent parent. The story of what followed, smoothly interspersed with cultural reflections, anecdotes, and bracingly honest, often droll, introspection, is both a can't-put-it-down narrative and a sharp diagnosis of the fears, guilt, and costs to both parents and children of the contemporary fixation on keeping kids safe. Written in a voice that is crisp and unpretentious but dives deep, Small Animals is a pleasure both to read as a memoir and to mull over for its cultural insights."
—Susan Bordo, author of The Destruction of Hillary Clinton and The Flight to Objectivity

"Kim Brooks is a great storyteller. She has seamlessly woven together journalism and personal narrative to form a book that is the perfect antidote to our culture of over-parenting — a book that is calming but also alarming, because it shows how far we've gone off the tracks. Any mother or father who is currently sipping and self-medicating and endlessly Googling their way through the fear factory of early parenthood must read Small Animals. It will give them something those other fixes cannot offer: necessary perspective."
—Sarah Hepola, New York Times bestselling author of Blackout: Remembering the Things I Drank to Forget

"Part memoir, part history, part documentary, part impassioned manifesto, Small Animals is a genius alchemy of the personal and the political, the mirco and the macro, the social and the historical, in a time when parenting has become saturated with fear and outlandish expectations for parents and children alike. Brooks uses her innate curiosity to unpack why and how parenting has become, in many cultures, an Olympics of achievement and a way of proving one's 'goodness.' Although Small Animals is far too wise and gorgeous to be a parenting book, it might be the most important book about being a parent that you will ever read."
—Emily Rapp Black, New York Times bestselling author of The Still Point of the Turning World

"Why have we become so fearful as parents? When did parenthood become a minefield of insecurity and shame? With humor, heart, and intelligence, Kim Brooks explores these issues using her own deeply personal story."
—Jancee Dunn, author of How Not to Hate Your Husband After Kids

Small Animals is a funny, empathetic, and eloquent report from deep inside the bunker of our national anxiety disorder. Profoundly thoughtful and richly detailed, it shows us how we got here and offers moms and dads some guidance, as well as some moral support, as to how it might be possible to find a way out of our self-inflicted reign of terror.
—William Deresiewicz, New York Times bestselling author of Excellent Sheep
Flatiron Books, 9781250089557, 256pp.
Publication Date: August 21, 2018
About the Author
Kim Brooks is a graduate of the Iowa Writers' Workshop, where she was a Teaching-Writing Fellow. Her fiction has appeared in Glimmer Train, One Story, The Missouri Review, and other journals, and her essays have appeared in Salon, Buzzfeed, New York Magazine, LennyLetter, and on WNYC's Note to Self. Her debut novel, The Houseguest, was published in 2016 by Counterpoint Press. Her memoir, Small Animals, is published by Flatiron Books. Brooks lives in Chicago with her family.
Coverage from NPR
or
Not Currently Available for Direct Purchase