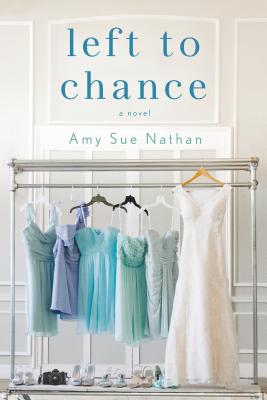 Left to Chance
A Novel
Paperback

* Individual store prices may vary.
Other Editions of This Title:
Library Binding, Large Print (1/17/2018)
Description
From the author of The Good Neighbor and The Glass Wives comes an enchanting story of returning home and discovering what truly matters after loss.

No one knows why Teddi Lerner left her hometown, but everyone knows why she's back.

Twelve-year-old Shayna— talented, persistent, and adorable—persuaded "Aunt Tee" to return to Chance, Ohio, to photograph her father's wedding. Even though it's been six years since Shay's mother, Celia, died, Teddi can hardly bear the thought of her best friend's husband marrying someone else. But Teddi's bond with Shay is stronger than the hurt.

Teddi knows it's time to face the consequences of her hasty retreat from family, friends, and, her old flame, but when she looks through her viewfinder, nothing in her small town looks the same. That's when she truly sees the hurt she's caused and—maybe—how to fix it.

After the man she once loved accuses Teddi of forgetting Celia, Teddi finally admits why she ran away, and the guilt she's carried with her. As Teddi relinquishes the distance that kept her safe, she'll discover surprising truths about the people she left behind, and herself. And she'll finally see what she overlooked all along in Left to Chance by Amy Sue Nathan.
Praise For Left to Chance: A Novel…
"Nathan's complex characters jump off the page, stubborn and vulnerable and confused. Nathan's heroine, Teddi, is the brightest spot in the novel, balancing grief, strained relationships, and unexpected friendships. A heartwarming story about returning to a place the heart has never truly left, Nathan's novel will appeal to fans of Jennifer Kitses, Frances O'Roark Dowell, and Mary Simses." —Booklist

"The layered premise, full of grief, memories, and legacy, drives this story, along with the charming suspense of the love square. Interior design and wedding details will please those interested in these subjects." -- Library Journal

"Left to Chance is a heartfelt novel about loss and love, and what it really means to come home. Beautifully written and true to self, Left to Chance is a lovely novel for readers to embrace." — RT Book Review

"In Left to Chance, Teddi Lerner returns to Chance, Ohio after bolting during her best friend's funeral six years ago. She faces her old friends, a former flame, and an adorably spunky "niece" only to discover that the definition of family is both acutely intimate and ever evolving. Amy Sue Nathan, with her signature humor, deep insight, and elegant prose, shows us that the price of admission for a life full of love and friendship is a beautiful kind of chaos." —Kate Moretti, New York Times bestselling author of The Vanishing Year

"In Left to Chance, Amy Sue Nathan shows us through her lovably flawed protagonist, Teddi Lerner, that you can go home again—but not without scaling a mountain of grief and unanswered questions, being schooled by the feisty adolescent daughter of your late best friend, and navigating a bona fide love triangle. In short, you can go home again, but what you'll find there is anyone's guess. Watching how Nathan navigates Teddi, and the reader, through it all is like pulling up a chair at a table of old friends at your favorite small town coffee shop—it's delicious, engaging, and unexpectedly comforting even in the midst of life's uncertainties. " -Susan Gloss, USA Today bestselling author of the novel Vintage

"An emotionally authentic story of love, loss, and nostalgia. Amy Sue Nathan's sharply drawn plot and characters will have you turning pages well past bedtime." —Emily Liebert, author of Some Women

"Chance, Ohio, was no place for wimps." And there we start on our journey through Amy Sue Nathan's wonderful book, Left To Chance. Sometimes you have to leave home, come back, and leave again, to find yourself." —Cathy Lamb, author of The Language of Sisters

"As beautiful as Teddi Lerner's photography, Amy Nathan's writing will draw you into the secrets, charm, and hope of Chance, Ohio. The past is revealed, a future is found, and nothing is Left to Chance!" - Amy E. Reichert, author of The Coincidence of Coconut Cake and The Simplicity of Cider

"In this witty, touching, beautifully written novel about grief, friendship, and love in its many forms, Amy Sue Nathan reminds us that sometimes, no matter how hard it might be, facing the past is the only way to discover what's truly important." -- Ellen Marie Wiseman, bestselling author of What She Left Behind and The Life She Was Given

"As Teddi grapples with intense guilt, grief, and rejection, she learns the truth about how her leaving impacted those who mattered to her… Left to Chance has Teddi dig deep inside to deal with her feelings and loss and to come to terms with what she wants for her future. Offering insights into the emotions of love and sorrow, Teddi finds reasons to revamp her life and stop running away from it." -- NY Journal of Books
St. Martin's Griffin, 9781250091116, 288pp.
Publication Date: November 21, 2017
About the Author
Amy Sue Nathan is the author of The Good Neighbor and the founder of WomensFictionWriters.com, which was named a Best Website for Writers by Writer's Digest. Amy lives in Philadelphia and has a grown son and daughter. You can find her online, often when she shouldn't be.