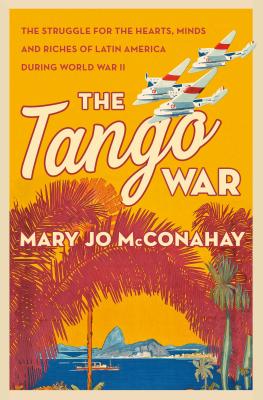 The Tango War
The Struggle for the Hearts, Minds and Riches of Latin America During World War II
Hardcover

* Individual store prices may vary.
Other Editions of This Title:
Digital Audiobook (9/17/2018)
MP3 CD (9/18/2018)
Compact Disc (9/18/2018)
MP3 CD (9/18/2018)
Compact Disc (9/18/2018)
Description
One of WW2 Reads "Top 20 Must-Read WWII Books of 2018" • A Christian Science Monitor Best Book of September • One of The Progressive's "Favorite Books of 2018"

The gripping and little known story of the fight for the allegiance of Latin America during World War II

The Tango War by Mary Jo McConahay fills an important gap in WWII history. Beginning in the thirties, both sides were well aware of the need to control not just the hearts and minds but also the resources of Latin America. The fight was often dirty: residents were captured to exchange for U.S. prisoners of war and rival spy networks shadowed each other across the continent. At all times it was a Tango War, in which each side closely shadowed the other's steps.

Though the Allies triumphed, at the war's inception it looked like the Axis would win. A flow of raw materials in the Southern Hemisphere, at a high cost in lives, was key to ensuring Allied victory, as were military bases supporting the North African campaign, the Battle of the Atlantic and the invasion of Sicily, and fending off attacks on the Panama Canal. Allies secured loyalty through espionage and diplomacy—including help from Hollywood and Mickey Mouse—while Jews and innocents among ethnic groups —Japanese, Germans—paid an unconscionable price. Mexican pilots flew in the Philippines and twenty-five thousand Brazilians breached the Gothic Line in Italy. The Tango War also describes the machinations behind the greatest mass flight of criminals of the century, fascists with blood on their hands who escaped to the Americas.

A true, shocking account that reads like a thriller, The Tango War shows in a new way how WWII was truly a global war.
Praise For The Tango War: The Struggle for the Hearts, Minds and Riches of Latin America During World War II…
One of WW2 Reads "Top 20 Must-Read WWII Books of 2018" • A Christian Science Monitor Best Book of September • One of The Progressive's "Favorite Books of 2018"

"Masterful...not only filled with engrossing history but includes a cast of characters who could be the subject of Hollywood movies." —San Francisco Chronicle

"Riveting...McConahay is a seasoned storyteller. Her stories are gripping, especially when she dives deep into little-known waters." —The Wall Street Journal

"Fascinating...In McConahay's telling, wartime Latin America is a hotbed of skullduggery, violence, and cinematic propaganda straight out of Hollywood." —Christian Science Monitor

"Vivid...has the heft of comprehensive history and the drama of a spy novel...In this exceptional history, [McConahay] plumbs these intricate moves and rhythms of the Tango War." —Los Angeles Review of Books

"Each page of this thoughtful and empathetic work is a revelation... McConahay sheds light on long-neglected history in this fantastic read that will have far-reaching appeal." " —Library Journal (Starred Review)

"This lively book, driven by colorful personalities, strikes the ideal balance between informative and entertaining." —Publisher's Weekly (Starred Review)

"A lively history...Although the stories take place on a global stage, McConahay has followed their ripples to the personal level, the book's most engaging feature." —Booklist

"Fascinating...McConahay gives an account thick with detail and unexpected twists regarding America's efforts to control the resources of Latin America. Fast-paced and informative, this is essential reading for anyone who wants to better understand World War II and some of the forces that led to it." —Kirkus Reviews (Starred Review)

"An invaluable resource...The particular tunes of what McConahay calls the Tango War may be quaint, but its rhythms, she shows, are still highly relevant to US-Latin American relations." —Dr. Nicholas Birns, Council on Hemispheric Affairs

"A long-overdue history... In a series of deeply-compelling stories Mary Jo McConahay shows how Latin America's reputation as a sleepy backwater was a deceptively convenient cover for all sides. For anyone interested in World War II, Latin America, or just plain good old-fashioned stories, really well told, this is a fascinating read." —Jon Lee Anderson, Staff Writer, The New Yorker, author The Lion's Grave and Che Guevara

"What a dazzling array of stories Mary Jo McConahay has put together! The Tango War provides a highly unusual look at World War II while filling in a missing chapter of 20th-century Latin American history. It is entertaining, original, and scholarly, reflecting the author's lifetime immersion in the region she covers." —Stephen Kinzer, Senior Fellow in International and Public Affairs, the Watson Institute,
author of The True Flag and The Brothers

"If you think the history of World War II in Latin America is just about Nazi spies, you are in for a surprise.
Whether the subject is a rubber crusade in Brazil, Disney cartoon goodwill campaigns, the forced exile of Peruvian Japanese to U.S. internment camps or yes, spies, this book combines the best of historical research and journalistic story telling. A must-read." —June Carolyn Erlick, Editor-in-Chief of ReVista, The Harvard Review of Latin America, author of A Gringa in Bogota

"An important, compelling book. With a keen, probing eye she has developed while reporting for decades from Latin America, McConahay provides a sympathetic portrayal of the impact of global events on local developments." —Marc Becker, Professor of History, Truman State University, author of The FBI in Latin America

"With decades of experience in the region and a sharp eye for the telling detail, no journalist is better suited than McConahay to plumb the hidden stories of Latin America's involvement in World War II." —Jake Bernstein, Two-time Pulitzer Prize winner, author of Secrecy World

"An instant classic that shows the interconnections of war, economy and pure greed, with political overtones still recognizable and worth studying today." —Peter Eisner, author of MacArthur's Spies

"The Tango War is a kaleidoscope that provides a new perspective on a crucial era. In carefully reconstructed detail, McConahay fills significant gaps in history from the periphery." —Juanita Darling, Professor of International Relations, San Francisco State University, and author of Latin America, Media and Revolution

"It takes two to tango, but only one like McConahay can capture the nuance and essence of this dramatic face-off between the Axis and the Allies." —W. George Lovell, Fellow of the Royal Society of Canada, Professor of Geography, Queen's University, Canada
St. Martin's Press, 9781250091239, 336pp.
Publication Date: September 18, 2018
About the Author
Born in Chicago, MARY JO MCCONAHAY is an award-winning reporter who covered the wars in Central America and economics in the Middle East. She has traveled in seventy countries and has been fascinated by the history of World War II since childhood, when she listened to the stories of her father, a veteran U.S. Navy officer. A graduate of the University of California in Berkeley, she covers Latin America as an independent journalist. Her previous books include Maya Road and Ricochet. She lives in San Francisco.
or
Not Currently Available for Direct Purchase