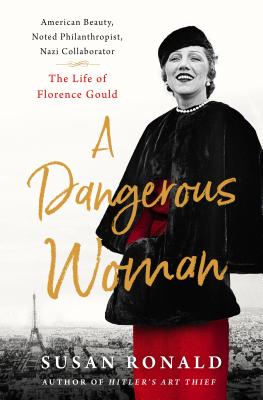 A Dangerous Woman (Hardcover)
American Beauty, Noted Philanthropist, Nazi Collaborator - The Life of Florence Gould
St. Martin's Press, 9781250092212, 400pp.
Publication Date: February 20, 2018
Other Editions of This Title:
Digital Audiobook (2/19/2018)
Paperback (2/19/2019)
* Individual store prices may vary.
Description
A revealing biography of Florence Gould, fabulously wealthy socialite and patron of the arts, who hid a dark past as a Nazi collaborator in 1940's Paris.
Born in turn-of-the-century San Francisco to French parents, Florence moved to Paris at the age of eleven. Believing that only money brought respectability and happiness, she became the third wife of Frank Jay Gould, son of the railway millionaire Jay Gould. She guided Frank's millions into hotels and casinos, creating a luxury hotel and casino empire. She entertained Zelda and Scott Fitzgerald, Pablo Picasso, Joseph Kennedy, and many Hollywood stars—like Charlie Chaplin, who became her lover. While the party ended for most Americans after the Crash of 1929, Frank and Florence stayed on, fearing retribution by the IRS. During the Occupation, Florence took several German lovers and hosted a controversial Nazi salon. As the Allies closed in, the unscrupulous Florence became embroiled in a notorious money laundering operation for Hermann Göring's Aerobank.
Yet after the war, not only did she avoid prosecution, but her vast fortune bought her respectability as a significant contributor to the Metropolitan Museum and New York University, among many others. It also earned her friends like Estée Lauder who obligingly looked the other way. A seductive and utterly amoral woman who loved to say "money doesn't care who owns it," Florence's life proved a strong argument that perhaps money can buy happiness after all.
About the Author
Born and raised in the United States, SUSAN RONALD has lived in England for more than twenty-five years. She is the author of A Dangerous Woman, Hitler's Art Thief, Heretic Queen, The Pirate Queen, and Shakespeare's Daughter.
Praise For A Dangerous Woman: American Beauty, Noted Philanthropist, Nazi Collaborator - The Life of Florence Gould…
Praise for A Dangerous Woman:

"Energetic...Ronald's group portrait is breath-taking and quite modern." —New York Times Book Review
"A lively picture of the world in which Florence moved, withall its intricate financial shenanigans, rivalrous investors and glitteringsocial occasions... Florence's great talent—along with her business acumen, hersingle-mindedness and her refusal to be burdened by doubts or scruples—was toinvent and reinvent herself to blend in with and exploit every place and everytime." —Wall Street Journal

"Ronald provides an unvarnished account of the life of avant-garde socialite Florence Lacaze Gould, whose dazzling, gilded lifestyle belied her dark side as a libertine, Nazi collaborator, and war profiteer . . .History lovers will welcome this impressive book about a captivating, flawed woman." —Publishers Weekly
"Drawing on many published sources, newspaper reports of Gould's scandalous escapades, and Gould's often fraudulent testimony when she was interrogated as a Nazi collaborator, Ronald conveys the glittering surface of Gould's life. .... A light, lively narrative about a singular, narcissistic woman." —Kirkus
Praise for Hitler's Art Thief:

"[A] riveting portrait of Gurlitt, who detested the Nazis, and stole from them, but did their bidding in the name of 'saving modern art'." —The New Yorker
"Ronald situates Gurlitt's life and career amid the turmoil of Weimar Germany and then the evolution of Nazi art-looting campaigns from the late 1930s to the end of World War II, [adding] many new details about Gurlitt's dealings." —The Wall Street Journal
"Susan Ronald tells the back story of what may be the most startling art-world bust in modern history." —USA Today
"One man's extraordinary career of thievery . . . an exhaustively researched and well written book that has a cautionary tale for all of us." —Forbes
"Outstanding. . . Hitler's Art Thief brilliantly examines the motivating forces, both internal and external, that led Hildebrand Gurlitt to go work for the Führer." —The Jerusalem Post
"Another chapter in the unfolding story of Holocaust art and its provenance, Hitler's Art Thief provides the background of a story that came to light when more than a thousand works of art, valued at more than $1.35 billion, were found in a tiny Munich apartment." —The Jewish Week