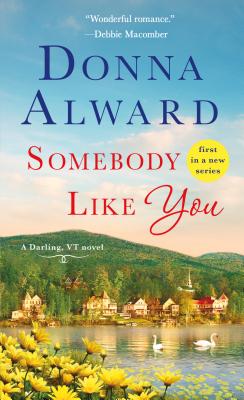 Somebody Like You (Paperback)
A Darling, VT Novel
St. Martin's Paperbacks, 9781250092649, 320pp.
Publication Date: February 7, 2017
* Individual store prices may vary.
Description
Welcome to Darling, VT, a small town with plenty of characters and a tradition of romance with Donna Alward's Somebody Like You, which Library Journal raves is "tender, sensual, and overflowing with New England charm."
A kiss to last a lifetime
Aiden Gallagher was only five years old when he appeared in a photograph on the Kissing Bridge. The town of Darling, Vermont, has used Aiden's image on the famed bridge—local legend has it that a kiss there results in everlasting love—as part of its tourism campaign. Now, twenty years later, Aiden is asked to recreate the moment with the woman he once kissed: Laurel Stone.
Recently divorced, there's nothing Laurel wants less than to pretend happily-ever-after with Aiden. As teenagers, their romance was no fairy tale—and Laurel has never quite forgiven Aiden for breaking her heart. But now that she is back in her hometown, and keeps bumping into police officer Aiden, Laurel can't deny that there's still a strong flicker between her and her old flame. Could it be that the Kissing Bridge is working its magic on Laurel and Aiden—and that all true love ever needed was a second chance?
About the Author
A busy wife and mother of three (two daughters plus the family dog), Donna Alward believes hers is the best job in the world: a combination of stay-at-home mom and romance novelist. Donna loves being back on the East Coast of Canada after nearly twelve years in Alberta where her romance career began, writing about cowboys and the west. She is the author of Somebody Like You, Somebody's Baby, and Someone to Love.
Praise For Somebody Like You: A Darling, VT Novel…
"Darling,Vt., is the quintessential New England romance-novel town. In a story that's sweet and heartwarming without being treacly, Alward (Summer on Lovers'Island) builds believable chemistry between Lauren and Aiden while introducing enough friends and siblings to have readers preparing to settle into Darling for a long cozy stay." – Publishers Weekly
"Alward's small-town world building is really unparalleled." – Straight Shootin' BookReviews
"This is your food for the soul book… Donn Alward'slatest novel is sweet and sexy. It's about second chances and first loves. As this is the start of a new series, I can't wait to read the next episode." – Heroes &Heartbreakers
"Alward's fantastic series debut features aniconic small town with likable residents, complete with all the funny and frustrating benefits and detriments of living in a fishbowl. Her dialogue isthe perfect ratio of humor to drama, and she makes getting to know her starsand negotiating their relationship pitfalls fun. The ah-ha moments are priceless, and the kindness her stars show a homeless man is absolutelyextraordinary." – RT Bookreviews
"Filledwith family and friends, hope, second chances, and love… I can't wait to read the next two books, SOMEONE TO LOVE and SOMEBODY'S BABY." – Romance Junkies
"Tender, sensual, and overflowing with New England charm, this appealing story is the perfect launch to Alward's back-to-back series." — Library Journal
or
Not Currently Available for Direct Purchase