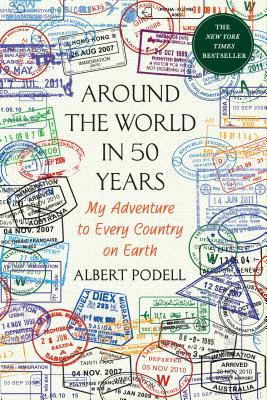 Around the World in 50 Years (Paperback)
My Adventure to Every Country on Earth
A Thomas Dunne Book for St. Martin's Griffin, 9781250094223, 368pp.
Publication Date: July 19, 2016
Other Editions of This Title:
Digital Audiobook (5/4/2015)
MP3 CD (5/5/2015)
Compact Disc (5/5/2015)
Hardcover (3/24/2015)
* Individual store prices may vary.
Description
The New York Times Best Seller
"Amazing . . . the most original travel narrative ever written." —CounterPunch
Around the World in 50 Years is the inspiring story of an ordinary guy who achieved two great goals that others had told him were impossible. First, he set a record for the longest automobile journey ever made around the world, during which he blasted his way out of minefields, survived a serious accident atop the Peak of Death, came within seconds of being lynched, and lost three of the five men who started with him: two to disease, one to the Vietcong.
After that, Albert Podell set another record by going to every country on earth. He survived riots, revolutions, civil wars, trigger-happy child soldiers, voodoo priests, jihadists, robbers, corrupt cops, and Cape buffalo. He traveled through every kind of earthquake, cyclone, tsunami, volcanic eruption, snowstorm, and sandstorm that nature threw at him. He ate everything from old camel meat and African field rats to dung beetles and the brain of a live monkey. And he overcame encounters with crocodiles, hippos, anacondas, giant leeches, flying crabs—and several beautiful women who insisted that he stop this nonsense and marry them.
Around the World in 50 Years is a remarkable and meaningful tale packed with some of the most memorable, frightening, and hilarious adventure stories you have ever read.
About the Author
ALBERT PODELL has been an editor at Playboy and three national outdoor magazines and written more than 250 freelance articles. He was co-leader of the Trans-World Record Expedition and co-author of Who Needs A Road, an adventure classic still in print after nearly five decades. He holds a B.A. in government from Cornell, was the graduate fellow of the Committee on International Relations at the University of Chicago, and received a law degree from New York University. He lives in New York and is an all-around outdoorsman – skier, boarder, mountaineer, climber, camper, hiker, biker, archer, angler, surfer, kayaker, scuba diver, windsurfer, long-distance swimmer, and vegetable gardener.
Praise For Around the World in 50 Years: My Adventure to Every Country on Earth…
"Part travel adventure tale and part madcap farcical comedy, where Hunter S. Thompson meets Anthony Bourdain." —Chicago Tribune
"His writing is breathtaking. . . . This is substantially more than a travel book. It is one man's nearly lifelong, worldwide adventure." —Booklist
"The author's tales are unquestionably entertaining. . . . There is never a dull moment." —Kirkus Reviews
"It's like Crocodile Dundee produced by Monty Python and directed by Woody Allen." —Tony Wheeler, founder of Lonely Planet