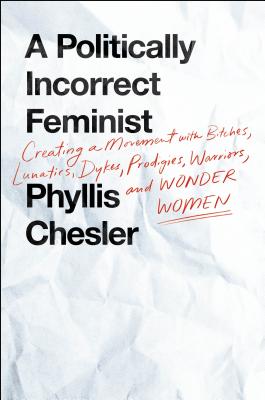 A Politically Incorrect Feminist
Creating a Movement with Bitches, Lunatics, Dykes, Prodigies, Warriors, and Wonder Women
Hardcover

* Individual store prices may vary.
Description
A powerful and revealing memoir about the pioneers of modern-day feminism

Phyllis Chesler was a pioneer of Second Wave Feminism. Chesler and the women who came out swinging between 1972-1975 integrated the want ads, brought class action lawsuits on behalf of economic discrimination, opened rape crisis lines and shelters for battered women, held marches and sit-ins for abortion and equal rights, famously took over offices and buildings, and pioneered high profile Speak-outs. They began the first-ever national and international public conversations about birth control and abortion, sexual harassment, violence against women, female orgasm, and a woman's right to kill in self-defense.

Now, Chesler has juicy stories to tell. The feminist movement has changed over the years, but Chesler knew some of its first pioneers, including Gloria Steinem, Kate Millett, Flo Kennedy, and Andrea Dworkin. These women were fierce forces of nature, smoldering figures of sin and soul, rock stars and action heroes in real life. Some had been viewed as whores, witches, and madwomen, but were changing the world and becoming major players in history. In A Politically Incorrect Feminist, Chesler gets chatty while introducing the reader to some of feminism's major players and world-changers.
Praise For A Politically Incorrect Feminist: Creating a Movement with Bitches, Lunatics, Dykes, Prodigies, Warriors, and Wonder Women…
"Chesler vividly recounts the glory days of the women's movement of the 1960s and '70s...[she] writes in her authentic, jargon-free voice, telling it like it was, for better and worse...Those who would continue the struggle for social justice would do well to read this book and take its hard-earned lessons to heart." —The Los Angeles Review of Books

"An essential selection for American-history and women's-studies collections." —Booklist

"Lest feminism become another casualty of left-wing politics gone off the rails, Chesler comes in as Wonder Woman and saves it, for the next generation and the next, and the next." —Rhoda Kadalie, former South African Human Rights Commissioner

"Very tough going (alas, woman are human, warts and all), but a Need-to-Read." —Margaret Atwood

"This engrossing book, captivatingly written, feels larger than life, an accurate reflection of its author. It is indispensable to understanding feminism and a remarkable warrior for women." —Tikkun Magazine

"Chesler was at [second-wave feminism's] epicenter... a must-read for everyone who wasn't in the room when it happened." —PJ Media

"Riveting and sometimes downright salacious stories... make this book hard to put down." —Medium

"There is much information to absorb in this volume, and students of the feminist movement will want to read Chesler's memoir over and over again." —San Diego Jewish World

"Chesler's descriptions of her experiences and her discussions of sexual assault and abortion provide valuable contexts for feminist theory along with useful parallels for more recent issues." —Library Journal

"Reminds us why an advocacy movement for women was needed...moving." —The Daily Caller

"An intimate portrait...sure to educate...stimulate and illuminate." —Tablet

"Chesler's honest approach, oscillating between personal narrative and social criticism, illustrates the individual trials and triumphs that go into the formation of a nationwide movement." —Publisher's Weekly

"The author of Women and Madness (1972) constructs a highly entertaining account...never boring, Chesler's memoir will raise more than a few hackles." —Kirkus Reviews

"A must read to learn, understand and appreciate the struggles, triumphs and endless tribulations of the Second-Wave Feminism. I am enjoying it greatly." —Talia Carner

"Phyllis Chesler stands out among women in general and feminists in particular. In this dark age of identity politics, when the rights of millions of women are sacrificed at the altar of intersectionality, Phyllis Chesler keeps us all focused on universal human rights for all women. This book is a must-read for all people who truly care about the rights of women." —Ayaan Hirsi Ali, author of Infidel

"Chesler delves into the dark places that have sullied the feminist dream but also into the jewels of friendship, truthtelling, and history making. Chesler tells the stories of many feminists in all their complicated humanity... including, bravely, her own." —Paula J. Caplan, author of The Myth of Women's Masochism

"This rather wry reprisal of her life both entertains and educates. The chapter "Sorely Afflicted Feminist Geniuses" is unusually candid, bold, and fair. The obituary of the late great Kate Millett is eye-opening and worthy of praise in itself. This is the 18th book Chesler has offered us during her extraordinary public life. Her industry, endurance, inspiration, and general work ethic have always been both phenomenal and highly relevant internationally." —Linda Clarke, Author of On A Planet Sailing West

"An original, invaluable, and fast-paced story about how the daughter of working-class Jewish immigrants became a pioneer leader in America's struggle for women's rights. In riveting detail, Chesler recounts major feminist lawsuits in which she was personally involved. A brilliant and controversial read." —Alan M. Dershowitz, author of Taking the Stand: My Life in the Law

"Dr. Chesler recaptures both the glory of feminist awakening and the audacity and passion of her early writings that inspired so many women and brought her fame. With the wisdom of age, she seeks balance, generosity, but not acceptance; her indignation on behalf of oppressed women, and her vision of liberation, is still as passionate as ever." —Judy L. Herman, author of Trauma and Recovery

"This is history in the raw. Without genuflecting to cults of personality or the collective narratives of the media, Chesler shines her laser analytic intelligence on the creativity, brilliant insights, heroic actions and sacrifices of the women who led and defined the greatest social movement of the 20th century. These women are actors on the stage of history and Chesler treats them with the respect and honesty they deserve. A deeply inspiring and relevant antidote to women of all ages everywhere." —Merle Hoffman, Author of Intimate Wars: The Life and Times of the Woman who brought Abortion from the back alley into the Boardroom

"This work is monumental. It is staggeringly good. Chesler captures us all: the women's movement, the quest for racial equality, nationally and globally." —Barbara Joans, author of Bike Lust: Harleys, Women, and American Society

"Phyllis Chesler's memoir is a most important part of the historical record. It discusses our major struggles, but also elucidates issues other feminists haven't touched on, or have glossed over. Chesler describes how feminists supported each other's successes, or betrayed and undercut each other out of jealousy and ambition. She names names, and gives us the details. What's new in Chesler's memoir is the assertion that mental illness plagued a significant number of the leading figures of the women's movement. Chapter 11 (itself worth the price of the book) explains how she came from a position of refusing to consider that feminists could be mentally ill to acknowledging that "some of our most beloved geniuses" were "clinically schizophrenic or manic depressive, suicidal, addicted to drugs or alcohol, etc." She points out that the same has been true for many great male artists." —Martha Shelley, Author of The Throne in the Heart of the Sea

"Marvelous. Outrageous, brilliant, and courageous, Chesler is the perfect person to guide us into the nuances and complexities of feminist activities in the 1970s and how we are not finished yet in the 21st century...I couldn't put it down." —Lenore Walker, author of The Battered Woman
St. Martin's Press, 9781250094421, 320pp.
Publication Date: August 28, 2018
About the Author
Phyllis Chesler is an emerita professor of Psychology and Women's Studies at City University of New York, bestselling author of Women and Madness, legendary feminist leader, and psychotherapist. Dr. Chesler has appeared on CNN, Fox News, The O'Reilly Factor, The Today Show, Oprah, and multiple NPR programs, including NPR's At the Opera.
or
Not Currently Available for Direct Purchase