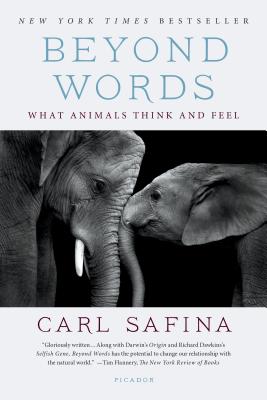 Beyond Words
What Animals Think and Feel
Paperback

* Individual store prices may vary.
Other Editions of This Title:
Digital Audiobook (7/13/2015)
Hardcover (7/14/2015)
Compact Disc (7/14/2015)
MP3 CD (7/14/2015)
Description
I wanted to know what they were experiencing, and why to us they feel so compelling, and so-close. This time I allowed myself to ask them the question that for a scientist was forbidden fruit: Who are you?

Weaving decades of field observations with exciting new discoveries about the brain, Carl Safina's landmark book offers an intimate view of animal behavior to challenge the fixed boundary between humans and nonhuman animals. In Beyond Words, readers travel to Amboseli National Park in the threatened landscape of Kenya and witness struggling elephant families work out how to survive poaching and drought, then to Yellowstone National Park to observe wolves sort out the aftermath of one pack's personal tragedy, and finally plunge into the astonishingly peaceful society of killer whales living in the crystalline waters of the Pacific Northwest.

Beyond Words brings forth powerful and illuminating insight into the unique personalities of animals through extraordinary stories of animal joy, grief, jealousy, anger, and love. The similarity between human and nonhuman consciousness, self-awareness, and empathy calls us to re-evaluate how we interact with animals. Wise, passionate, and eye-opening at every turn, Beyond Words is ultimately a graceful examination of humanity's place in the world.
Praise For Beyond Words: What Animals Think and Feel…
"Dr. Safina is a terrific writer, majestic and puckish in equal measure, with a contagious enthusiasm...Dr. Safina draws out haunting resonances between animal lives and our own... [Beyond Words] carries pleasing echoes of the poet Gary Snyder...Captivating." —Gregory Cowles, The New York Times (Science)

"Once in a long while, a book is published that felicitously combines lambent writing with dazzling facts, while also illuminating our knowledge of significant and engaging subjects. Beyond Words by Carl Safina, a scientist who has won a MacArthur Fellowship and a Lannan Literary Award, is one of these exemplary books.
" —Susan Sheehan, Washington Post

"Brilliant... an unprecedented exploration of animals and...makes intimate these wild animals in vivid family portraits...each of Safina's beautifully limned animal portraits is the weight of human influence, and a challenge to exercise the power of empathy... [Safina] is a font of research, his wonder contagious." —Elle

"A beautifully written, provocative case for seeing animals through their eyes." —Discover Magazine

"Captivating...A profound, scientifically based appeal for recognition of the kinship of all living things." —Kirkus, starred review

"...Excellent... compelling... brings forth powerful and illuminating insight into the unique personalities of animals...Wise, passionate, and eye-opening at every turn, Beyond Words is ultimately a graceful examination of humanity's place in the world... Dr. Safina's book truly is a gem -- extremely thoughtful and important and most timely...
" —Psychology Today

"Safina's engaging writing takes readers along on his journey, so that we learn about these creatures as he does... The result is a meandering, entertaining tour of the animal kingdom, with pit stops for both amusing anecdotes and the latest scientific studies of animal behavior...entertaining and informative..." —Slate

"In this mind-bending book, Safina takes the reader along with him on his adventures, enlightening and educating at each of his stops." —Publishers Weekly

"This well-researched book is a fascinating and thought-provoking investigation of different ways of viewing non-human creatures and their inner lives." —Library Journal

"Carl Safina shows there is indeed intelligent life in the universe, and it's all around us. At once moving and surprising, Beyond Words asks us to reexamine our relationship to other species-and to ourselves." —Elizabeth Kolbert, author of The Sixth Extinction

"This book breathes love of and respect for animals and is rich with observations and extraordinary travel experiences. It is a delightful and enlightening account of both how we relate to them and how they relate to each other." —Frans de Waal, author of The Bonobo and the Atheist

"Safina offers a rich and often heart-touching account of his journeys with scientists exploring the minds and emotions of elephants, wolves, and dolphins. His compassion and empathy for animals shines throughout, and he uses both to illuminate the booming field of animal cognition. A beautifully written, accessible, and compelling read." —Virginia Morell, author of Animal Wise: How We Know Animals Think and Feel

"Carl Safina's books contain a crucial jewel that refracts the experience of nature in a new and truthful way. In this emotional and scientific adventure, Safina somehow manages to produce a view of animal intelligence that is genuinely new, and truly enlightening." —Paul Greenberg, author of American Catch and Four Fish

"Beyond Words is a must-read. Animals think, mourn, dream, make plans, and communicate complex messages in much the same way that we do. Readers who knew this already will rejoice, others will learn the truth, and the more of us who capture the message, the sooner we will change the world." —Elizabeth Marshall Thomas, author of The Hidden Life of Dogs

"Beyond Words is a great read, seamlessly weaving scientific data with wonderful stories. People will feel 'rewilded' and motivated to do more on behalf of the innumerable animals who need our help. By expanding our compassion footprint we not only help other animals but also ourselves." —Marc Bekoff, author of Rewilding Our Hearts and The Emotional Lives of Animals

"Beyond Words is such a beautiful book, deep and tender, and will make you stay up all night reading. Carl Safina has a rare gift for imparting scientific insight with a storyteller's grace, and he writes with great knowledge and compassion. This vivid, far-ranging, and compassionate work is destined to become a classic." —Luanne Rice, author of The Lemon Orchard and Beach Girls
Picador, 9781250094599, 496pp.
Publication Date: July 12, 2016
About the Author
Carl Safina's work has been recognized with MacArthur, Pew, and Guggenheim Fellowships, and his writing has won Orion, Lannan, and National Academies literary awards and the John Burroughs, James Beard, and George Rabb medals. He has a PhD in ecology from Rutgers University.

Safina is the inaugural holder of the endowed chair for nature and humanity at Stony Brook University, where he co-chairs the steering committee of the Alan Alda Center for Communicating Science and is founding president of the not-for-profit Safina Center. He hosted the 10-part PBS series Saving the Ocean with Carl Safina. His writing appears in The New York Times, National Geographic, Audubon, Orion, and other periodicals and on the Web at National Geographic News and Views, Huffington Post, and CNN.com.

Carl's books include Voyage of the Turtle, Becoming Wild, and The View from Lazy Point.